High-achieving Florida State University business students and alumni have one less hurdle – and expense – in applying for a master's degree program now that the College of Business has broadened its definition of who is eligible for a GMAT waiver.
The Graduate Management Admissions Test (GMAT), which has a $250 registration cost, is required for admission to an online or on-campus program. The new waiver policy expands eligibility to all FSU business students and alumni who have earned a 3.4 or higher grade-point average (GPA) overall and a 3.2 or higher GPA in all upper-division coursework.  Those applying to the Master of Accounting (MAcc) or Master of Science in Finance (MSF) programs also must earn a 3.2 or higher GPA in certain required upper-division accounting or finance coursework.
The same eligibility guidelines also apply to all applicants who have graduated from business schools like FSU that are accredited by the Association to Advance Collegiate Schools of Business (AACSB International).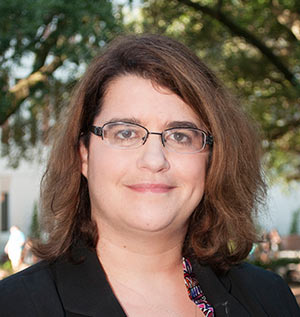 "We believe waiving this requirement for high-performing undergraduates will not only help us retain our top students, but doing so will also draw the best and the brightest from our peer institutions," said Kathleen McCullough (right), associate dean for academic affairs and Kathryn Magee Kip Professor in Risk Management and Insurance.
The college, as most graduate business schools, traditionally bases admission decisions on an applicant's portfolio of qualifications, including prior academic performance, work experience, letters of recommendation and an entrance exam score, preferably from the GMAT.
FSU students and alumni applying to the college's master's degree programs will automatically be considered for the GMAT waiver. Non-FSU applicants will need to complete a waiver request form. The form and more information about GMAT waiver criteria can be found at business.fsu.edu/waive.
The policy applies to all six of the college's master's degree programs, whether they are offered online or on campus:
title-inside title-centered
2