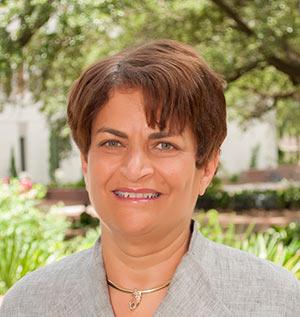 Academic Specialty
Cost Accounting
Education
MBA, Accounting emphasis, Ohio State University,
B.S.B.A., Accounting, Ohio State University
Areas of Expertise
Financial Accounting
Cost Accounting
Rochelle (Shelley) Greenberg is a senior lecturer in the Department of Accounting in Florida State University's College of Business. She teaches accounting to finance majors in their two required upper-level accounting courses, Cost Accounting and Analysis of Financial State Presentation. She also has taught introductory accounting in London, U.K. and Florence, Italy through FSU's International Programs. Greenburg has been nominated for several awards for her teaching. She serves on the editorial advisory and review board of Issues in Accounting Education. Greenberg started the Women in Accounting at FSU student organization and continues to serve as their faculty advisor.
She is a CPA and a CMA (Certified Management Accountant).
Greenberg earned her bachelor's degree in accounting and her MBA with an emphasis in accounting from Ohio State University.
Selected Published Research
"Using Concept Maps to Provide an Integrative Framework for Teaching the Cost or Managerial Accounting Course" with Neil A. Wilner. Journal of Accounting Education: March 2015, Vol. 33, Issue 1, pp. 16-35. 
"Teaching Inventory Accounting: A Simple Learning Strategy to Achieve Student Understanding" with Neil A. Wilner.  Issues in Accounting Education:November 2011, Vol. 26, No. 4, pp. 835-844.
"Job Order Costing: A Simulation and Vehicle for Conceptual Discussion" with Arnold Schneider.  Academy of Educational Leadership Journal, 2010, Vol. 14, No. 3, pp. 39-57.  
Interesting Facts
Greenberg was born in Ohio and lived there until coming to FSU in 2004. She has a daughter, son and two grandsons.
Honors and Awards
Certified Public Accountant
Certified Management Accountant
Editorial Advisory and Review Board for Issues in Accounting Education
Nominated for recognition in teaching accounting at the Annual Faculty & Staff Awards Dinner & Celebration, 2017 and 2016
Nominated for a "University Excellence in Teaching Award," 2006