Achievements reflect 'unwavering commitment to student success'
---
Achievements reflect 'unwavering commitment to student success'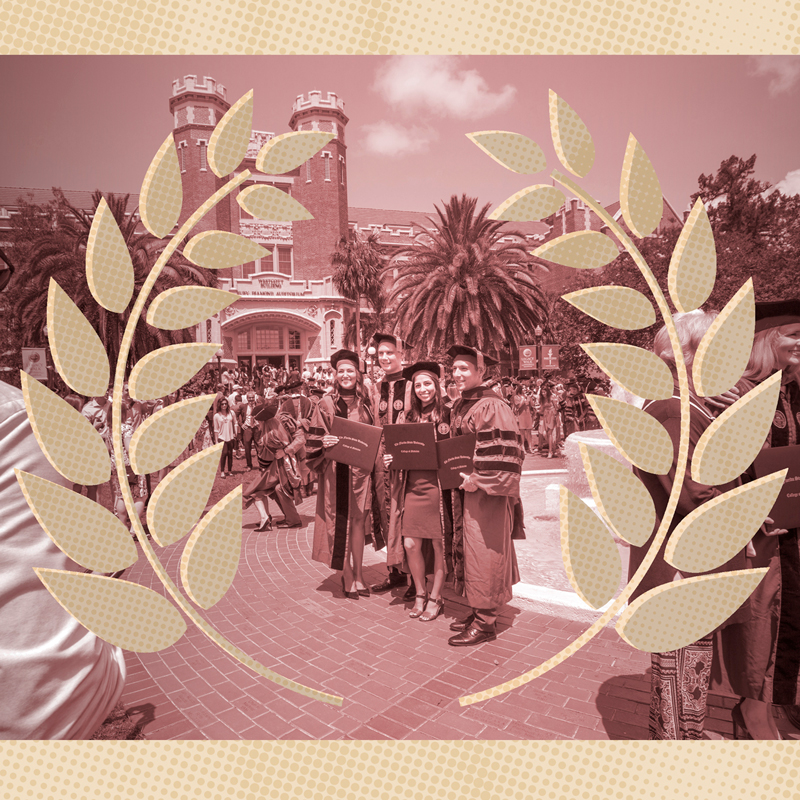 The Florida State University College of Business celebrates continued student and faculty achievement amid updated rankings that keep two of its acclaimed undergraduate programs in the Top 10.
About 96% of business freshmen return for their sophomore year while nearly 80% of business students graduate within four years – numbers that align with those of the university, which touts records in its first-year retention rate and four-year graduation rate.
The college also trumpets data that show its faculty ranked No. 1 in percentage of published faculty among business schools at Carnegie-classified public universities and No. 6 in overall research activity at these schools. Both ratings come from a review of the latest information available from Academic Analytics, which tracks and analyzes faculty research and trends. 
"These remarkable achievements by our students and faculty members reflect FSU's unwavering commitment to student success, academic rigor and research excellence, all of which contribute to a transformative impact on our community, our state, our nation and our world," said Michael Hartline, dean of the College of Business.
Adding to these successes, two of the college's undergraduate programs remain among the nation's elite in the latest U.S. News & World Report rankings.
The Dr. William T. Hold/The National Alliance Program in Risk Management and Insurance (RMI) ranks No. 4 among all schools, with the real estate program at No. 6 among public schools and No. 9 among all schools, according to the publication's "2024 Best Colleges Rankings," released today.
Hartline hailed the rankings as hallmarks on the college's "path to preeminence," as he calls it. The RMI and real estate programs annually rank among the best in the U.S. 
"Our RMI and real estate programs continue to serve as guideposts for all of our programs as we strive for national and global distinction in everything we do," he said. 
Hartline noted that the college rewards top students through numerous scholarships and the James M. Seneff Honors Program and, with the help of its Center for Professional Success, boasts a strong reputation for job placement and for launching successful and rewarding careers.   
The college also touts eight eminent scholars and 37 named professors among 110 full-time faculty members.
"We're proud of our faculty, staff – and indeed our alumni – for demanding, supporting and achieving the best for our students in terms of curriculum, research, relevance and success in an ever-changing business world," Hartline said.
The good news comes at an exciting time for the college, which awaits an expected 2025 opening of its cutting-edge future home. Legacy Hall will stand as the largest academic space on campus, and it promises to attract even more elite students and world-renowned faculty members, officials say.
Also, the high marks for the college's undergraduate programs follow strong U.S. News & World Report rankings for its graduate programs among public schools, including:
No. 8 online graduate business for veterans
No. 8 MBA specialty in real estate
No. 9 MBA specialty in business analytics
No. 16 online master's degree in management information systems (MS-MIS)
No. 16 online master's degree in risk management & insurance (MS-RMI)
No. 23 online MBA for veterans
-- Pete Reinwald