The College of Business offers select undergraduate majors the option of accelerating their studies and getting a head start on graduate school. Combined bachelor's/master's pathways allow prospective students to substitute specific graduate coursework for undergraduate classes and double count up to nine credit hours of coursework toward requirements for both bachelor's and master's degrees.
Students interested in a Combined Pathway should register their interest.
For more information, download our Combined Pathways brochure.
---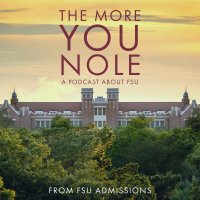 HEAR MORE ABOUT THE BENEFITS
Learn more about our Combined Pathways on the FSU Office of Admissions' The More You Nole podcast. In Episode 23 Associate Dean Kathleen McCullough gives an overview of pathway options, and students Piper Bolt and Brooke Deering share their experiences getting a jump-start on graduate studies.
---
Requirements and benefits
Students are eligible if they have a 3.4+ GPA overall, a 3.2+ GPA overall in upper-division coursework and 3.2+ GPA in discipline-specific upper-division coursework. Completing graduate coursework before undergraduate graduation equips students with advanced skills needed for better internships and employment opportunities. Eligible students also may benefit by applying remaining undergraduate Bright Futures award toward a portion of the graduate coursework tuition and fees that are being counted toward both degrees. In some cases, combined pathway students will be able to shorten their overall time in school.
Interested eligible students apply for the combined pathway by the end of the second semester of their junior year. Admitted students are then able to register for graduate courses during their senior year.
---
Separate graduate application
Students accepted to the combined pathway will still be required to apply separately to the master's degree program. Students should do this during the first semester of their senior year.
While students entering the combined pathway are typically on track for admission to a master's program, students must meet all application requirements. Visit graduatebusiness.fsu.edu to learn more about what application materials will be needed, including recommendations, personal statements and requirements for an acceptable GMAT score or information on how to qualify for a GMAT waiver.
Combined pathway students must average a 3.0 GPA or higher in the three double-counted courses in order for their work to count toward the master's degree. The graduate classes are more advanced than the undergraduate classes that they are replacing and will provide additional information needed to meet the standard skills and knowledge required by the university and expected by employers hiring master's graduates.
---
Select the pathway that best fits your plans
BS-Accounting/Master of Accounting (BS/MAcc)
BS-Finance/MS-Finance (BS/MSF)
BS-Finance/Master of Business Administration (BS-FIN/MBA)
BS-Human Resource Management/Master of Business Administration (BS-HRM/MBA)
BS-Management Information Systems/MS-Management Information Systems (BS/MS-MIS)
BS-Management Information Systems/Master of Business Administration (BS-MIS/MBA)
BS-Marketing/Master of Business Administration (BS-MAR/MBA)
BS-Real Estate/MS-Finance (BS-RE/MSF)
BS-Real Estate/Master of Business Administration (BS-RE/MBA)
BS-Risk Management/Insurance/MS-Risk Management and Insurance (BS/MS-RMI)
BS-Risk Management/Insurance/Master of Business Administration (BS-RMI/MBA)
To receive more information about the Combined Pathways, please complete this interest form.
title-inside title-centered
2