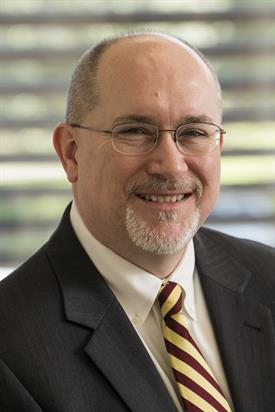 ---
Dean and Charles A. Bruning Professor of Business Administration
Florida State University
College of Business
314 Rovetta Business Annex (RBA)
Phone: 850-644-3090
Fax: 850-644-0915
mhartline@business.fsu.edu
Michael D. Hartline became the sixth dean of the Florida State University College of Business on April 1, 2016. As dean, he is committed to improving academic programs, enhancing the student experience, and moving forward with fundraising goals, including Legacy Hall, the college's new home in the Arena District.
Before assuming his current position of dean, he served as interim dean for nine months. Prior to that position, he was associate dean for Strategic Initiatives and the Charles A. Bruning Professor of Business Administration, responsible for external relations, marketing/branding, executive education and strategic programs. He served as chair of the college's Department of Marketing from 2006 to 2011, associate professor of marketing from 2003 to 2011 and assistant professor of marketing from 2001 to 2003.
As interim dean, he played a major role in securing a $100 million gift from Jan Moran and The Jim Moran Foundation to create the Jim Moran School of Entrepreneurship, the largest interdisciplinary entrepreneurship school of its kind in the nation. He also initiated a revision of the college's strategic plan to establish goals and metrics that better align the college with the university's priorities and allow it to think, act and perform like a Top 25 business school.
As associate dean, he worked with the development staff to help raise roughly $54 million for the college and led the building campaign for Legacy Hall, the college's new home to be built along West Madison Street near the Donald L. Tucker Civic Center. He was involved in strategic planning and innovation and had oversight of many fiscal matters and operations, including technology infrastructure and the physical plant. He served as chair of the College of Business Building Program Committee, acting as liaison to university administration and the broader community.
From 2006 to 2011 serving as chair of the college's Department of Marketing, he worked to enhance private funding, implemented shared governance, established formal faculty evaluation and merit guidelines, created an annual strategic planning process and launched a major in professional sales and a Master of Science in Marketing program.
Before coming to Florida State, he was an associate professor of marketing at Samford University's Brock School of Business from 1999 to 2001; assistant professor of marketing at Louisiana State University's E.J Ourso College of Business from 1994 to 1999; and assistant professor of marketing and advertising at the University of Arkansas at Little Rock's College of Business from 1992 to 1994.
Dean Hartline has won numerous teaching and research awards. He has taught MBA courses in marketing strategy and corporate reputation management, as well as undergraduate courses in service marketing. His research interests include customer-contact issues in service delivery, service quality and productivity, new service development, and non-ownership consumption.
He has authored or co-authored a number of books and articles, served on the editorial review boards of several academic journals, made numerous presentations to industry and academic audiences and co-chaired two international conferences. He is the former vice president of development for the Academy of Marketing Science. He also has served as a consultant to several for-profit and non-profit organizations in the areas of marketing plan development, market feasibility analysis, customer satisfaction measurement, customer service training and pricing policy.
Dean Hartline earned a Ph.D. in business administration from the Fogelman College of Business and Economics at the University of Memphis, and an MBA and bachelor's in marketing, both from Jacksonville State University (Alabama). 
title-inside title-centered
2