Alumni couple hopes others will jump on board to support the college
---
Alumni couple hopes others will jump on board to support the college
Brett Lindquist says he is awed by the College of Business' rapid rise in national rankings over the past few years, placing No. 26 among public universities and securing Top 10 spots for several of its programs. In fact, the impressive leap prompted him and his wife, Cindy Lindquist (MAR '85), to follow up a recent gift with a second one. Their latest gift creates the Brett C. and Cynthia R. Lindquist Classroom in Legacy Hall.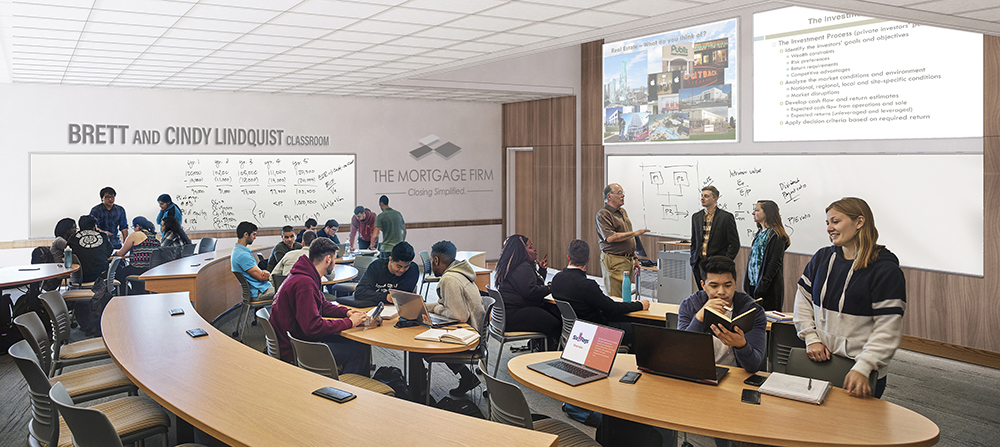 "It's clear to me the college can move even higher, and I believe the new building and the ability to attract top faculty and students will get us there sooner than later," said the 1983 finance and real estate graduate and member of the college's Board of Governors Executive Committee. "I really think by investing in the college, we can have a huge impact, and I'm hoping other business graduates will jump on board."
The Lindquists jumped on board themselves a couple of years ago when they made an initial gift to establish the Lindquist Endowed Real Estate Scholarship Fund, the Lindquist Endowed Fund for Real Estate Excellence and the Lindquist Endowed Professional Sales Scholarship Fund.
"Brett and Cindy are real champions of the college, and their enthusiasm is contagious," said Dean Michael Hartline. "They understand the connections among hiring great faculty members, recruiting great students, having a state-of-the-art building, and our rise in the rankings. They want to ensure everyone else understands that, too."
Over the years, Brett, a member of the Seminole Boosters Board, also has given generously to FSU athletics, particularly the swim team. He came to Florida State in 1978 on a swimming scholarship and served as team captain. Cindy was a member of the FSU Golden Girls Dance Team.
After graduating from FSU, Brett worked with several national mortgage lenders as a loan officer before establishing The Mortgage Firm, which is headquartered in Altamonte Springs, Fla. Today, the company has 43 branches and employs 447 people in Florida, Georgia, North Carolina, Tennessee and Texas.
"Our graduates are incredibly successful, and I'm hoping they will realize they can leave a legacy, not only by supporting the college financially, but also by becoming involved in other ways," he said. "I have met so many great friends and business associates through the college, and it's been very fulfilling." 
---
- Barbara Ash