Alumnus makes second major gift to Legacy Hall
---
Alumnus makes second major gift to Legacy Hall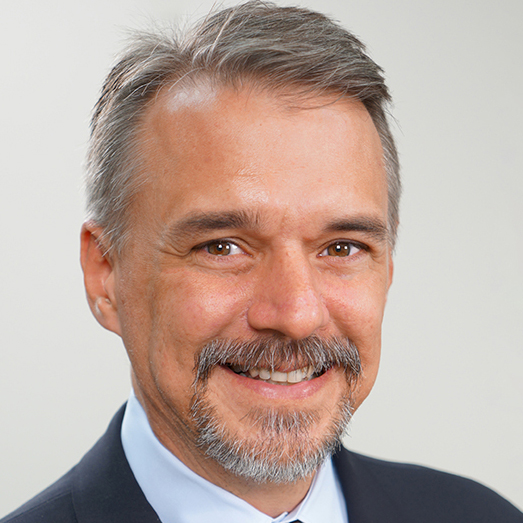 Excited by "shovels in the ground," an alumnus and major supporter of the Florida State University College of Business decided to deepen his effort toward building something exceptional and transformational.
Kevin Little (BS Accounting '92) recently committed a major gift to name the Kevin S. Little Commons in Legacy Hall, the college's future home.
The gift follows the October groundbreaking of the world-class facility, and it marks his second major investment to fund the project. A previous gift named the Kevin S. Little Breakout Room on the ground floor.
"To see shovels go into the ground was inspiring," said Little, a college Board of Governors executive committee member and co-founder and CEO of Boca Raton-based Health Advocates Network. "It made the building that much more real, and I was excited to make another contribution toward seeing it become a reality."
Michael Hartline, dean of the college, hailed Little for his steady support of students, faculty members and Legacy Hall. Hartline and other officials tout the facility's potential to draw exceptional students and to attract and retain more world-renowned faculty members.
Hartline also noted that Little maintains a prominent presence at the university as a mentor, classroom speaker and long-time athletics booster. He even has hosted a College of Business event at his Broward County home.
"We genuinely thank Kevin for his generosity, enthusiasm and dedication to Florida State University and the College of Business," Hartline said. "His investments in Legacy Hall and his engagement on campus underscore his commitment to our students, college and preeminence."
The state Legislature and Gov. Ron DeSantis two years ago approved $44 million in funding for the facility, initially projected to cost $88 million. The college raised the additional $44 million through private funding, but costs have continued to soar from inflation and, previously, from the effects of COVID-19, officials say.
Little said the increased costs prompted him to contact David VanLone, the college's chief development officer, after the groundbreaking to ask about immediate giving opportunities.
"I told David, 'I'd love to make another gift,'" Little said.
VanLone expressed appreciation for donors such as Little who have made gifts to name floors, suites, rooms and other spaces in the five-story facility, which will become the largest academic space on the FSU campus when it opens, according to projections, in 2025.
Legacy Hall has only five non-office spaces left to name – an interview room; a master's teaching assistant suite; and the ground, first and fourth floors. The costs to name those spaces range from $50,000 to $1 million. Several faculty and staff offices are available from $15,000 to $35,000.
"We have seen a remarkable surge in generosity from our alumni and friends, particularly in the months before and after the Legacy Hall groundbreaking," VanLone said. "Our donors are clearly excited about what the facility will mean to our students, faculty and staff members, especially now that, as Kevin says, it's becoming a reality." 
Little said he gives to the college out of, for starters, gratitude for what the college and university did for him. After graduation, he landed a job as an auditor with Ernst & Young, now known as EY. At the time, EY was one of the Big Six – now Big Four – accounting firms. 
He then became a serial entrepreneur in the healthcare industry, first as co-founder, president and chief financial officer of Medical Staffing Network, then as a founding member and CEO of Accountable Healthcare Staffing. For two straight years, Accountable made the Seminole 100 list of the fastest-growing U.S. businesses owned or operated by FSU alumni. Tokyo-based Mitsui & Co., a Fortune 500 firm, bought the company in 2017.
In 2020, Little helped launched Health Advocates Network, a national provider of healthcare staffing services. 
He twice has been finalist for Florida EY Entrepreneur of the Year and four times has been recognized by Staffing Industry Analysts as among the 100 Most Influential People in North American Staffing. He also remains a certified public accountant in Florida.
"I appreciate everything the university did to help prepare me for my career," Little said. "Florida State's reputation and partnerships attracted premier employers to the university and gave me an opportunity to work at one of the largest accounting firms in the world. And that opened a lot of doors in terms of networking and professional credentials."
As a class speaker, he regularly talks to student groups and accounting classes about the accounting profession, professional development and his role as a business leader and entrepreneur. As a mentor, he helps students see the business world from a broader scope, including from the perspective of a hiring official or business owner.
To all, he trumpets accounting as a dynamic profession that offers myriad possibilities – far removed from the dated stereotype of isolated bean counters with spreadsheets, tax documents and pocket protectors. 
"Accounting can launch a business career in many different areas, and for me it's been through entrepreneurship and healthcare," Little said. "I was in these students' shoes 30 years ago, and if I can help them position themselves for a great opportunity as they launch their careers, I see it as a cool thing."
He emphasized that it's much easier for him to give back now than when he graduated 31 years ago. He thereby urges alumni to do so when the time is right, he said.
"If you're fortunate enough to be in position to do it through a financial contribution, that's certainly appreciated," Little said. "But you also can give your time, serve as a mentor and attend local events." He noted that all it takes is "a willingness to help promote the university and make a difference in the lives of our current students or, as in the case of Legacy Hall, the lives of generations of students."
About the university's Top 20 ranking among public schools and the promise of Legacy Hall, he added: "It's an exciting time for Florida State and incredible time for the College of Business."
-- Pete Reinwald