Bequest by finance graduates driven by appreciation for the College of Business
---
Bequest by finance graduates driven by appreciation for the College of Business
Brian and Cortney Williams know what it's like to be full-time students with jobs. While majoring in finance in the mid-1990s at the College of Business, Brian worked at Bill's Bookstore, as a valet at the Governor's Club, and had an unpaid internship at the Merrill Lynch office in Tallahassee. Cortney worked full time most of her college career. She worked as a teller with Capital City Bank, later accepting a similar job with First Union National Bank (now Wells Fargo) a year before graduating.
These experiences built character and drove home the benefit of students being able to concentrate on their studies without having to juggle a myriad of other responsibilities at the same time. That's one of the reasons the Atlanta couple made a recent $1 million bequest to their alma mater creating the Brian and Cortney Williams Family Endowment.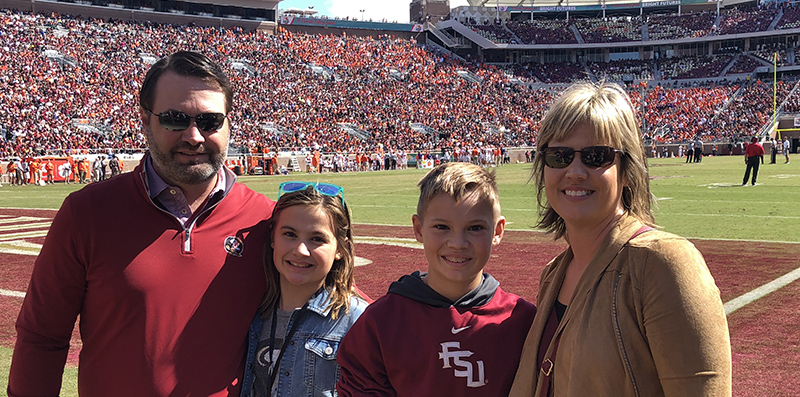 "We understand that students work very hard, may have part-time jobs and unpaid internships and are, in many cases, racking up student loans to pay for their education," Brian said. "Now that Cortney and I are in the position to do so, we'd like to help students who are hardworking, capable and driven to achieve academically, but who might need some financial assistance."
Brian and Cortney say they are grateful for what they have achieved professionally and personally. "My business has grown substantially in the last four or five years, and we realized we have FSU and the College of Business to thank for what we learned while we were students which has certainly contributed to our ability to succeed," Brian said.
After graduating in 1998, Cortney continued to work for First Union Bank, eventually becoming an accomplished mortgage consultant. She left banking after the birth of their first child in 2006. Brian, who graduated a year ahead of his wife, initially took a traditional route for a finance major, working for Merrill Lynch and then First Union National Bank/First Union Securities. In 2004, he founded Crown Asset Management, LLC, a professional receivables management and purchasing firm specializing in distressed consumer receivables.
Over the years, Brian and Cortney have been avid fans and financial supporters of FSU. They are lifetime members of the FSU Alumni Association, which they joined shortly after graduating. Cortney has been a member of the Women for FSU since its inception, and Brian has participated in the FSU Executive Roundtable in Atlanta since its creation. Both have been members of the Seminole Boosters and season ticket holders for 20 years, six of which Brian served on the Seminole Boosters Board of Directors. They were among the Boosters honored in October during the FSU vs Clemson football game for their contributions to athletics.
"Brian and Cortney have really come through for FSU and the college in many ways, and their enthusiasm is contagious," said Michael Hartline, the college's dean. "They sought out ways to help us with our mission and really have gone beyond the call of duty. We're extremely grateful to them."
Just last month, the couple hosted a Legacy Hall reception, helping Hartline and his team unveil the final design of the college's new $88 million, 200,000-plus-square-foot building to a select group of alumni in the Atlanta area.
"We're impressed by Dean Hartline's passion and think it's remarkable what he's accomplishing," Cortney said. "That's a big reason we wanted to bring folks together and get the word out about the great things the College of Business is doing and help drive excitement and support for the new building."
- Barbara Ash