College pilot program to offer select classes in virtual reality
---
College pilot program to offer select classes in virtual reality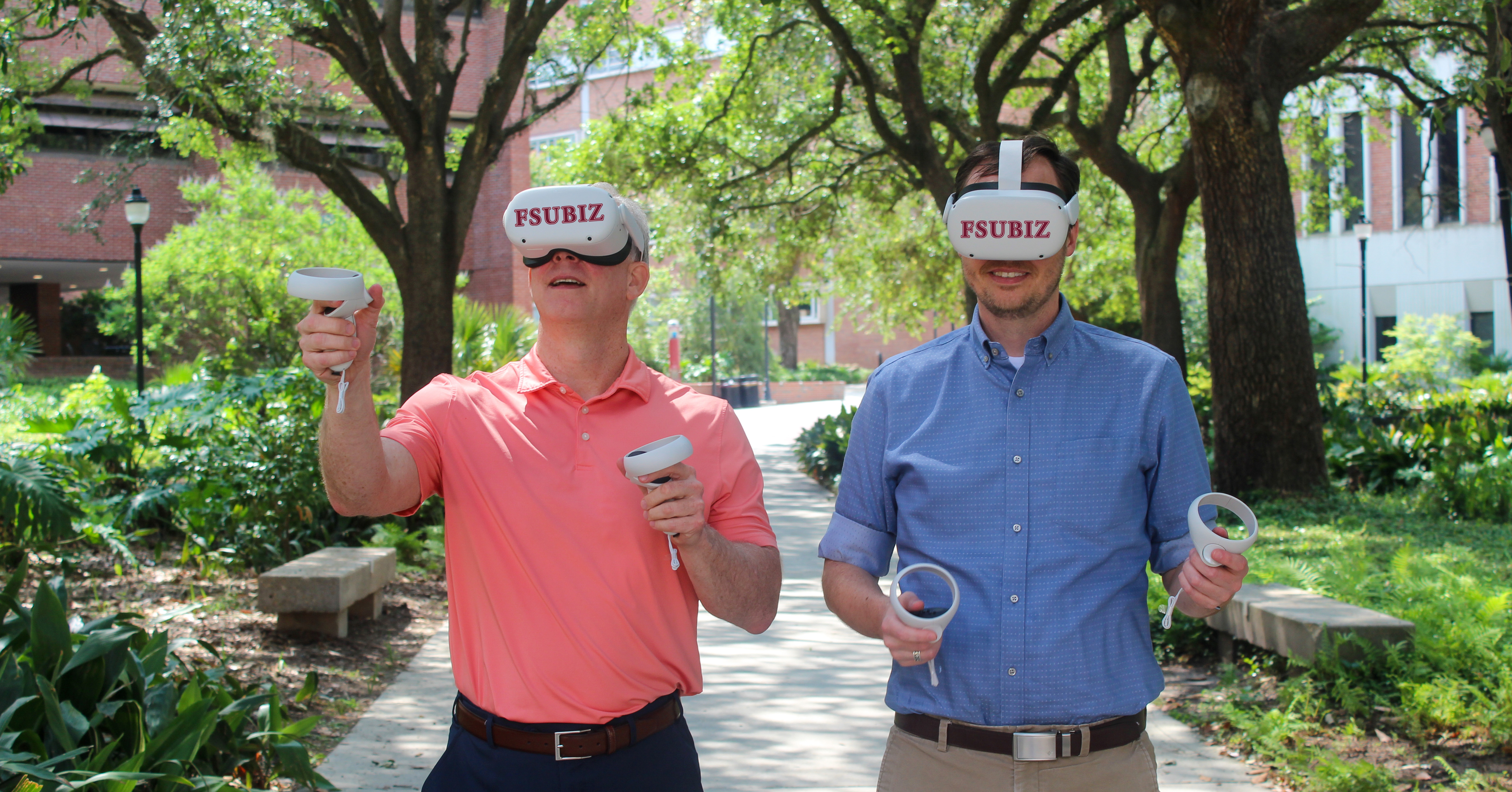 A pilot program launching this fall will allow students in the Florida State University College of Business to learn in virtual reality, guiding avatars of themselves in digital replicas of the college's classrooms and setting – specifically those of Legacy Hall, its future home.
Students will be selected for three courses: undergraduate courses in marketing and accounting and a graduate or undergraduate course in management. To provide the high-tech experience, the college is partnering with Victory XR, a provider of augmented and virtual reality content for educational institutions, and Meta, the owner of Facebook and a leader in social technology. 
The courses will be offered one at a time over a two-year period and taught by faculty members Darren Brooks, the assistant dean for executive and professional programs, MBA program director and leader of the pilot project; Jonathan Jackson, an associate lecturer in the Dr. Persis E. Rockwood School of Marketing; and Geoffrey Adams, an associate lecturer in the Department of Accounting.
"I know I am receiving a gift that not every teacher gets – an opportunity to pilot new technology and to explore ways of enhancing or updating teaching," Jackson said. "With our virtual reality pilot, I get to be at the forefront of imagining how we can create new learning opportunities for students."
The college stands among academic units at 16 educational institutions, including Florida A&M University, that are working with the companies to launch digital twin campuses, or "metaversities." Victory XR calls them "hyper-realistic spaces" custom-built to "feel as immersive and realistic as an in-person university."
FSU joins Clemson, Wake Forest and the University of California, Irvine, as the only business schools in the initiative.
"We need to start embracing these advanced technology platforms in the delivery of educational programs," said Brooks, who expressed excitement about the pilot's implications for everyone involved. "We can either be on the front end of the technology, or we can follow suit on the back end. I'd rather be on the front end where we help shape it rather than having to adapt to what someone else says."
"We can't sit idly by, watch and wait," Adams said. "I am super excited about the pilot program, and I cannot wait to be a part of figuring it all out."
Victory XR helped to launch metaversities at 10 academic institutions last fall. Among them was Atlanta-based Morehouse College, which offered two virtual reality courses in spring 2021. 
Another groundbreaking initiative
Michael Hartline, dean of the FSU College of Business, touted virtual learning as a natural progression and enhancement of current online learning experiences. An early pioneer, the college started offering several fully online master's degrees nearly two decades ago, before most of its business-school peers.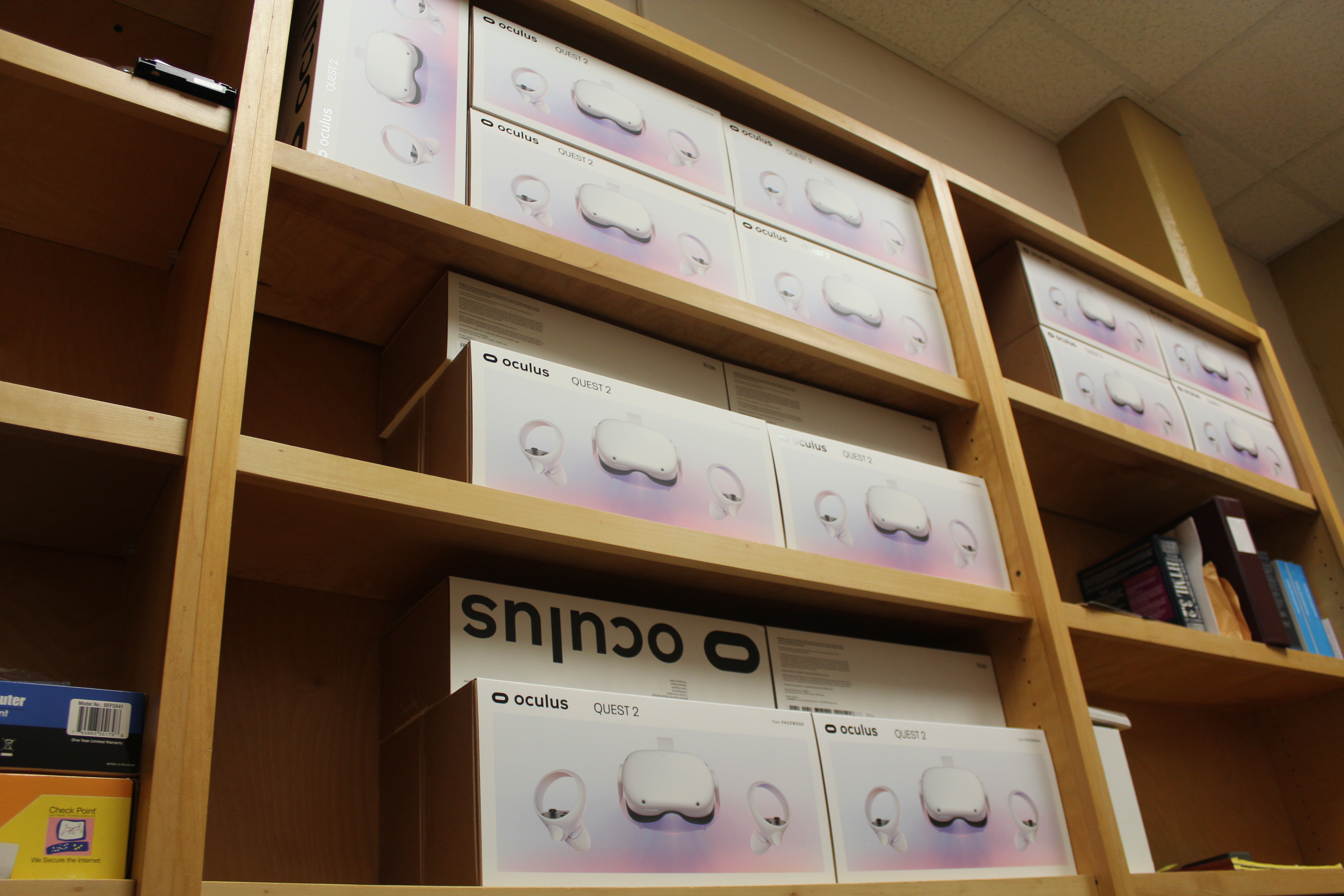 It now boasts a nationally ranked online Master of Business Administration (MBA), plus Top 20 online master's degrees in management information systems (MS-MIS) and risk management and insurance (MS-RMI). Combined they make up most of the college's graduate enrollment.
It's unclear when and to what degree virtual learning will expand in the college and university, but Hartline said administrators anticipate strong student and faculty support for the pilot program.
"We're always eager to launch initiatives that break new ground and give our students compelling educational opportunities that offer flexibility, world-class instruction and the latest technology in an ever-changing digital world," Hartline said. "We salute Darren Brooks for starting this project, and we look forward to seeing where our exploration of the metaverse takes us."
Brooks, also an associate lecturer in the Department of Management and the Barry and Janice Anderson Director of the Center for Human Resource Management, said he and his students received exposure to virtual reality through the FSU Innovation Hub and Deloitte's Future of Work initiative. He said he learned about the Victory XR/Meta initiative early this year when he met John King, Victory XR's director of higher education sales, at a conference.
The project will include collaborations with university partners such as the Innovation Hub and Jonathan Fozard, FSU's chief information officer, Brooks said.
"This technology pilot program demonstrates Florida State University's commitment to lead the nation in innovative solutions for student success across higher education," Fozard said. "We're eager to see the results of this effort and learn more about how VR enhances learning and engagement on campus."
The college plans an initial enrollment of 40 students – one for every virtual reality headset it has purchased so far – and might also accommodate students who supply their own equipment, Brooks said. Details on the selection of students will come later.
Adams, Brooks and Jackson first must complete extensive training that includes use of equipment, instruction of students and operation in virtual reality.
"We'll play around with it in my organizational behavior class this summer to work the kinks out," Brooks said. He said the three would confer on a teaching schedule after their training.
Creating a virtual Legacy Hall
Brooks said he considered Legacy Hall the natural virtual setting of the pilot program. College and university officials hail the world-class facility, scheduled to open in 2025, for its potential to draw top-notch students, retain the highest-quality faculty members and keep the college on its upward rankings trajectory.
Victory XR will create Legacy Hall in virtual reality through three-dimensional drawings of the building and classrooms, including proposed colors, furniture, equipment and other content, Brooks said. The company will do so with precision and to scale – measuring and projecting entrances and even the distance of desktops to the floor, for example. It offers this video example of a metaversity.
Students will guide avatars of themselves around the building and classrooms so that they can interact with avatars of faculty members and other students. They'll also participate in lectures, gather in groups, do experiments and projects and even pick up and move objects.
"Students will feel as though they're studying, learning and conversing right in Legacy Hall – two years before it opens," Brooks said.
Jackson added: "I'll be able to take my students directly from a classroom into another environment, like a retail shop or a sports event or an urban cityscape, at the click of a button."
Brooks called the real-time interaction of virtual reality a significant upgrade from traditional online programs. In addition, he said, faculty members will be able to program classroom situations that strengthen the learning experience. Take a role-playing situation involving a manager and a customer, for example.
"I can create an avatar in this virtual environment that's going to respond to my inputs, and it's going to react in certain ways," Brooks said. "I'm not dependent upon another student to have to take this seriously and respond in a certain way, so I can control those interactions a lot better in a virtual environment." 
Brooks said virtual reality platforms provide a powerful way for university educators to understand and test new technology and develop its best use in preparing students for different careers.
"Technological advancements that will integrate generative AI, multimedia and virtual and augmented reality are coming – and they are coming quickly," he said. "Through our partnerships with technology partners, this pilot is but one step we are taking to incorporate emerging technologies into higher education."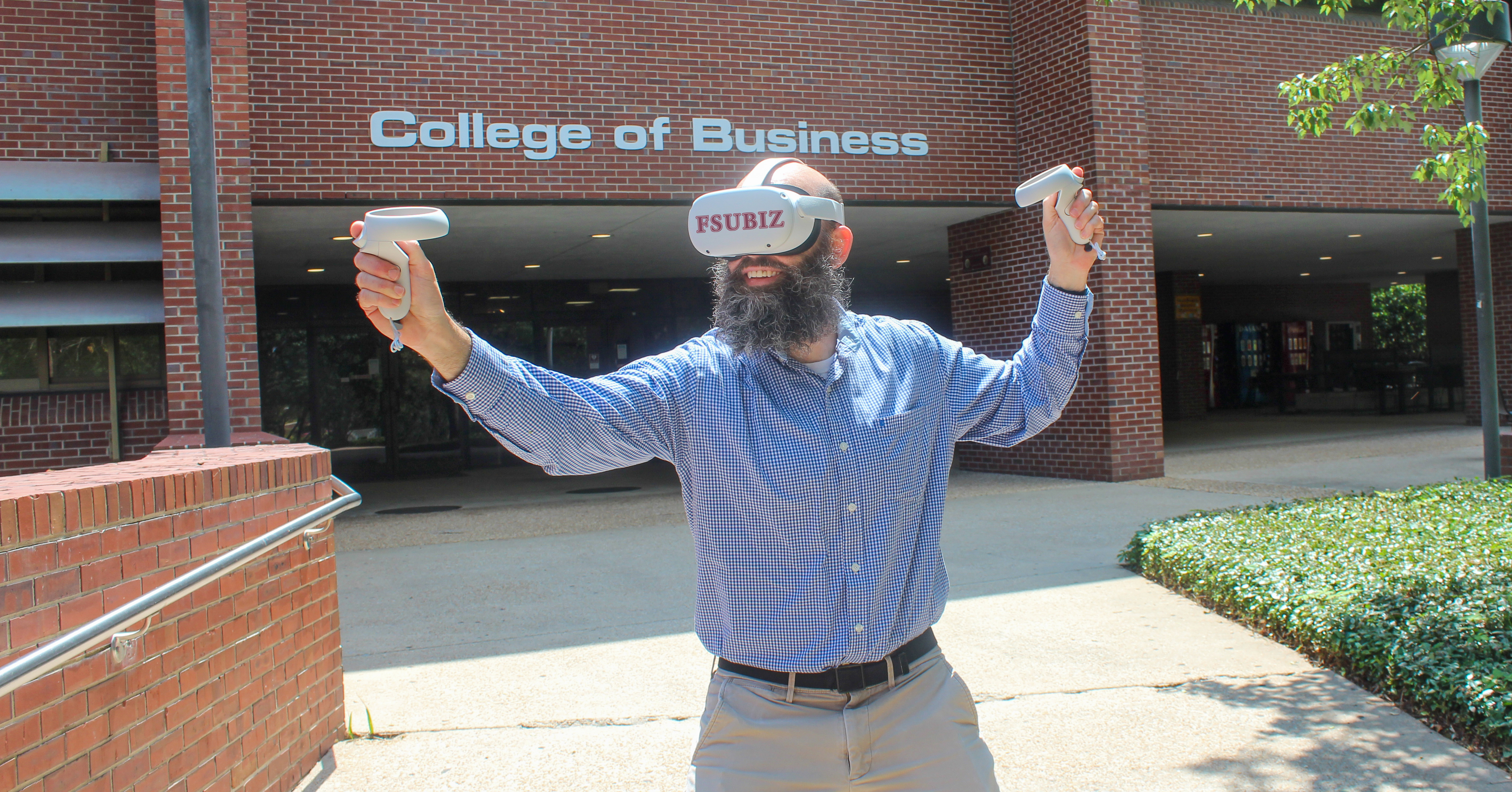 Adams said he already has contacted accounting faculty members at other universities and found little in the way of plans to implement virtual reality in their classrooms. "At least in accounting programs, it appears that we are once again on the razor's edge innovating the learning experience," he said.
He emphasized implications for the accounting industry as well, including "process walkthroughs, inspections and observations when the professional cannot be physically present with the client."
Adams said he plans to talk with professionals and former students about their use of virtual reality and how the profession might benefit from it.
"I want colleagues calling me to discuss how we can create new immersive and experiential learning experiences for the future leaders of our world," he said.
Jackson said he looks forward to getting started.
"I think student demand will only increase in the coming years," he said. "We have a generation of students coming in who have plenty of experience with VR gaming, and they will be comfortable with learning in virtual environments."
Regarding the future, he said, "I don't think virtual reality can or ever will completely replace all teaching and learning situations. But I see it as a great tool to help us augment and expand what we do at the College of Business."
-- Pete Reinwald