Finance Day: Cybersecurity CEO shares how effort, attitude lead to success
---
Finance Day: Cybersecurity CEO shares how effort, attitude lead to success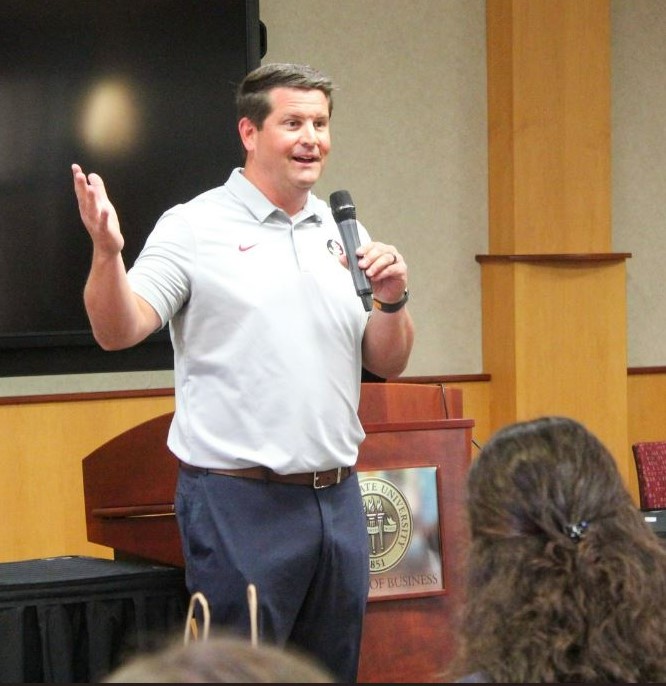 Abracadabra. If that's your path to business success, Brian Murphy says, you're doing it wrong.
"Everybody wants a magic answer," he said. "It doesn't matter what you read. It doesn't matter whom you follow on Instagram. It doesn't matter that, like 'The Rock,' you take a picture of your watch every morning at 4 a.m. when you go to the gym.
"All that matters is that you're willing to do more than the person next to you."
Murphy (BS Accounting & Finance '00), a 2022 inductee into the Florida State University College of Business Alumni Hall of Fame, made his comments last month as keynote speaker during Finance Day, which gave students an overview of industry opportunities.
He spoke as founder and CEO of ReliaQuest, a Tampa-based cybersecurity company that boasts 1,200 employees, six global operations centers and coveted "unicorn" status as a private company that exceeds $1 billion in valuation. The company is worth "multiple billions," with a growth rate of more than 30% a year, he said.
"There's no magic to it," Murphy told students. "The No. 1 thing you can focus on is your own effort. I can't coach effort. I can't teach effort. I can't motivate effort. Effort is you versus you, those conversations that you have in the back of your head, that corner you cut, that thing you committed to do but didn't do."
Murphy made effort and attitude the themes of a frank hour-long presentation, in which he detailed the November 2007 launch of his company that continues to draw the attention of major global investment firms. Murphy served in leadership positions in accounting, finance and operations before he dropped everything, on the cusp of the Great Recession, to launch ReliaQuest. 
He bootstrapped – that is, used only personal resources such as credit cards, second mortgages and family-member loans – and survived for a few years on the strength of IT work and engineering. He built a customer base and a reputation that in 2011 made him the first recipient of the college's Recent Alumni Achievement Award.
Customers today include KKR, American Eagle Outfitters and Campbell's, among hundreds of other top companies. 
"I just kept doing the things that other people weren't willing to do," Murphy said. "Every time an opportunity presented itself and I had an option to seek comfort or seek challenge, I went with challenge. When things got hard, I did it hard. When things got easy, I did it hard."
'Put your head down and work hard'
Murphy emphasized his upbringing in Middleburg, a community southwest of Jacksonville. He claimed no educational or technological lineage: His mother worked at Publix for 42 years, and his father retired as a diesel mechanic. 
"All I was taught was put your head down and work hard," he said. "Don't make excuses."
Murphy remains a major supporter of the college and university – serving on the College of Business Board of Governors and on the Seminole Boosters Board of Directors. He also has given personally and through his company to create the ReliaQuest Analytics Teaching Lab and the Brian & Renee Murphy Muiltipurpose Room in Legacy Hall, the future home of the college, and to serve as lead sponsor of the FSU Sales Institute's International Collegiate Sales Competition.
His company's awards include 2020 Innovation Team of the Year in Fast Company magazine's Best Workplaces; 2021 Community Transformer Award from the Tampa Bay Economic Development Council; 2022 Best North America Cybersecurity Company from the Cyber Security Global Excellence Awards; and repeated recognition from Deloitte's Technology Fast 500 and Fortune magazine's Best Workplaces in Technology.
The company also is an honoree of the Seminole 100, the fastest-growing alumni-owned or alumni-led businesses.
A 2020 article in Forbes touted ReliaQuest's $1 billion valuation, nearly 50% staff growth over the previous year and financial support of the 2021 Super Bowl in Tampa. The company now also sponsors a New Year's Day college football game, the ReliaQuest Bowl, also in Tampa.
It all comes from effort, Murphy said.
"I'm not the smartest guy in the room," he told students. "I don't have a (business) pedigree of generations of people in my family. But what I have is work ethic. You will not outwork me. You won't."
Investors have taken note. The company received $30 million in growth equity from FTV Capital in 2016 and $300 million from global investment firm KKR in 2020, with participation from Ten Eleven and Murphy himself.
'It's about the customer'
With a private company that big and lucrative, the question becomes when to go public. Murphy said ReliaQuest likely would have made an initial public offering this summer had the equity markets not fallen amid rising interest rates. 
"I run the business around three questions," Murphy said. "Is it good for the shareholder? Is it good for our teams – our ReliaQuest people? Is it good for the customer? If I can't say yes to all three, I never do it, and it's not good for any of those three right now to go public."
Murphy encouraged students to commit themselves to customer service and to follow the example of Publix, where he held his first job. When customers asked where to find the ketchup, for example, he didn't point them to the correct aisle, he said. He followed company policy and walked them to the correct aisle, then showed them all the brands and varieties. 
"It's about the customer," he said. "If someone's going to pay you for what you do, be a pro. Can people rely on you? That's it – being helpful."
He told of a time when as an intern at PwC, one of the Big Four professional services firms, he volunteered to change a flat tire for his manager's fiancee so that the manager could stay at work and meet an audit deadline for a huge client – the PGA Tour. That day, he said, he also stayed up until 4 a.m. fixing a company printer.
"Just apply some simple concepts," Murphy told students. "Be accountable. Be helpful. Change the tire. Go get coffee. Hold the door open for somebody … and be laser focused. Become so valuable at what you do they could not imagine anybody else in that job."
-- Pete Reinwald