Flying high: Major gift names director, sparks student success
---
Flying high: Major gift names director, sparks student success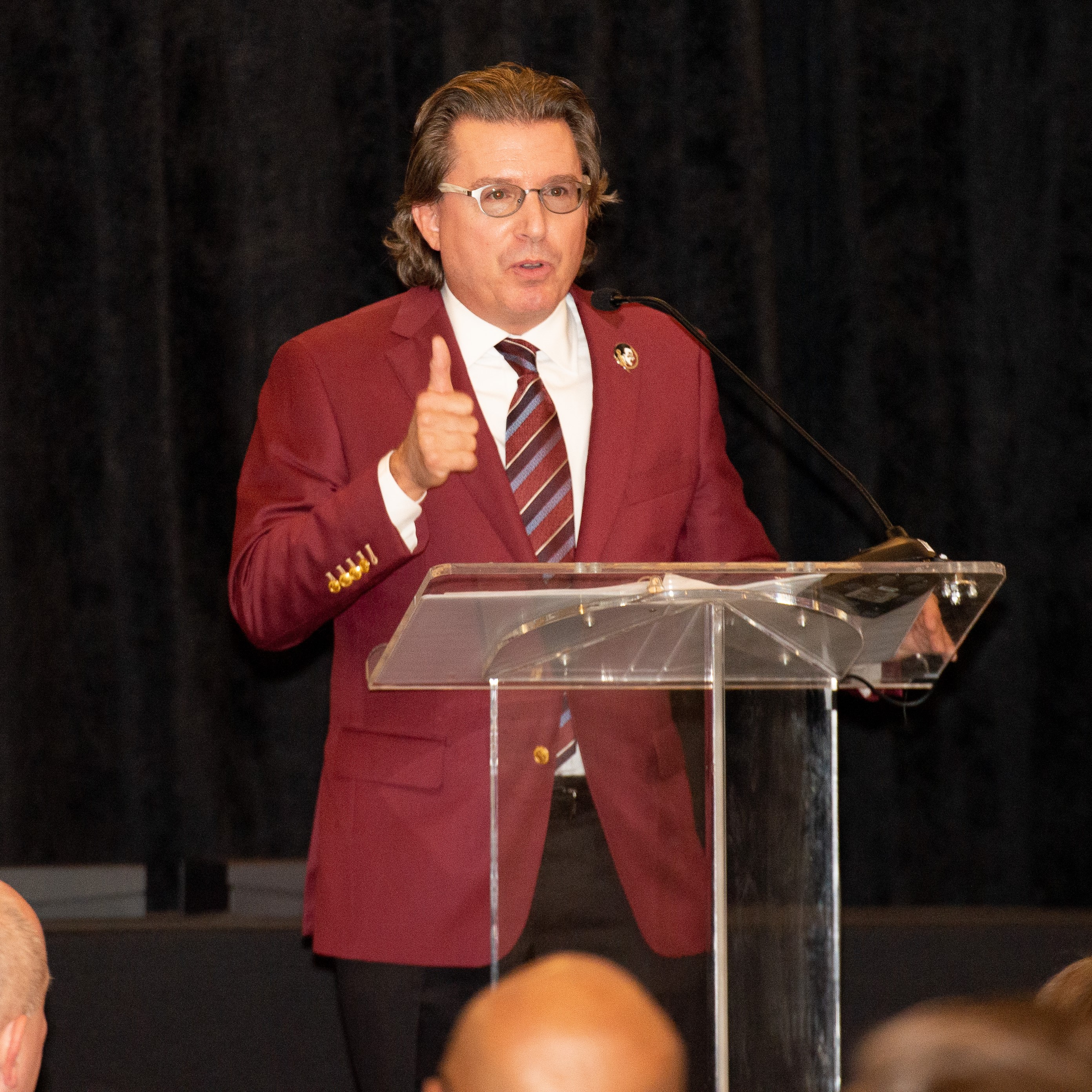 A major donation introduced at an altitude of 34,000 feet is helping to keep the Florida State University College of Business soaring on behalf of its students.  
The $525,000 gift from alumnus Christopher Iansiti, chair of the FSU Foundation Board of Trustees, and his partner, Michael A. Fornaro, establishes the Christopher E. Iansiti Endowed Directorship in the college's Center for Professional Success. Iansiti initiated discussion about the gift last fall via text message with Michael Hartline, dean of the college, who was on a flight above Florida at the time.
The investment funds the Christopher E. Iansiti Director of the Center for Professional Success, a position held by Luke Hopkins, and allows the college to support programs that will turbocharge the center's efforts to help students launch their careers, officials say.
The center already has added Mark Zeigler, a longtime and highly respected FSU faculty member, as senior lecturer and director of the college's First-Year Experience Programs, which next year will include the launch of a Living-Learning Community for freshmen interested in business majors. This fall, Zeigler is overseeing the expansion of Engage 100, part of a university-wide initiative that college officials say helps new students become more familiar and engaged with the college and its programs and resources.
"This amazing gift elevates our efforts to make the Center for Professional Success a powerful academic supplement and 'one-stop shop' where students can further build leadership skills, explore jobs and internships and get started in their professional careers," Hartline said. "We genuinely thank Chris and Michael for their vision, support and generosity as we continue on our path to preeminence."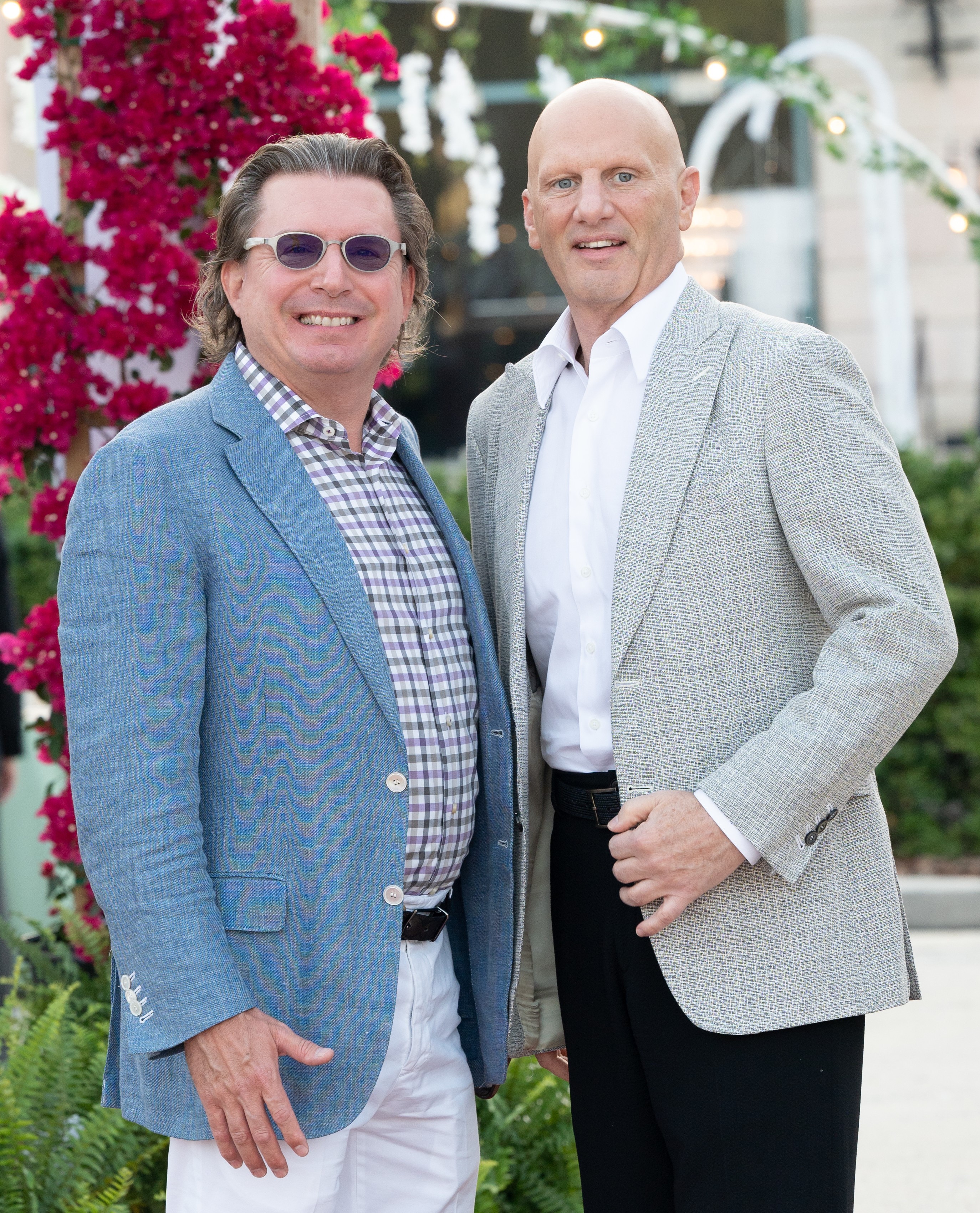 Hartline was more than six miles above northern Florida on a November flight from Miami to Atlanta, from where he would connect home to Tallahassee, when Iansiti texted him with a familiar air of benevolence. 
"How much would it cost to endow a directorship?" Iansiti asked after a few messages.
"$500K to do it the right way," Hartline replied.
"How do we do it the right way?" Iansiti wrote, signaling he was all in.
Hartline expressed delight from uncharted territory.
"Who knew one could do successful fundraising at 34,000 feet?" he texted.
Iansiti (BS Finance '92; MS Instructional Systems '94), a longtime FSU supporter and former chair of the College of Business Board of Governors, said later: "It's kind of funny the way it happened. I was just checking in with Dean Hartline, and I wanted to ask about making another gift. Ultimately, I wanted to ensure that the college had a truly elevated Center for Professional Success so that we could give the college and our students what they need to flourish."
Fornaro said he saw his gift as another way to contribute to student success. For the past several years, he has remained an active and generous supporter of FSU as the current chair of its Department of Interior Architecture and Design Council and as a member of the Dean's Advisory Council in the College of Fine Arts. 
"I join Christopher in hoping that our gifts will help the College of Business inspire, develop and produce the next generation of business leaders," Fornaro said.
Engage 100
In Engage 100, Zeigler will oversee an initiative that will feature about 300 first-year students who intend to major in business. His arrival allows the college, which has been administering the program for a couple of years, to reach more incoming students.
The program marks a departure from the traditional undergraduate business experience in which students don't engage with the college or career paths until their junior year. Engage 100 puts them in gear right away.
Hopkins said the program also emphasizes "what all College of Business students come to know – that the college experience doesn't begin or end in the classroom."
During the coming fall semester, business-intent students selected for the program will take a weekly one-hour course that, among other things, explores possible majors and careers; discusses college and university programs, resources and recognized student organizations; and teaches good planning, study and research habits.
Staff and faculty members will teach those courses in 16 sections of 19 freshmen, with assistance from top students, including Seneff Scholars and members of the Student Leadership Council. Hopkins, also a senior lecturer and director of the Seneff Honors Program, said new students thereby will get "a great understanding of the college and their academic and career options from three perspectives – faculty members, staff members and business majors."
Business LLC
Next year's planned Business LLC will go beyond Engage 100 when it comes to immersion of incoming students. Like FSU's other Living-Learning Communities, the Business LLC will allow new students who share an interest to live together and take classes together. 
The program will give students opportunities to explore career options in business and plan their academic journeys accordingly. It also will help establish early connections with the college and alumni, enhancing students' classroom and professional preparation.
The college aims to eventually establish an LLC for each of its majors, making the Business LLC by far FSU's largest.
"This is something Dean Hartline has wanted to do for a while," said Rick Morton, the associate dean for academic operations and the Julian V. Smith Family Professor of Business Administration. "Students can feel lost when they first set foot on a big campus like ours, so living and studying with roommates with whom they have something in common can give them a sense of community and a sense of belonging as freshmen."
Morton added: "We also think students stand a better chance of making informed decisions about a major and getting the jobs they want if they're engaged with the college when they first arrive on campus."
Hopkins, the center's director, said the new initiatives underscore the center's mission of helping students explore careers, search for jobs and internships, connect with recruiters, prepare for interviews, build leadership skills and more. 
The center boasts a team of 10 including the addition this month of a new course facilitator. It plans to soon add two more employees, including a course facilitator and a program coordinator, the latter to support Engage 100 and the LLC.
Hopkins lauded the addition of Zeigler. A popular faculty member from the College of Communication and Information, Zeigler served as faculty director of FSU's Exploration and Discovery Living-Learning Community at Bryan Hall and played a significant role in development of the Business LLC.
"We're so fortunate to have Mark Zeigler on our team," Hopkins said. "Mark has the ultimate heart for students and has helped countless numbers of them during his time at FSU."
Hopkins also expressed appreciation for the generosity of Iansiti and Fornaro. He noted Iansiti's accessibility and personal touch.
"Chris responds 'yes' to any request, whether it's to mentor a new business student, meet with a graduating senior to discuss a job offer or grab a coffee with me to talk about initiatives within the center," Hopkins said. "All Chris wants do is help."
Thinking 'big' about FSU
Iansiti said multiple factors motivated him to create and fund the directorship endowment. 
He gave out of inspiration from his background as founder of Iansiti Performance Group Inc., an organizational performance consulting firm that he sold in 2021. He previously worked as an officer with Delphi Performance Consulting Inc. and as a consultant with Andersen Consulting/Accenture.
He said his career always has focused on organizational performance and human potential – "helping people, teams and companies be the best they can be" – and he remains an expert in activating corporate strategy through people, focusing on change, culture and talent management and development.
"How do we onboard people? How do we develop them? How do we give them training?" Iansiti said. "They need team development, personality assessments, a personal vision, coaching. You've got to give them a big vision, so they know where they're going."
He gave out of a decades-long connection to FSU. His gifts have supported students in business, education and entrepreneurship. The FSU College of Education honored him with a Distinguished Alumni Award, the Alumni Association inducted him into its Circle of Gold, and the College of Business in November will induct him into its Alumni Hall of Fame.
"I really think big about FSU," Iansiti said. 
That includes the national rankings, in which FSU ranks No. 19 among public schools on U.S. News & World Report's annual list of best universities nationwide. 
"If we want to be in the Top 15, we have to take everything we do up a notch," he said. "We all have to dig deeper, do everything we do better – and give more."
He also gave out of a commitment to make a "leadership gift" as chair of the FSU Foundation before his two-year term expires next year. He thereby leads by example.
Iansiti noted that the College of Business now boasts two named center directorships, including the Barry and Janice Anderson Director of the FSU Organizational Effectiveness Institute, formerly the Center for Human Resources Management. Samantha Paustian-Underdahl, the Mary Tilley Bessemer Associate Professor of Business Administration, holds that title.
The college supports six other centers and institutes.
"I would love every director in the College of Business to be named," Iansiti said. "That's a big vision and inspiration to me, too. We need to do more of them."
In the meantime, he added: "I'm thrilled that the Center for Professional Success has a named director and the funding to elevate it so that we can deliver for students now and in the future."
-- Pete Reinwald