Former Gov. Bush to real estate students: Network, help others
---
Former Gov. Bush to real estate students: Network, help others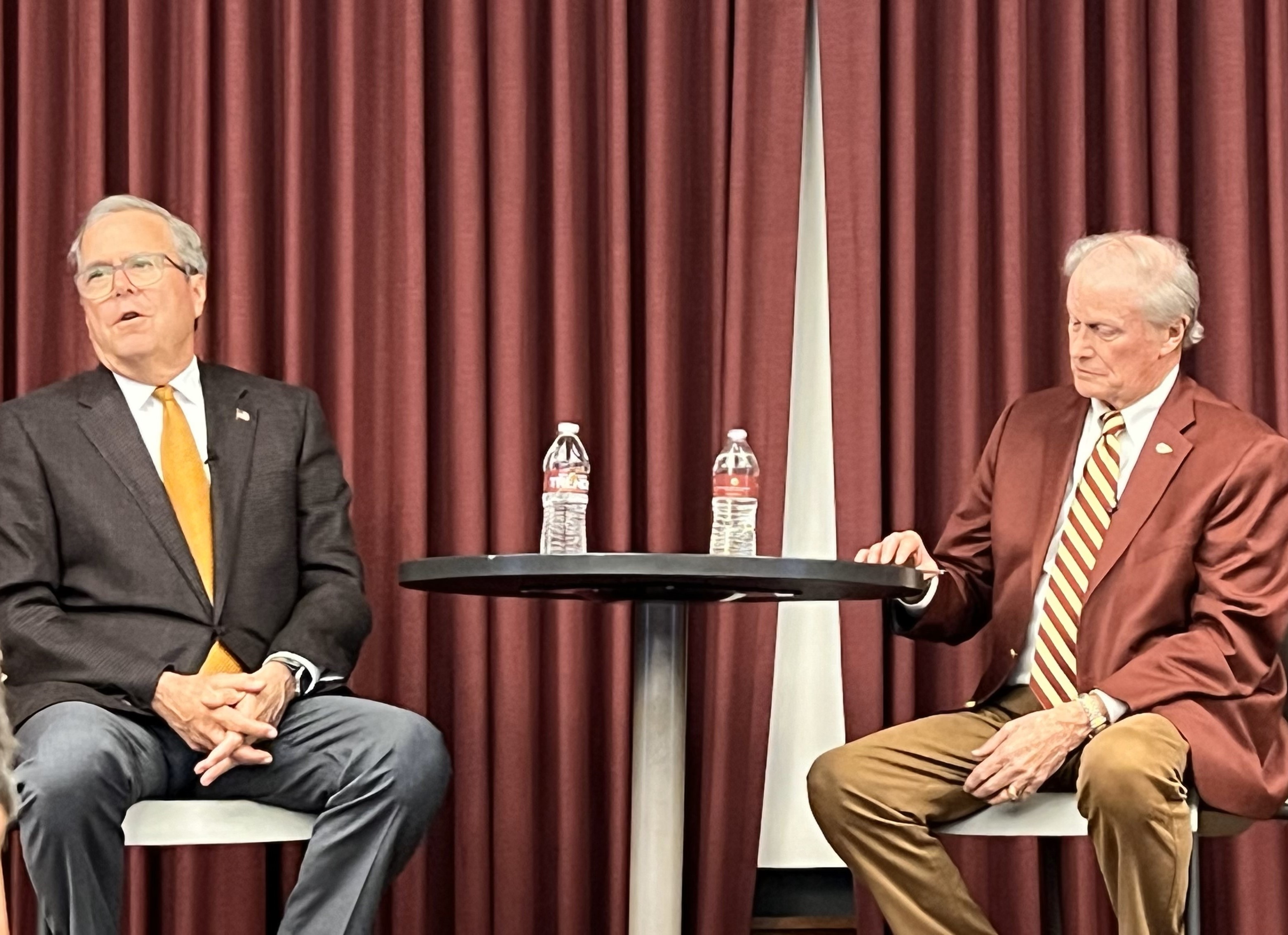 Former Florida Gov. Jeb Bush encouraged students in Florida State University's real estate program to focus on leadership, to take risks, to cultivate their "networking garden" and to be givers instead of takers.
Bush served as a featured speaker Thursday during the final day of the FSU Real Estate TRENDS Conference, a world-class two-day business forum hosted by the FSU Real Estate Center and the College of Business.
Speaking with facilitator and FSU President Emeritus John Thrasher to an overflow crowd almost 400 people at the Turnbull Florida State Conference Center, Bush reflected on his life as the son of one U.S. president and the brother of another; his eight years as Florida's governor; and his continued work as founding partner of Finback Investment Partners, a Coral Gables-based private equity firm that he helped launch in 2017.
"You really need to tend to your networking garden … which is why going to a great university is a first step," he said. "And the way you build a network is to help others. If you're a giver, you're going to get in return far more than you could ever imagine. If you're a taker, it's not sustainable. You can take for a while, but eventually you're going to wither away."
Bush spoke to an auditorium full of students and leaders from across the real estate industry. The audience also included numerous FSU alumni, friends, board members and officials, including FSU President Richard McCullough and College of Business Dean Michael Hartline, both of whom spoke during Thursday's luncheon. 
McCullough touted record research funding, plus university records in freshman retention rate and in four- and six-year graduation rates.
"Florida State University is one of the best public universities in the United States," he told attendees, many of whom talked with and recruited students during the conference's real estate job fair on Wednesday.
Hartline boasted of similar achievements in the College of Business, including a No. 1 ranking in percentage of published faculty among business schools at Carnegie-classified public universities.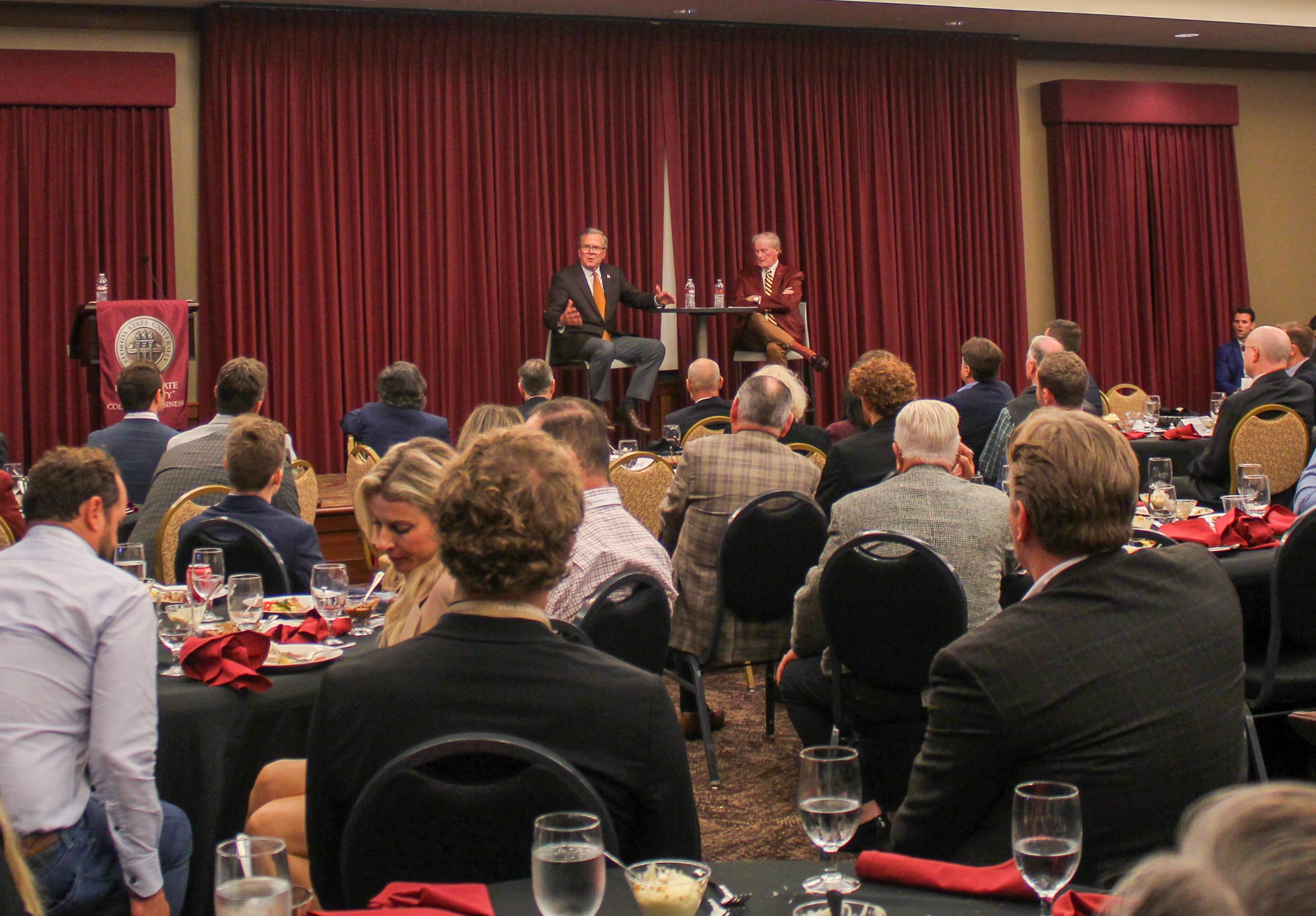 Hartline also noted that Bush named his firm in honor of the USS Finback, a Navy submarine that rescued Bush's late father and future 41st U.S. president, George H.W. Bush, a Navy pilot whose aircraft was hit after a successful mission during World War II.
"It's inspiring to hear that the USS Finback remains a guiding symbol of teamwork, integrity and resilience at your firm," Hartline told Bush, also a brother of George W. Bush, the 43rd U.S. president.
Thrasher, now a faculty member in FSU's College of Law and College of Criminology and Criminal Justice, called Bush a friend whom he knew even before Thrasher's stint more than two decades ago as speaker of the Florida House of Representatives. The former FSU president asked Bush a range of questions, including about current events and his time as governor, his Catholic faith and his upcoming 50th wedding anniversary with his wife, Columba.
Thrasher also asked Bush to share his best advice.
"Take risk," Bush told students. 
Bush shared a story of when he was in his early 20s and the father of infants ages three months and 18 months. His employer, a Texas bank, asked him to move to Caracas, Venezuela, where he would help the company open a new office. He agreed.
Bush said the experience far exceeded "having it all planned out."
"The pursuit, trying to figure out stuff as you go along, gives you more purpose," he said. "It puts more vitality in your life. It allows you to add value to other people's lives."
The former governor shared additional wisdom on several topics, including:
Leadership
"We desperately need you all to rise up and to step up and begin to solve problems," Bush told students. "Let's try to focus on what the world looks like going forward and the lessons we learned as it relates to leadership. Tell stories based on what you've learned because you have the curiosity to seek information and seek the truth."
Learning 
"How many times did you learn something when you had success compared to the times when you failed?" he asked.
He told of his campaign for Florida governor in 1994 when he narrowly lost to Lawton Chiles. Bush won the next two gubernatorial elections.
"It was the best campaign I ever had in my life," Bush said about the 1994 election. "I learned a lot from that loss. I learned that I had to share who I was before I started giving out five-point plans to cure the common cold. And I learned to tell stories. I learned humility. I learned all that when I lost, not when I won, and the only way you have success is to try a bunch of different things. Don't have it all planned out. Don't be timid. We need you out there quickly."
Life
"Think about how you take care of the people you care about first," Bush said. "Be a great spouse. Be a great father or mother. Be a great community leader. Be a great associate in business. And give." 
-- Pete Reinwald