MS-MIS professional encourages his fellow graduates to seek out opportunities
---
MS-MIS professional encourages his fellow graduates to seek out opportunities
The insights student keynote speaker Razvan Petrescu shared with his fellow graduates at the College of Business Master's Hooding Ceremony last month were gleaned from his two years as a graduate student at Florida State University and 20 years as a management information systems professional in international banking.
"Florida State laid a strong foundation for us, and now the time has come to start building a future on this foundation," Petrescu told the graduates in his prepared remarks. "We are trading what has been a pretty well-organized life of business courses, clear expectations and supportive professors for the unexpected twists and turns of the professional world.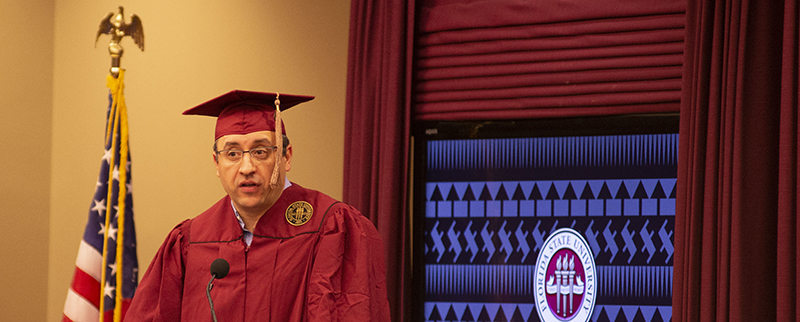 ​
"We now must become and remain relevant to a whole new set of people, and we must learn how to be successful in a world that is much more challenging than the world we experienced as students. We must be present in the present, keep our eyes wide open to the future and grab opportunities as they present themselves, as they may not come as often as we'd like."
Petrescu, who first stepped foot on the FSU campus in December to attend his graduation, earned his Master of Science in Management Information Systems (MS-MIS) entirely online while working as head of Management Information, Financial Planning and Decision Support at Al Khalij Commercial Bank in Qatar, where he had been employed since 2008. He recently accepted a position as an advanced analytics consultant for Wells Fargo's Enterprise Finance and Information Technology, the Treasury Department in North Carolina.
Before he enrolled at Florida State, Petrescu spent a year researching online MS-MIS programs. He chose Florida State after discovering its program is one of the best in the nation, ranked No. 5 by U.S. News & World Report. Having worked in the MIS field for a couple of decades, he had specific requirements for an academic program.
"I was looking for confirmation that my expertise and knowledge learned by doing the job is in line with what is taught in business schools and that I would be exposed to the very latest in-demand tools and would acquire knowledge that keeps me cutting-edge and relevant into the future," Petrescu said. "I was convinced joining the FSU program was the right thing, and it was."
Petrescu entered the IT field with no formal training in that business discipline when he took a position as information engineer and IT support with Romanian Commercial Bank in 1993 and then as the information services manager at Unisys, an American technology company with business in Bucharest. His skills evolved over the next 11 years within the Finance Group at ABN AMRO Bank in The Netherlands, where he held positions with increasing responsibility, including head of Business Intelligence and senior business performance analyst for the Managing Board before moving to the bank in Qatar.
"We invited Razvan to speak at the Master's Hooding Ceremony because of his extensive background and the fact that he truly represents the working professional and international aspects of our program," said Ashley Bush, Sprint Professor of Management Information Systems, director of the MS-MIS and Master of Science in Business Analytics (MS-BA) programs and chair of the Department of Business Analytics, Information Systems and Supply Chain. "He was able to contribute to our online discussions and provide other students insights from his years as an MIS practitioner."
In addition to earning his MS-MIS degree, Petrescu also holds a Master of Business Administration (MBA) from the University of Reading's Henley School of Business in Oxfordshire, England, and a bachelor's degree in electronic and telecommunications engineering from Politehnica University of Bucharest in his home country of Romania.
- Barbara Ash