Rosen regales students with tales of his successful Wall Street career
---
Rosen regales students with tales of his successful Wall Street career
Each semester, the college's Closing Bell Speaker Series brings in top experts to address timely issues in the financial sector. It is designed to give students exposure to professionals from all fields of financial economics. Last month, the college hosted 1992 finance and accounting graduate Eric Rosen as the fall semester's Closing Bell Speaker, and students were rapt as he recounted stories of his more than 25 years as a high-powered and highly sought-after Wall Street trader.
By pretty much any measure, Rosen has had an amazing career. He beat out graduates from Ivy League schools to land a job in Chicago at Continental Bank. To keep him on board, the company paid for him to get his Master of Business Administration (MBA). He moved to J.P. Morgan in New York City to take over the trading desk, built a team that brought in hundreds of millions in revenue for the company and, by the age of 27, was earning an enviable salary.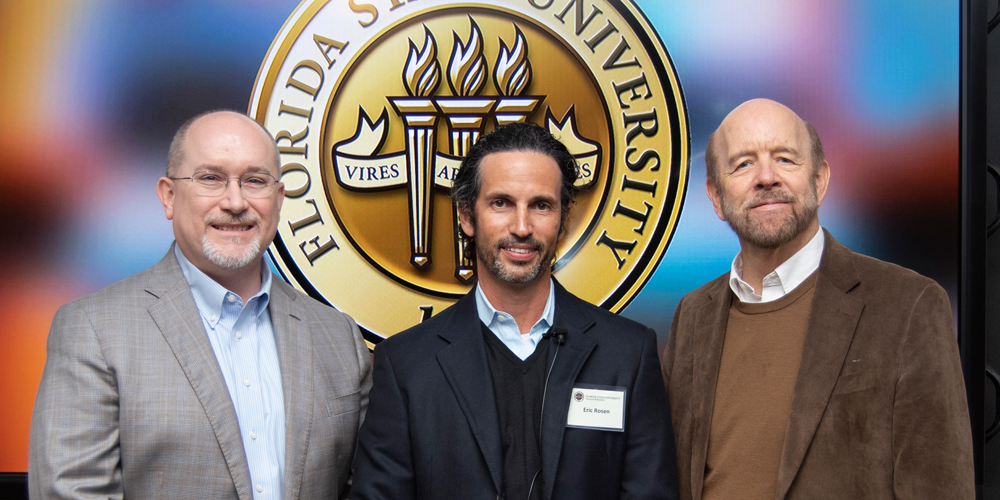 Rosen has had power lunches at the Four Seasons Restaurant in Manhattan with people like J.P. Morgan chairman and CEO Jamie Dimon and Revlon billionaire chairman Ronald Perelman. Media mogul Rupert Murdoch asked to share a sofa and a meal at a holiday get-together. When Rosen decided to leave the company, he got a long-standing ovation from colleagues – which he says is one of the highlights of his career.
After leaving J.P. Morgan, Rosen made a few other career moves, including taking a position with UBS Investment Bank as managing director and head of fixed income Americas and then being named chief investment officer and portfolio manager at Reef Road Capital, a hedge fund he co-launched in 2012 with $400 million in capital. These days he is based in South Florida, where he is focused on investing his own capital.
"I never thought all of that would be possible, but I was told consistently by my mother that anything is possible with hard work, and that a winner never quits and a quitter never wins, and I took that to heart," Rosen told the students. "Over the course of my career, I learned that once you get an opportunity, it is what you make of it; and once you're in a job, nobody cares about anything other than your contribution."
Repeatedly, Rosen advised his student audience to "have a plan, have a goal, work hard to execute."
Past Closing Bell speakers include Michael McCauley, senior officer, Investment Programs and Governance for the State Board of Administration of Florida; and Robert Foresman, the head of Barclays Bank's businesses in Russia.
To learn more about the Closing Bell Speaker Series, contact Dr. Irena Hutton, the Gene Taylor/Bank of America Associate Professor of Finance and Director of the Gene Taylor/Bank of America Center, at ihutton@business.fsu.edu. 
- Barbara Ash