Students learn value of diversity and inclusion in the workplace
---
Students learn value of diversity and inclusion in the workplace
Representatives from some of the world's best-known companies visited the College of Business recently to instill in tomorrow's business leaders the importance of advancing diversity and inclusion in their workplaces.  
"While identifiers such as race, gender, ethnicity and religion are the most common lenses through which we see each other, we must also share and seek to know each other's experiences, perspectives and values," said Kelvin Womack, p rincipal, Federal Human Capital at Deloitte Consulting, addressing students. "It's this combination of seen and unseen identifiers that more completely define each of us,"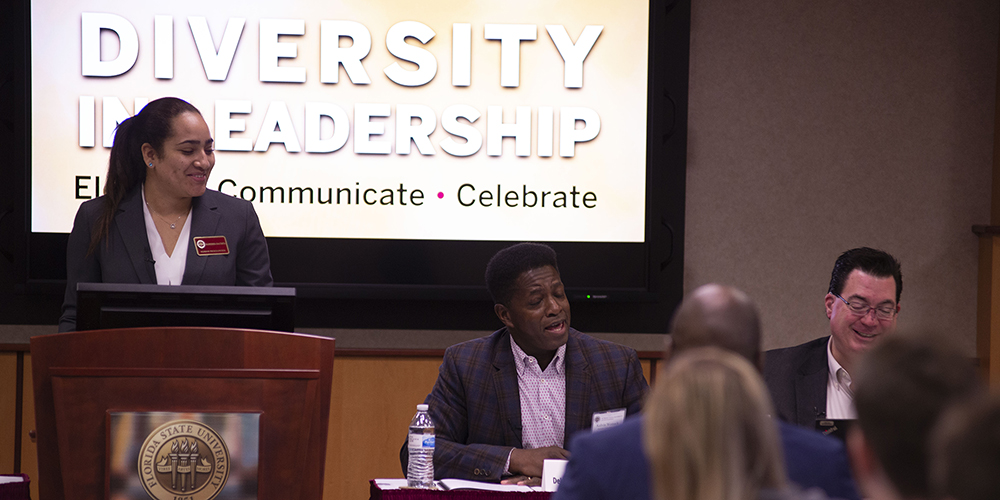 The panel discussion was the highlight of an annual Diversity in Leadership Day, coordinated by members of several student organizations in the college. Members of the panel covered such issues as national and global events that have elevated the importance of diversity and inclusion, the evolution of related workplace policies and the role of top executives in promoting these values.
"I think what we all took away from the day is that the issue of diversity and inclusion is complex and important to the success of any business, and that everyone ought to be a part of diversity and inclusion initiatives – from CEOs down," said student moderator Dameisha Dacosta, a senior majoring in management with a focus on human resource management. "I also learned that diversity and inclusion initiatives should not be a reaction, but should be proactive, and that diversity is broader than race and gender."
Acknowledging that our country, workplaces and schools increasingly consist of various cultural, racial and ethnic groups and that collaboration among these groups fosters great ideas and innovation, business students sponsored the first Leadership in Diversity Day in 2017.  
In addition to Womack, the panel included:
Gina Barnhill, director, Diversity & Inclusion and HR, Disney Park Experiences and Consumer Products
Brad Coburn, vice president, Human Resources, Hospital Corporation of America's Capital Regional Medical Center
Allen Gomez, member, Global Diversity and Inclusion Team, Delta Air Lines
Ron Pettit, director, Global Disability Inclusion and ADA Compliance, Royal Caribbean Cruises
The student-initiated event was supported by the:
American Marketing Association Student Chapter
Association of Latino Professionals for America
Center for Human Resource Management
Consulting Group
Delta Sigma Pi
Gamma Iota Sigma
Society for Human Resource Management Student Chapter
Student Leadership Council
Willow Partners (Noles on Wall Street)
"Diversity is where more common ground is found that fuels stronger relationships," Womack said. "If we do this with intentionality, we get the benefits of diversity and deeper human engagement. We tend to miss the latter because we gravitate toward sameness, however each of us personally defines it."
Watch the video from the Diversity in Leadership Day's panel discussion here.
---
- Barbara Ash