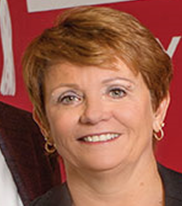 Title
Co-founder and Chief Operating Officer (retired)
Company
Bob Knight Photography
Location
Tallahassee, Fla.
Gail Knight, along with her husband Bob, built and grew the largest event photography company in the world after meeting at FSU in 1979. She was hired shortly after meeting her husband, who had a fledgling photography business focused on taking pictures at fraternity and sorority events. After teaming up together, the company began a remarkable upward trajectory that would take the business — and their relationship — to new heights.
Married in 1984, the Knights led Bob Knight Photography, now Iconic Group, through several decades of growth and prosperity, and employed tens of thousands of FSU students as part-time photographers, salespeople and office staff along the way. With Bob as CEO and Gail as CFO, their company successfully navigated the transition into the digital age, including the impact the internet and digital photography had on their industry. After several strategic acquisitions and mergers, including portfolios for universities across the country and the Boston and New York City marathons, their company reached nearly $100 million in annual revenue.
The Knights have chronicled their decades-long journey in a book titled "Married To It: How an Entrepreneurial Couple Built a Photography Empire by Investing in Their Customers, Staff and Each Other," which is available in hardback or audiobook on Amazon.