Associate Professor and Dean's Emerging Scholar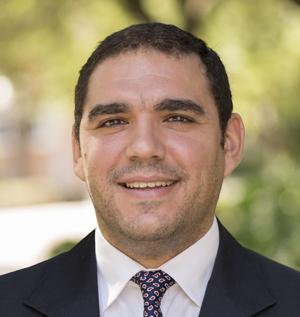 Academic Specialty
Strategic Management
Education
Ph.D. Management, IESE Business School
M.Sc. Management Research, IESE Business School (2014)
B.A., Business Administration, University of Buenos Aires (2006)
Areas of Expertise
Sustainability
Organizations & Communities
Organizational Learning
Ethics
Impression Management
Dr. Horacio E. Rousseau is an associate professor of strategy and entrepreneurship and dean's emerging scholar in the Department of Management at Florida State University's College of Business. His main research focuses on sustainable development, looking to understand how organizations can effectively promote change regarding social and environmental issues by studying various organizational and community-level factors. A secondary related area of research revolves around the issue of organizational ethics and deviance. Within this stream, Rosseau studies what drives organizations to become more transparent when dealing with publicly sensitive matters, as well as the opposite behavior, namely misconduct and the use of impression management tactics, such as hiding sensitive information from the public.
Rousseau received his bachelor's degree in business administration from the University of Buenos Aires. He received his master's degree in management research and his doctoral degree in management from IESE Business School.
Selected Published Research
Audia, P., Rousseau, H., Brion, S. 2020 (In Press). CEO Power and Nonconforming Reference Group Selection. Organization Science. 
Smulowitz, S. S., Rousseau, H., Bromiley, P. The Behavioral Theory of the (Community-oriented) Firm: The Differing Response of Community Oriented Firms to Performance Feedback. 2020. Strategic Management Journal. 
Rousseau, H., Berrone, P. & Gelabert, L. 2019. Localizing Sustainable Development Goals: Nonprofit Density and City Sustainability. Academy of Management Discoveries. 
Rousseau, H. 2017. Corporate Sustainability: Toward a Theoretical Integration of Catholic Social Teaching and the Natural-Resource-Based View of the Firm". Journal of Business Ethics. 
Berrone, P., Gelabert, L., Massa-Saluzzo, F. & Rousseau, H. 2016 (authors contributed equally and are listed alphabetically). Understanding Community Dynamics in the Study of Grand Challenges: How Nonprofits, Institutional Actors, and the Community Fabric Interact to Influence Income Inequality. Academy of Management Journal.
Honors and Awards
Academy of Management Discoveries 2020 Best Paper Award for "Localizing Sustainable Development Goals: Nonprofit Density and City Sustainability." 

AOM 2020 "A Behavioral View of Problemistic Search in Nonprofits: How Multiple Goals and Governance Drive Fundraising Efforts." Included in the 2020 AOM Best Papers Proceedings. 

Southern Management Association (SMA) 2018 Best Strategy Track Paper Award, for "Profiting from Lack of Cohesion: Bank Profitability in Fractured Communities." 

SMA 2017 Best Doctoral Paper Award, for "The Behavioral Theory of the (Community-oriented) Firm: Community Orientation and Banks' Responses to Attainment Discrepancies." 

AOM 2017 Nomination for ONE Division Best Paper Award, for "The Role of Nonprofit Organizations in Improving Community Environmental Performance." 

AOM 2017 "Creating Value for Others. The Role of Nonprofit Organizations in Improving Community Environmental Performance." Included in the 2017 AOM Best Papers Proceedings. 

AOM 2014 ONE Division Best Paper Award, for "Let's Talk: Studying Dialogue among Firms and Outside Actors on Social and Environmental Issues."