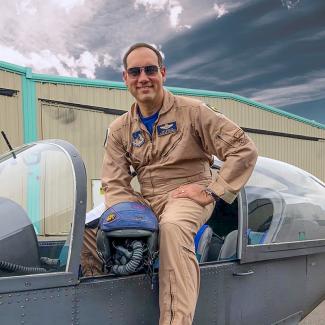 Title
Chief Executive Officer
Company
Blue Air Training
Chef Barlow grew up in Tampa, Florida. Fall of 1991, he started at Florida State University under the Florida Academic Scholars Program.
Barlow served 20 years in the United States Air Force as an A-10C central instructor school instructor pilot, forward air control airborne (FAC-A) instructor, mission commander and combat search and rescue (CSAR) pilot. He was the first fighter pilot since Vietnam to fly 100 combat missions in a single combat tour and received seven air medals. He has been featured in New York Times Magazine, Stars and Stripes and other military publications. He is the former director of Operations for Green Flag, the DOD's premier close air support training exercise. He oversaw and was responsible for the safe operations of 26 major exercises over a two-year period. Each exercise encompassed 5,000 to 9,000 personnel on a moving battlefield while U.S. and foreign-fighter aircraft employed live weapons in tactical scenarios. He has flown more than 4,100 total hours including 2,000-plus A-10 hours and 410-plus combat hours with 117 confirmed enemy KIA with experience in aircraft A-10, F-16, F-18, GR-4 and AC-130 Gunship. Barlow literally helped "write the book" on the joint tactical manuals, JP3-09.3, JFIRE, and others used today by every ground and close air support asset regardless of service branch.
With his primary business interests residing with Blue Air Training, Barlow's entrepreneurial endeavors have expanded into several other companies across diverse industries, including Luxury Yacht Adventures, Outlaw Energy Drink and Ross & Snow Shoes, as well as founding and acting as executive director of Attack Aviation Foundation 501 (c)(3) to assist with the veteran suicide problem.
Barlow is married to Dr. Gretchen Barlow and has two sons. Their oldest son, Ben, is currently serving in the Air Force Reserves as a KC-135 Boom Operator, and has plans to attend FSU in January 2020. Their youngest son, Trent, enlisted in the United States Air Force upon graduating from high school in June 2019.