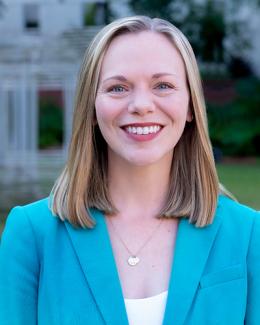 Education
M.S. Curriculum and Instruction, Western Governors University (2021)
B.S. Social Science Education, Florida State University (2014)
Areas of Expertise
Records and Inventory Management
Office Administration
Canvas Applications
After graduating from FSU, Kathryn Aguiar spent a semester teaching English to business professionals in the small town of Timóteo located in Minas Gerais, Brazil. She then returned to the U.S. and began her teaching career at Leon High School in Tallahassee. She spent the next seven years teaching world and U.S. History in Raleigh, North Carolina and Wakulla County, Fla. before returning to her beloved Florida State University.
Aguiar earned a bachelor's degree in social science education from Florida State University and a master's degree in curriculum and instruction with a focus on the effects of implementing explicit instructional strategies in high school social studies courses from Western Governors University.
Interesting Facts
She enjoys reading, running, crafting, travelling, baking and spending time with her family. When she's not working, you might find her planning her next Disney trip, eating Chick-Fil-A or quoting every line from the Golden Girls series.
Honors and Awards
Excellence Awards for research in Educational Psychology, Curriculum Evaluation and Differentiated Instruction; Western Governors University 2020