Associate Lecturer and Entrepreneur in Residence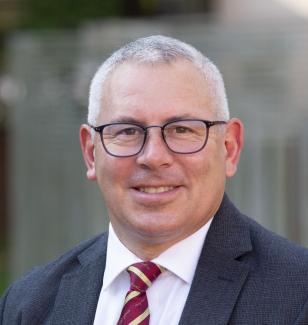 Academic Specialty
Innovation, Marketing Strategy and Marketing Research
Education
DBA, Kennesaw State University
MBA, Western Michigan University
BA, Alma College
Areas of Expertise
Marketing Research and Strategy
New Product Development
Entrepreneurship and Family Business
Dr. Keith Ferguson is an associate lecturer and entrepreneur-in-residence in the Department of Marketing at Florida State University's College of Business. Teaching at both the undergraduate and master's level, his courses cover innovation, marketing strategy and marketing research. His research interests include innovation, entrepreneurship, family business and sustainable product consumer behavior. Ferguson also serves as a faculty advisor for the Action Shooting Club, a registered student organization on campus. Prior to coming to Florida State, Ferguson taught at Michigan State University, Western Michigan University, Aquinas College and Grand Rapids Community College. He is a serial entrepreneur, having owned several businesses since 1988.
Ferguson earned his Bachelor of Arts from Alma College, an MBA from Western Michigan University and a D.B.A. from Kennesaw State University.
Selected Published Research
Binz-Astrachan, C., Ferguson, K.E., Pieper, T. & Astrachan, J. (2017).  Family business goals, corporate citizenship behavior and firm performance:  Disentangling the connections.  International Journal of Management and Enterprise Development, 16 (1-2), 34-56.
Ferguson, K.E., Hair, J.F., Silva, R.V., Oliveira-Brochado, A., & Mollah, M.M. (2017).  Consumer perceptions of sustainability:  An exploratory study.  International Journal of Business, Marketing, and Business Decisions, 10 (1), 1-9.
Smith, D.R., Hair, J.F., & Ferguson, K. (2014). An investigation of the effect of family influence on Commitment-Trust in retailer-vendor strategic partnerships. Journal of Family Business Strategy, 5 (3), 252-263.
Hopkins, L., and Ferguson, K.E. (2014).  Looking forward:  The role of multiple regression in family business research. Journal of Family Business Strategy, 5 (1), 52-62.
Textbooks
Ferguson, K.E., Sztykiel, J., and Ingram, M. (2020).  Contemporary Product Development: A Focus on Innovation.  Cognella, San Diego, CA.
Ferguson, K.E. (Under Contract).  An Introduction to Entrepreneurship in the 21st Century:  Lessons from a Serial Entrepreneur and University Professor.  Cognella, San Diego, CA.
Book Chapter
Ferguson, K.E. and Hopkins, L. (2019).  The Great Facilitator.  Reflections on the Contribution of Joseph F. Hair Jr. to Marketing and Business Research.  Springer, Switzerland, AG.
Case Study
Elsworth, J., Ferguson, K.E., Kirca, A., Miller, J., & Yidiz, H. (2020). The Home Depot: A digital transformation for customer experience.  Ivey Publishing.
Honors and Awards
2021 Outstanding Specialized Faculty Teaching Award
Recognized for outstanding teaching, difficulty of classes, and student success as determined by GPA. 
2019 Direct Selling Foundation Fellow  
The DSEF's goal is to educate and teach students how to use direct sales as a go-to-market strategy and to increase their understanding of how it increases awareness of channel members while providing opportunities.
2017 Broad Integrative Fellow
The BIF program has been created to develop more integrative thinking and teaching among the Broad College Faculty with the long-term objective of enhancing the college's teaching and learning culture, while increasing connections with key corporate partners.
Best Paper-Management Session-Academy of Business Research - Spring 2011 New Orleans, LA.
Grand Rapids Community College Academic Service-Learning Distinguished Faculty 
Beta Gamma Sigma International Honor Society-Western Michigan University and Kennesaw State University Chapters
Runner-Up Top MBA Marketing Student-Western Michigan University 2010