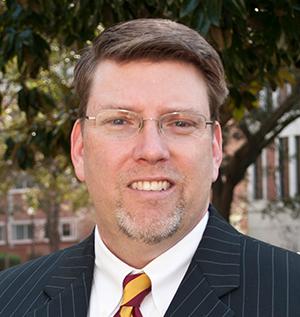 Academic Specialty
Sales and Customer Relationship Management
Education
Ph.D, Business Administration, Marketing, University of Tennessee, 2008
MBA, University of Georgia, 2004
BBA, Marketing, University of Tennessee, 1995               
Areas of Expertise
Entrepreneurial Behaviors of Sales Representatives
Solutions Marketing
Role of the Sales Force in Supply Chain Management               
Dr. Leff Bonney is an associate professor of marketing in the Dr. Persis E. Rockwood School of Marketing at Florida State University's College of Business, where he teaches graduate and undergraduate courses in sales and sales management. His research interest relates to decision-making in sales and sales managers, specifically around customer selection and targeting and sales strategy. His research has been published in Journal of Marketing, Journal of the Academy of Marketing Science, Industrial Marketing Management and Journal of Business Review, among others.   
Bonney has served as director of executive programs for the FSU College of Business and the FSU Sales Institute, which is housed in the College of Business. He helped create and grow the FSU Sales Institute, which supports the college's professional sales program and is considered the premier sales program in the nation. He also serves on the Board of Directors for the Sales Education Foundation. Bonney founded and is director of the Sales Educators' Academy, which is a program designed to better equip faculty from all over the world to teach sales and sales management at their respective universities. He also co-founded the International Collegiate Sales Competition, which is the world's largest sales competition with more than 400 students and executives from 40-plus companies participating each year. Recently, he won the American Marketing Association's Don McBane Award, which is given to sales educators and sales leaders who have made a lasting impact on the field of sales and sales management.
Prior to joining the faculty at FSU, Bonney worked in sales leadership roles for two Fortune 500 companies. He worked for eight years on major accounts for RR Donnelly negotiating large multi-year print contracts, where he was Sales Rookie of the Year and a four-time Outstanding Performance Club Member. Bonney also spent two years working in field sales and marketing teams for Eli Lilly Pharmaceuticals, where he won the Rising Leader Award in his first year. Over the last 15 years, he has consulted with dozens of corporate clients on sales force effectiveness, including areas such as customer segmentation and targeting, sales process design and adaptation, sales messaging, and sales training design and implementation. He also has designed and led corporate training programs such as basic selling, sales coaching, sales leadership advanced situational selling, sales operations leadership and negotiation.
Bonney earned his bachelor's degree in marketing from the University of Tennessee, an MBA from the University of Georgia and a Ph.D. in business administration with a major in marketing from the University of Tennessee.
Selected Published Research
Bonney, Leff, Elizabeth Davis-Sramek, and Ernest Cadotte (Forthcoming) " 'Thinking' about Business Markets: A Cognitive Assessment of Market Awareness and the Impact of Team Market Awareness Profiles on Performance," Journal of Business Research, Accepted September 2015. 
Bonney, Leff,  Bryan Hochstein and Melissa Nieves (2015), "Positive and Negative Social Reactions to Salesperson Deviance," Journal of Marketing Theory and Practice, 23 (3), p. 303. 
Bonney, Leff, Chris Plouffe and Michael Brady (2014), "Investigations of Sales Representatives' Valuation of Options," Journal of the Academy of Marketing Science, p.16. 
Bolander, William, Leff Bonney and Cinthia Satornino (2014), "Sales Education Efficacy: Examining the Relationship Between Sales Education and Sales Success," Journal of Marketing Education, 32(2), p. 161. 
Agnihotri, Raj, Leff Bonney, Andrea Leigh Dixon, Robert Erffmeyer, Ellen Bolman Pullins, Jane Z. Sojka, and Vicki West (2014), "Developing a Stakeholder Approach for Recruiting Top-Level Sales Students," Journal of Marketing Education, 36 (1), p. 75.   
Bonney, Leff, Chris Plouffe, Jeremy Wolters (2014), "I Think I Can…I Think I Can": The Impact of Perceived Selling Efficacy and Disclosure on Sales Person Escalation of Commitment," Industrial Marketing Management, 43 (5), p.826. 
Moreau, Page, Leff Bonney and K. Herd (2011), "For You or For Me; How the Intended Recipient Influences the Customization Experience and Valuations of Customized Products," Journal of Marketing, 75 (5), p.120. 
Bonney, Leff and Brian Williams (2008), "From Products to Solutions: The Role of Salesperson Opportunity Recognition in Providing Customer Value," The European Journal of Marketing, 43 (8), p.1032. 
Moon, Mark and Leff Bonney, (2007), "An Application of the Investment Model to Buyer / Seller Relationships: A Dyadic Perspective," The Journal of Marketing Theory and Practice, 15 (4), p. 335. 
Honors and Awards
2012 Top-rated marketing faculty member at FSU
2010-2012 Coached Top 5 Team (out of 70 teams), National Collegiate Sales Competition  
2009 Coached Overall National Champion, RBI Sales Competition       
2011, 2013 AMA Sales Educator of the Year Nominee            
2008 John R. Moore Graduate Teaching Award Finalist (UTK)