Senior Lecturer, Center for Professional Success Director, BS-MAR/MBA Combined Pathway Director and the James M. Seneff Honors Program Director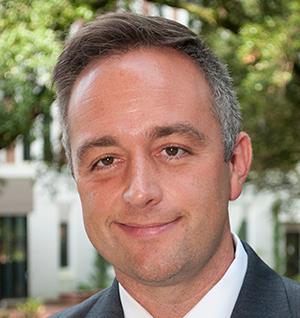 Academic Specialty
Marketing
Education
DBA, Marketing, Kennesaw State University, Michael J. Coles College of Business
MBA, Marketing, Georgia College and State University
B.S., Marketing
Areas of Expertise
Services Marketing
Social Media Marketing
Marketing Research
Dr. Luke Hopkins is a senior lecturer in the Dr. Persis E. Rockwood School of Marketing at Florida State University's College of Business. Hopkins also serves as the director of the Center for Professional Success, BS-MAR/MBA Combined Pathway and the James M. Seneff Honors Program in the college. He is the faculty advisor for Alpha Kappa Psi and the American Marketing Association and was awarded the 2016 – 2017 University Teaching Award and the 2016 Burning Spear's Guardian of the Flame award. 
Hopkins's research interests focus on the management of customer relationships, specifically in situations that require delivering bad news to the customer. He has published articles in Journal of Service Research, European Business Review, Journal of Public Affairs and Journal of Family Business Strategy. Hopkins's research on partial least squares structural equations modeling received the Outstanding Paper Award in the 2015 Emerald Literati Network Awards for Excellence and the 2017 Emerald Citations of Excellence Award. Given the nature of his research interests, Hopkins consults with businesses in the financial services and retail industries, while also teaching workshops on customer service and the management of service quality. 
Hopkins received his bachelor's degree in marketing from Middle Georgia State University and an MBA in marketing from Georgia College and State University. His doctoral degree in marketing is from Kennesaw State University
Selected Published Research
Pugh, H. B., Brady, M. K., & Hopkins, L. M. (2018). A Customer Scorned: Effects of Employee Reprimands in Frontline Service Encounters. Journal of Service Research, 21 (2), 219 – 234.
Crittenden, V. L., Hopkins, L. M., & Simmons, J. M. (2011). "Satirists as opinion leaders: is social media redefining roles?". Journal of Public Affairs, 11(3), 174-180.
Hair Jr, J. F., Sarstedt, M., Hopkins, L., & Kuppelwieser, V. G. (2014). Partial least squares structural equation modeling (PLS-SEM): An emerging tool in business research. European Business Review, 26(2), 106-121.
Hopkins, L., & Ferguson, K. E. (2014). Looking forward: The role of multiple regression in family business research. Journal of Family Business Strategy, 5(1), 52-62.