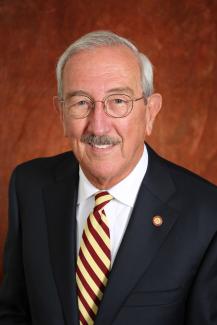 Professional Summary
Mark Hillis earned a Bachelor of Science in Business Administration majoring in finance from Florida State University's College of Business in 1964 and a Juris Doctor from the Woodrow Wilson College of Law in 1977. Hillis, a retired major of the U.S. Marine Corps, served 33 years as first vice president for SunTrust Bank in Atlanta. In 2016, he continued his service by accepting a seat on the SunTrust Bank Florida Panhandle Regional Advisory Board of Directors through 2019. In March 2020, he joined the Tallahassee Truist Community Advisory Board of Advisors. 
Hillis served on the FSU Board of Trustees from 2010 to 2020. He served as the vice chair of the Board of Trustees and chaired four committees during his tenure. Hillis and his wife, Nan, have established seven endowed scholarships at FSU for students and one professorship in real estate in the College of Business. Additionally, they have donated to the FSU Alumni Center, the new College of Business Building, Legacy Hall, the Veterans Legacy Complex and the new FSU Football Operations Center Building. 
Hillis is the recipient of the FSU Alumni Circle of Gold Award, the FSU Alumni Association Emeritus Alumni Society Commitment to Excellence Award, the FSU Faculty Senate Mores Torch Award, the FSU Real Estate Network Award and is a member of the FSU College of Business Hall of Fame. 
He has served on numerous FSU boards including the FSU Foundation Board of Trustees for 14 years, the FSU Alumni Association Board of Directors for nine years and the FSU College of Business Board of Governors for 26 years. He currently serves on the FSU College of Business Real Estate Center Executive Board of Directors, the FSU Undergraduate Studies Development Council, the FSU Libraries Advancement Board and the FSU Veterans Alliance Advancement Council. In 2020, he was elected to serve as a member of the Seminole Boosters Board of Directors and the Big Bend Hospice Foundation Board of Trustees. 
Additionally, Hillis has served on numerous FSU boards and other committees associated with FSU, as well as civic boards and committees listed below.
Professional Experience
CPC International, 1964-1966 
Salesman, Best Foods Division 
U.S. Marine Corps, 1966-1986 
Trust Company Bank (SunTrust Bank, now Truist), Atlanta, GA, 1969-2002 
First Vice President, Real Estate Finance 
FLORIDA STATE UNIVERSITY 
Bachelor of Science in Business Administration Degree, Finance Major (1964) 
Board of Trustees (2010 - 2020) 

Vice Chair
Chair, Academic Affairs Committee 
Chair, Select Committee for Strategic Planning 
Chair, Finance, Business and Audit Committee 
Chair, Collective Bargaining Issues Committee 

College of Business Board of Governors (1989 - 2015) 

Board Chair (1996 - 1998) 
Chair, Advancement Committee 

Foundation Board of Trustees (1995 - 2008) 

Secretary 
Chair, Real Estate Committee 
Chair, Finance Committee 
Chair, Development Committee 
Chair, Capital Campaign Executive Committee 

Executive Board College of Business Real Estate Center (2003 - present) 
College of Business Past President's Council (2015 - present) 
Seminole Boosters Board of Directors (2020 - present) 
Alumni Association Ambassadors (2014 - present) 
Raise the Torch National Capital Campaign Committee (2013 - 2018) 
Undergraduate Studies Development Council (2012 - present) 
Graduate School Advancement Council (2012 - 2014) 
Veterans Alliance Advancement Council (2012 - present) 
Alumni Association Steering Committee (2009) 
Alumni Association Development Committee (2004 - 2008) 
Alumni Association Board of Directors (1993 - 2002) 

Treasurer 
Chair, Advancement Committee 

Chair, Georgia Florida State University Capital Campaign Committee (1992 - 1997) 
Libraries Advancement Board (2017 - present) 
University Strategic Planning Committee (2016 - 2017) 
University Strategic Plan Implementation Committee (2017 - 2020) 
University Branding Committee (2017 - 2020) 
College of Business Charles A. Bruning Distinguished Speaker (1998) 
THETA CHI FRATERNITY 
Board of Directors, Foundation Chapter of the Theta Chi Fraternity (2011 - 2019) 

Secretary 
Chair, Scholarship Committee 
RECOGNITION ORGANIZATIONS 
FSU Alumni Association Lifetime Member 
FSU Emeritus Alumni Society 
FSU Seminole Boosters Member 
FSU Francis Eppes Society 
FSU James D. Westcott Society 
FSU Custodes Lampadis Society 
Seminole Boosters MICCO Society 
FSU Vires, Artes, Mores, Sapphire Society 
FLORIDA STATE UNIVERSITY CONTRIBUTIONS 
Funded a naming gift to the new FSU Football Operations Center (2021)
Established the Mark and Nan Casper Hillis Endowed Fund for Student Veterans (2017) 
Funded a charitable gift annuity to establish the Mark and Nancy Casper Hillis Professorship in Real Estate in the Florida State University College of Business (2015) 
Funded a charitable gift annuity to establish the Nancy Casper Hillis and Mark Hillis Endowed Scholarship for Women's Softball and Women's Basketball (2015) 
Established the Nancy Casper Hillis and Mark Hillis Endowment for Undergraduate Research in the Florida State University Division of Undergraduate Studies (2015) 
Donated real estate to FSU to support construction of the new College of Business Building, Legacy Hall, and the Veterans Legacy Complex (2012) 
Established the Mark and Nancy Casper Hillis Endowed Scholarship for Football (2010) 
Established the Mark and Nancy C. Hillis Endowed Fund for Real Estate in the FSU College of Business (2004) 
Established the Mark and Nancy Casper Hillis Dining Room at FSU Alumni Center (2000) 
Established the Nancy Casper Hillis and Mark Hillis Endowed Fund for Finance in the FSU College of Business (1988) 
OTHER CIVIC AND PHILANTHROPIC ACTIVITIES 
Big Bend Hospice Foundation Board of Trustees (2020 - present) 
Tallahassee Truist Community Advisory Board (2020 - present) 
SunTrust Florida Panhandle Regional Advisory Board of Directors (2016 – 2019) 
Board of Directors Southern Scholarship Foundation (2006 - 2009) 
Member, Executive Committee 
Chair, Investment Committee 
Emeritus Member 
The Council on Culture & Arts for Tallahassee/Leon County (2004 - 2006) 
Board Member and Treasurer 
Chair, Ways and Means Committee 
Community Advancement Board of the Hospice of the Comforter for Orange, Seminole and Osceola Counties 
Board Member (2007 - 2009) 
Hospice of the Comforter Board of Directors for Orange, Seminole, and Osceola Counties 
Leadership Georgia 
Metropolitan Atlanta Chamber of Commerce 
Marine Corps Reserve Association and the Military Association Officers of America 
Tallahassee Community College
Nan C. Hillis & Mark Hillis Nursing Scholarship
Member, Presidents Circle
 
AWARDS 
FSU Alumni Association Emeritus Alumni Society Commitment to Excellence Award (2018) 
FSU Faculty Senate Mores Torch Award symbolizing respect for customs, character and tradition in recognition of Nan and my commitment of time, talent, and financial commitment to the university (2018) 
Southern Scholarship Foundation Emeritus Member of the Board of Directors. Elected (2017) 
FSU Real Estate Network Award in recognition of Nan and my generous contributions to the FSU Real Estate Program (2017) 
Theta Chi Fraternity Citation of Honor for Outstanding Service (2015) 
Theta Chi Fraternity David E. Devol Award for Exemplary Service (2014) 
FSU College of Business Hall of Fame (2011) 
Theta Chi Fraternity Gamma Rho Chapter Award for Meritorious Service (2011) 
FSU Alumni Association Circle of Gold Award which recognizes worthy individuals who through their service and achievements personify the university's tradition of excellence (1996)
Association of Fundraising Professionals Big Bend Chapter Heart of Gold Award to Mark and Nan Hillis in recognition of their valuable contributions to the FSU Foundation (2015)