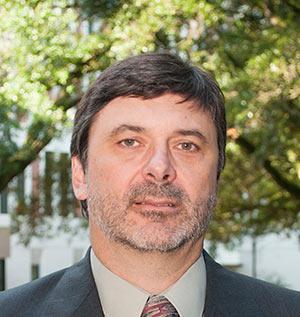 Academic Specialty
Business Communication
Education
Ph.D., Florida State University
M.A., Florida Atlantic University
B.S., University of Florida
Areas of Expertise
International and Intercultural Business
Professional Writing and Editing
Presentation and Communication Skills
Dr. Michael Trammell is a senior lecturer in the Department of Management at Florida State University's College of Business. He has taught many courses at FSU, but primarily teaches business communication with an intercultural dimension. In his research, Trammell examines issues on business communication, technical writing, speech delivery norms, and international communication. Additionally, he is an Associate Editor of the national-recognized journal the Apalachee Review and has served as the president of the Gulf Coast Association of Writing Teachers. His novel, Rad Sick Record, was published by Hysterical Books Press in 2020. Other work has appeared in New Letters, the G.W. Review, The Chattahoochee Review, New Collage Magazine, The Southeast Review, Gulf Stream Magazine, The Nebraska Review, and other journals. YellowJacket Press published his book of poems, Our Keen Blue House.
In the summers, he teaches writing, literature and business courses for Florida State's Florence, Italy; Valencia, Spain; and London, England programs.
Trammell received his bachelor's degree in microbiology from the University of Florida, his master's degree in English from Florida Atlantic University and his doctoral degree in English and writing from Florida State University.
Selected Published Research
Rad Sick Record (a novel). Trammell, M. Hysterical Press Books. Tallahassee, Florida. 2020.
"1960's Advertisement with Pirate Women and a Treasure Chest." Chasing Light: An Anthology of Poems Inspired by Burgert Brothers Photographs. YellowJacket Press in collaboration with Hillsborough County Library. 2019.
"Ghosts of Who You Were in Spain." The Cigar City Review. Issue 1. 2018.
"Little Pockets of Ease: a Kaleidofuge." Trammell, M., Hettich, M., Moro-Gronlier, C., Karetnick, J., & Naylor, S. South Florida Poetry Journal (SoFloPoJo). Issue Seven. 2017.
"The Markets." Glass Bottom Sky: A YellowJacket Press Anthology. 2015.
"Two Messages from the Global Financial Meltdown (Part Five): I. Note to a Partner in Italy & II. Florence: The Czech Hotel." and "Two Messages from the Global Financial Meltdown (Part Eight): I. California—Behind Closed Doors: the City Commissioner & II. The New York Analyst above the Atlantic: Where Next?" (2013), Sandhill Review. St. Leo University. Volume 2.
"Risk Management in the Great Recession." Bluestem/Karamu. Eastern Illinois University. Spring '12 Issue. 2012.
Textbooks
Business Communication Everywhere: In the U.S. and Abroad (2nd Edition). Trammell, M. (Mason, OH: Cengage Learning Publishing, Inc. 2014).
Interesting Facts
Dr. Trammell is originally from Boca Raton, Florida and spent many hours plunging into watersports in and on the Atlantic. He and his family visit the sea as often as possible. His son teaches Permaculture classes in the southeast and works as an Environmental Scientist, and his daughter has worked as an Entertainment Production Manager for Norwegian Cruise Lines. Additionally, Dr. Trammell has taught interdisciplinary classes that explore the connections between sustainability, intercultural communication, and business as well as twentieth-century literature classes for the Osher Lifelong Learning Institute at Florida State University.
Honors and Awards
Finalist. Midtown Reader Flash Fiction Slam Competition. Tallahassee, Florida. October 5, 2017.
First Place Prize. Fifth Annual Book Competition for Florida Writers. YellowJacket Press. Tampa, Florida (2008).