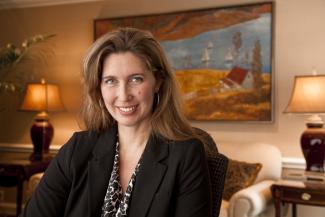 Company
Russell Reynolds Associates
Education
'93 Marketing and Multinational Business / '94 M.S. Sport Management
Based in New York, Nada Usina is a member of the CEO/Board Services Practice at Russell Reynolds and Associates in New York and leads the firm's technology sector across the Americas. She also co-leads the company's global Digital Convergence and Mobile Practice as well as the firm's global Media, Entertainment and Sports Practice. She focuses on senior level assignments in media, entertainment and convergence including traditional, online and mobile media and technology companies in both entertainment and sports. Her clients range from Fortune 500 to leading media and entertainment brands to venture capital and private equity-backed companies.
Previous Experience
Prior to joining Russell Reynolds Associates, Nada was a leader in the new media and mobile industries having managed multiple profitable business ventures in sports and entertainment, many of which leveraged the emergence of new technologies. She served as President of publicly-traded JumpTV, which merged with Neulion to become the world's leading online video and IPTV multi-platform provider. Prior to joining that, Usina was President of XOS Broadband Network, which was acquired by JumpTV for $60.25 million in September 2007.
Nada has had responsibility for up to 1500 employees, served as General Manager and President, Nokia Canada, and General Manager, North and South America for Nokia's entertainment and media business, and was Director of Yahoo!'s entertainment business development and sales programs, where she worked with studios, networks, broadcasters, music labels, game publishers and advertisers. She also led the sports business and marketing teams at Broadcast.com, which was acquired by Yahoo! for $5.7 billion during her tenure.
Her other positions have included leadership roles at Atlanta Committee for the Olympic Games, the Florida Sports Foundation and Florida State University athletics.
Education
A native of Toronto, Canada, she moved to the U.S. and received her B.S. in marketing and multinational business, and her M.S. in sport management from Florida State University.