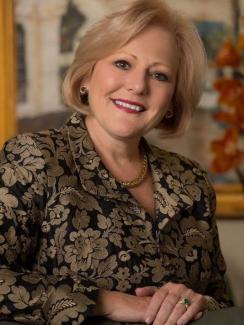 Professional Summary
Nan Casper Hillis of Tallahassee earned a Bachelor of Science Degree from Florida State University's College of Business in 1976 with majors in marketing and finance. 
Nan and her husband, Mark, have established 7 endowed scholarships for students at FSU and 1 professorship in Real Estate in the College of Business. Additionally, they have donated to the FSU Alumni Center, the new College of Business Building, Legacy Hall, and the Veterans Legacy Complex.
Nan serves as the Secretary of the FSU Foundation Board of Trustees, serves on the FSU Veterans Alliance Advancement Council and the FSU Heritage Museum Advisory Board. Previously she  served on the FSU Alumni Association Board of Directors, the FSU College of Business Board of Directors, co-chaired the $600 million FSU Connect Capital Campaign, and served on the $1 Billion  FSU Raise the Torch National Capital Campaign Committee.
Nan is the recipient of the FSU Alumni Circle of Gold Award, the FSU Faculty Senate Mores Torch Award, the FSU Real Estate Network Award, the 2019 FSU Panhellenic Alumni Advisor of the Year Award and is a member of the FSU College of Business Hall of Fame.  
In addition, Nan is active in the community as evidenced by service on the National Board of Directors of the Girl Scouts of the USA and currently, the City of Tallahassee Investment Advisory Committee. Other board service, committees and recognitions are itemized below
Professional Experience
PRIME MERIDIAN BANK, Tallahassee, FL, 2014 - present
    •    Senior Vice President, Chief Strategy Officer
BB&T (Branch Banking and Trust Co.), 2002 - 2012
    •    Regional President - Central Florida Region, 2006 - 2012
    •    Senior Vice President - City Executive, Tallahassee, FL, 2002 - 2006
BANK OF AMERICA (formerly NationsBank), Atlanta, GA, 1996 - 2002 
    •    Senior Vice President-Atlanta and North Georgia Commercial Market Executive, 1999 -2002 
    •    Senior Vice President-Atlanta Strategies Market Manager, 1998 - 1999
    •    Senior Vice President-Atlanta Specialties Market Manager, 1997 - 1998
    •    Senior Vice President-Atlanta Strategies Group Leader, 1996 - 1997
BANK SOUTH (acquired by NationsBank), Atlanta, GA, 1992 - 1996
    •    Group Executive, 1994 - 1996
    •    Senior Vice President, 1992 - 1994
CITICORP NORTH AMERICA, Atlanta, GA, 1989 - 1992 
    •    Vice President, Leveraged Finance Group
BANKERS TRUST COMPANY, Atlanta, GA, 1984 - 1989 
    •    Vice President, Credit Manager, 1986 - 1989
    •    Assistant Vice President, Relationship Manager, 1984 - 1986
CONTEL CREDIT CORPORATION, Atlanta, GA, 1980 – 1984 
    •    Vice President, Credit Administration, 1982- 1984
    •    Director of Operations, 1981- 1982
    •    Senior Credit Analyst, 1980 - 1981
PITNEY BOWES CREDIT CORPORATION, Atlanta, GA, 1979 - 1980
    •    Lease Analyst
TRUST COMPANY BANK (SunTrust Bank), Atlanta, GA, 1976 - 1979
    •    Management Trainee and Commercial Banking Officer
Florida State University
•    Bachelor of Science in Business Administration with a major in Finance and Marketing - 1976
•    Heritage Museum Advisory Board (2017 - present)
•    College of Business Past President's Council (2017 – present)
•    Ex-officio member of the Seminole Boosters Board of Directors (2016-present)
•    Alumni Association Ambassadors (2014 - present)
•    Foundation Board of Trustees (2013 - present)
      •    Executive Committee
      •    Chair, Audit Committee (2013 - 2016)
      •    Secretary (2018 - present)
•    Veterans Alliance Advancement Council (2013 - present)
•    $1 Billion Raise the Torch National Campaign Committee Member (2013 - 2018)
•    College of Business Board of Governors (2006 - 2017)
      •    Board Chair (2013 – 2015)
      •    Chair, Board Development Committee (2014 – 2015)
•    Foundation Exceptional Gifts Committee Member (2001 - present)
•    Co-chair of the $600 million FSU Connect Capital Campaign (2001 - 2005)
•    FSU Connect Capital Campaign Executive Committee (2001 - 2005) 
•    Clock and Seal Homecoming Keynote Speaker (2017)
•    College of Business Charles A. Bruning Distinguished Speaker (1998) and (2015)
•    FSU Alumni Association National Board of Directors (1987 - 1993)
Delta Delta Delta Sorority
•    Delta Delta Delta National Finance Committee (2018 – present)
•    Lifetime member of Delta Delta Delta Sorority 
•    Fundraising Committee for Alpha Eta House (2018)
•    Donation to Alpha Eta house formal living room to be named Nancy " Nan" Casper Hillis Living Room
•    Alumni Advisor, Alpha Eta Chapter of Delta Delta Delta Sorority (2017 – present)
Recognition Organizations
•    FSU Vires, Artes, Mores Sapphire Society
•    FSU Francis Eppes Society
•    FSU James D. Wescott Society
•    FSU Custodes Lampadis Society
•    Seminole Boosters MICCO Society
•    FSU Alumni Association Lifetime Member
•    FSU Seminole Boosters and various Coaches Clubs Member
Florida State University Contributions
•    Established the Mark and Nan Casper Hillis Endowed Fund for Student Veterans (2017)
•    Funded a charitable gift annuity to establish the Mark and Nancy Casper Hillis Professorship in Real Estate in the Florida State University College of Business (2015)
•    Funded a charitable gift annuity to establish the Nancy Casper Hillis and Mark Hillis Endowed Scholarship for Women's Softball and Women's Basketball (2015)
•    Established the Nancy Casper Hillis and Mark Hillis Endowment for Undergraduate Research in the Florida State University Division of Undergraduate Studies (2015)
•    Donated real estate to FSU to support construction of the new College of Business Building, Legacy Hall, and the Veterans Legacy Complex (2012)
•    Established Mark and Nancy Casper Hillis Endowed Scholarship for Football (2010)
•    Established the Mark and Nancy C. Hillis Endowed Fund for Real Estate in the FSU College of Business (2004)
•    Established the Mark and Nancy Casper Hillis Dining Room at FSU Alumni Center (2000)
•    Established the Nancy Casper Hillis and Mark Hillis Endowed Fund for Finance in the FSU College of Business (1988)
Other Civic Activities
City of Tallahassee Investment Advisory Committee, Tallahassee, FL
    •    Member (2016-present)
Tallahassee Economic Development Council, Tallahassee, FL
    •    Chair - Task Force on Concurrency (2003 – 2004)
Trinity United Methodist Church, Tallahassee, FL
    •    Finance and Stewardship Committee (2003 – 2006)
    •    Investment Committee (2014 – present)
Girl Scouts of the United States of America, New York, NY 
    •    Board of Directors (2002 – 2011)
    •    Nominating Committee (2005 – 2011)
    •    Finance Committee (2002 – 2005)
    •    Development Committee for 2005 Annual Convention (2003 – 2005)
Girl Scout Council of Northwest Georgia, Atlanta, GA
    •    Chair - Nominating Committee (2002)
    •    Chair - Board of Directors (2000 – 2002)
    •    Chair Elect/Second Vice President/Board Member (1997 – 2000)
    •    Board of Directors and Chair - Annual Fund Campaign (1994 – 1997)
Leadership Georgia Class of 2000
Leadership Atlanta Class of 1997
    •    Co-Chair of Recruitment Committee (2000)
Metropolitan Atlanta Chamber of Commerce
    •    Lifetime Member
    •    Vice Chair - Annual Membership Drive (1997 – 2000)
    •    Team Captain - Bank South (1995)
The Bridge, Atlanta, GA
    •    Advisory Board of Directors (1999 – 2002)
    •    Board of Directors (1993 – 1999)
Other Philanthropic Activities
•    Nan C. and Mark Hillis Endowed Scholarship in Nursing at Tallahassee Community College (2016)
•    Member, Tallahassee Community College Master President's Circle (2017)
Awards
•    FSU Panhellenic Alumni Advisor of the Year (2019)
•    FSU Faculty Senate Mores Torch Award symbolizing respect for customs, character and tradition in recognition of Mark and my commitment of time, talent and financial commitment to the university (2018)
•    FSU Real Estate Network Award in recognition of Mark and my generous contributions to the FSU Real Estate Program (2017)
•    Theta Chi Fraternity Carnation Award for support of the ideals of the national fraternity (2016)
•    FSU College of Business Hall of Fame (2016) 
•    Tallahassee Democrat 25 Women You Need to Know (2016)
•    Association of Fundraising Professionals Big Bend Chapter Heart of Gold Award to Mark and Nan Hillis in recognition of their valuable contributions to the FSU Foundation (2015)
•    Diamond Award, Woman of Distinction, Girl Scouts of the Florida Panhandle (2014)
•    Woman of Distinction Award by Girl Scouts Citrus Council, Orlando, FL (2012)
•    FSU Alumni Association Circle of Gold Award for individuals who, through their service and achievements, personify the university's tradition of excellence. (2009)