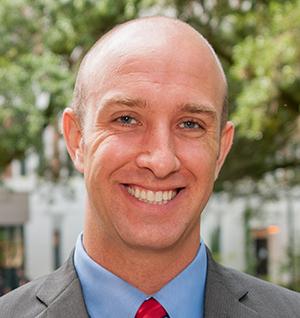 Academic Specialty
Financial Accounting and Reporting
Education
Ph.D., Northwestern University
Master of Accountancy, Brigham Young University
B.S. Accounting, Brigham Young University
Areas of Expertise
Disclosure
Capital Markets
Derivatives
Dr. Spencer Pierce is an associate professor in the Department of Accounting at Florida State University's College of Business. His primary research interests include financial reporting and disclosure, capital markets and accounting for derivatives. His research has been accepted for publication by outlets such as The Accounting Review, Management Science, Review of Accounting Studies, Contemporary Accounting Research and Journal of Financial Reporting. 
Pierce received his bachelor's and master's degrees in accounting from Brigham Young University and his Ph.D. from Northwestern University. He is a licensed CPA in the state of Colorado.
Personal Website: http://www.spencer-pierce.com
Selected Published Research
Black, D., S. Pierce, and W. Thomas. (2022). A Test of Income Smoothing using Pseudo Fiscal Years. Management Science, forthcoming.
Kim, M., S. Pierce, and I. Yeung. (2021). Why Firms Announce Good News Late: Earnings Management and Financial Reporting Timeliness. Contemporary Accounting Research, 38 (4): 2691-2722.
Campbell, J., U. Kahn, and S. Pierce. (2021). The Effect of Mandatory Disclosure on Market Inefficiencies: Evidence from FASB Statement No. 161. The Accounting Review,96 (2): 153-176.
Billings, B., S. Keskek, and S. Pierce. (2021). The Predictability of Future Aggregate Earnings Growth and the Relation between Aggregate Analyst Recommendation Changes and Future Returns.The Accounting Review,96 (1): 41-66.
Pierce, S. (2020). Determinants and Consequences of Firms' Derivative Accounting Decisions. Journal of Financial Reporting,5 (1): 81-114.
Campbell, J., L. Mauler, and S. Pierce. (2019). A Review of Derivatives Research in Accounting and Suggestions for Future Work.Journal of Accounting Literature, 42, 44-60.
Christensen, T., H. Pei, S. Pierce, and L. Tan. (2019). Non-GAAP Reporting following Debt Covenant Violations. Review of Accounting Studies, 24(2), 629-664.
Interesting Facts
Spencer enjoys spending time with his wife and two children. In his spare time, Spencer can often be found at the soccer field, either coaching or playing.
Honors and Awards
Awarded College of Business Undergraduate Teaching Award, 2021
Awarded University Undergraduate Teaching Award, 2016-2017
FARS Excellence in Reviewing Award, 2017, 2018