Senior Lecturer of Real Estate and Legal Studies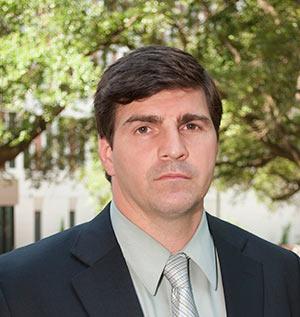 Academic Specialty
Real Estate and Legal Studies
Education
J.D., Florida State University (2000)
B.S., Real Estate, Florida State University (1997)
Areas of Expertise
Eminent Domain
Alternative Dispute Resolution
Dr. Bailey teaches real estate law, real estate appraisal, real estate principles, UCC law for accounting, and business law at the Florida State University College of Business. Prior to teaching at Florida State University, Dr. Bailey worked as a trial attorney for a large state-wide law firm representing owners in eminent domain cases against the government and other clients in various civil matters. Dr. Bailey also worked as an eminent domain trial attorney for the Office of the Attorney General representing the Department of Transportation in its acquisition of properties. Dr. Bailey's legal experiences have given him the opportunity to handle hundreds of eminent domain cases for both owners and condemning authorities. As a previously licensed Florida general appraisal instructor Dr. Bailey is aware of many of the valuation issues and arguments made by appraisers in condemnation, real estate, and family law cases.
Selected Published Research
Bailey, S. (2009). The New Frontier in Property Tax Challenges. The Florida Bar Journal. Vol. 83, No. 7, p. 30-38.
Bailey, S. (2009). Fooling Ourselves?: An Ethical and Constitutional Analysis of Lawyer-to-Lawyer Advertising. Florida Coastal Law Review. Vol. 10:385, 2009.
Bailey, S. & Murray, O. (2008). Ethics in Negotiation and Mediation for the Florida Attorney. Florida Bar Journal, Vol. 82, No. 5, p.10-15.
Bailey, S. (2008). Florida Case Law Review: Condemnation Blight in Florida. Florida Eminent Domain Newsletter, 40.
Honors and Awards
Twice nominated for Florida State University Teaching Award
Military Medals and Awards: U.S. Army and Florida National Guard Overseas Medals, Army Achievement Medal, Florida Meritorious Service Medal, Humanitarian Medal, Special Forces Tab, Airborne Wings, Expert Marksmanship Awards, Foreign Weapons Medal, et al.
Interesting Facts
Before practicing law Dr. Bailey owned and managed several hundred rental properties.
Dr. Bailey started out serving his country in the U.S. Army as a Special Forces Green Beret before working in real estate and practicing law.