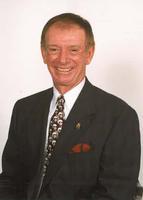 Title
Managing Director & Portfolio Manager
Company
Murphy, Middleton, Hinkle, & Parker Inc.
Location
Tallahassee, Fla.
Professional Experience
Murphy, Middleton, Hinkle, & Parker Inc. Managing Director, Portfolio Manager, member of the investment committee, and Chairman of the firm's Financial Planning Division.
Certified Financial Planner™ providing comprehensive personal financial planning in the areas of cash management, tax planning, risk management estate planning, investment planning, educational needs, retirement planning, and business planning.
Financial consulting to entrepreneurs.
Corporate financial and administrative management: Wayne H. Colony Co., Inc., Vice Pres. Admin. & Operations; Mobile Communications Corp. of America, Vice Pres. Administration; U.S. Home Corporation, Vice Pres. Finance; Lykes Corporation, Treasurer; Igram Corporation, Assistant Treasurer.
Education
CFP® - College for Financial Planning, Denver, Colorado
MBA Finance, Florida State University
B.S. Finance, Florida State University
Membership and Activities
Member of the Board of Directors of Tallahassee Community College Foundation and John Paul II High School;
Prior board member of the Community Foundation of North Florida;
Financial Planning Association (FPA);
National Board of Directors, Financial Planning Association;
Leadership Tallahassee Charter Board of Directors;
Florida State University College of Business Alumni Association Board;
Florida State University Alumni Association Board;
Seminole Boosters Board of Directors;
Board of Directors and Past President of the Florida State University School of Theater Patrons Association;
Former columnist for Tallahassee Democrat and Knight Ridder News Service, Financial Planning, and USA Today;
TV guest appearances on WCTV Business and Finance;
Rotary Club of Tallahassee, Past President;
Rotary Director Governor 1999-2000;
Recipient of the Frederick Clifton Moor award;
Multiple Paul Harris Fellows, Major Donors Bequest Society member, and Benefactor;
Recipient of the Rotary International Service Above Self Award, The Rotary Foundation Certificate of Meritorious Service and TRF Meritorious Service Award;
Currently serves as the charter President of the Rotarian Action Group for Diabetes.