2014 graduate Herrera recognized with Recent Alumni Achievement Award
---
2014 graduate Herrera recognized with Recent Alumni Achievement Award
Since graduating four years ago from the College of Business, Daniel Herrera has amassed a large number of enviable accomplishments – and they haven't gone unnoticed. Just a couple of weeks ago, the entrepreneurship and management major received the college's 2018 Recent Alumni Achievement Award.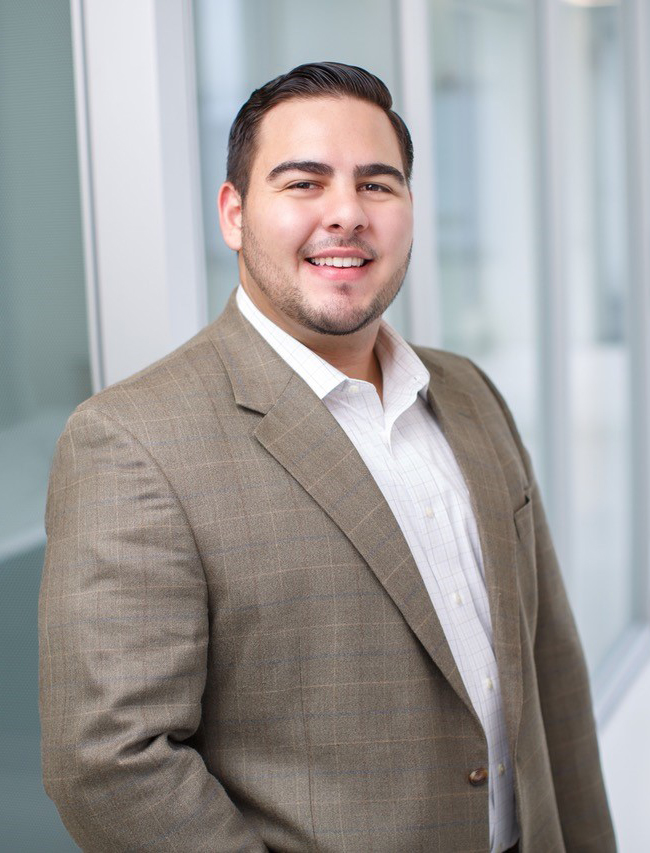 The award, created in 2011 by the Recent Alumni Board to honor alumni who have graduated from the college within the past 10 years and had significant professional and personal successes, was presented by Dean Michael Hartline at the annual Alumni Hall of Fame Dinner & Ceremony on Sept. 20.
"We all are impressed with what Daniel has accomplished in such a short time, though it was clear when he was a student that he was destined for success," Hartline said. "He is incredibly entrepreneurial and a wonderful role model for our students."
Herrera leads venture investments at Miami Angels, one of Florida's largest and most active angel investor collectives. In this role, he sources and curates the most promising, early-stage technology startups in Florida and facilitates "smart" capital investments into these companies to fuel their long-term success. In the last three years, Miami Angels deployed $8 million in 28 technology startups and has grown to include more than 100 accredited investors.
"I am beyond honored to receive this award," Herrera said. "It is a testament to the incredible faculty, staff and alumni who supported me as an FSU business student."
Herrera has particular praise for College of Business professors Wayne Hochwarter, the Jim Moran Professor of Management, and James Dever, senior lecturer in management and marketing, as well as 1999 FSU graduate Christopher Shriver, vice president for corporate strategy at Flowers Foods and former principal at the prestigious global management consultancy A.T. Kearney.
"Dr. Hochwarter helped me on so many levels, and our many conversations gave me professional clarity, while Dr. Dever inspired me, gave me my first exposure to starting a business and coached me along the way," Herrera said. "Chris connected me with the right people, which resulted in my being hired by A.T. Kearney right after graduation. That set me on my current professional trajectory. I have been very fortunate to have such wonderful mentors."
At A.T. Kearney, Herrera played an integral role in projects that saved a variety of Fortune 500 clients millions of dollars and was highlighted in the firm's national recruiting material as a "Featured Consultant."
After leaving A.T. Kearney and before joining Miami Angels, Herrera served as chief of staff and a founding team member of L1BRE, a venture-backed, urban mobility and technology startup in Mexico City and Miami.
Beyond his professional interests, Herrera's passions are deeply rooted in Miami, his birthplace, and in Cuba, the birthplace of his parents, as he focuses on building bridges between the two communities. He is co-founder of Discover Cuba, an initiative he developed from inception to launch, promoting travel to Cuba to encourage true cultural exchange and the empowerment of on-island entrepreneurs.
He also is a volunteer adviser to Discover Cuba's sister nonprofit organization, Roots of Hope. In this capacity, Herrera supports an international network of students and young professionals who are committed to the advancement of their counterparts in Cuba through technology, entrepreneurship and other innovative means.
Even as a student Herrera was a standout. The FSU Honors Program named him an Outstanding Senior Scholar. He was president of the Hispanic Honor Society and a member of Beta Gamma Sigma Honor Society. He had two prestigious internships, one as an analyst at Bulltick Capital Markets Holdings, LLC and the other as a fellow at the Congressional Hispanic Caucus Institute.
"Daniel has all of the accomplishments of a young graduate we should recognize," Hochwarter said. "I cannot think of a more exemplary candidate, distinguished student and overall great person than Daniel Herrera. Without question, he is the best undergraduate student I have had in over 25 years."
By Barbara Ash