Alumna credits Florida State MBA program for her success
---
Alumna credits Florida State MBA program for her success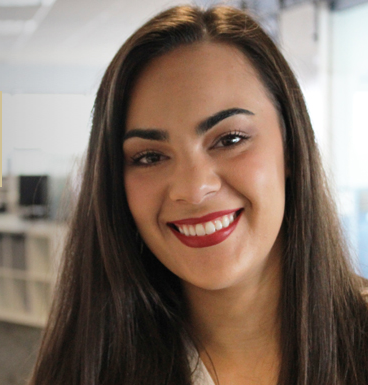 Collaboration. Connections. Confidence. And, the know-how to get things done.
That's the short list of assets and skills Erica Menendez said she acquired and honed by completing a Master of Business Administration (MBA) in 2017 at Florida State University.
"My MBA brought me to the table, and it gave me a new perspective," said Menendez who is now an internal sales representative at AgileThought, a full-service agile custom software and consulting firm based in Tampa, Florida. "It's a fantastic program to prepare you for the future and to provide a broader management view instead of focusing on just one discipline."
After graduating with an FSU bachelor's degree in psychology in 2014, Menendez was first drawn to a business career when she realized it would provide an opportunity to be both competitive and collaborative.
"Business offers competition along with comradery. You can bring both together in a way that will push and challenge you in a good way," she said.
The Melbourne, Florida, native also found FSU provided profound opportunities beyond the classroom. She presented at national conferences and lobbied for student interests at the Florida Capitol. She also served as director of the FSU Veterans Student Union, which includes all registered student organizations with military connections.
Impressed by Menendez's ability to build relationships and networks, Michael Hartline, dean of Florida State University's College of Business, knew AgileThought, led by Jeff Wagner and FSU business alumni Jeff Alagood, Ryan Dorrell and Dave Romine, might be a good career option for her. Menendez said the company turned out to be a perfect fit.
"Our mission is fundamentally about making connections for business students," Hartline said. "First we connect them to a discipline through the education we provide. This enables them to connect with specific, in-demand business occupations. Then, we leverage the power of our college's 70,000-plus alumni base and robust corporate network to connect them to the best job opportunities."
In her newly created position at AgileThought, Menendez serves as a first touch point with potential company clients. She's also been charged with identifying and analyzing any disconnections between the company's sales and marketing functions and developing new processes and programs needed to close the gaps.
"Culture is a huge element for me – a culture of collaboration and trust," Menendez said. She credits AgileThought for providing an ideal workplace and her FSU MBA for equipping her for her new career.
"Florida State offers an MBA program that gives you the skills and perspectives needed to succeed in the business world," Menendez said.
Visit mba.fsu.edu to learn more and request information about FSU's MBA program offered on campus and online. 
-- As seen in Florida Trend, March 2018