Alumnus and major donor recalls 'perils' of late-1970s Iran
---
Alumnus and major donor recalls 'perils' of late-1970s Iran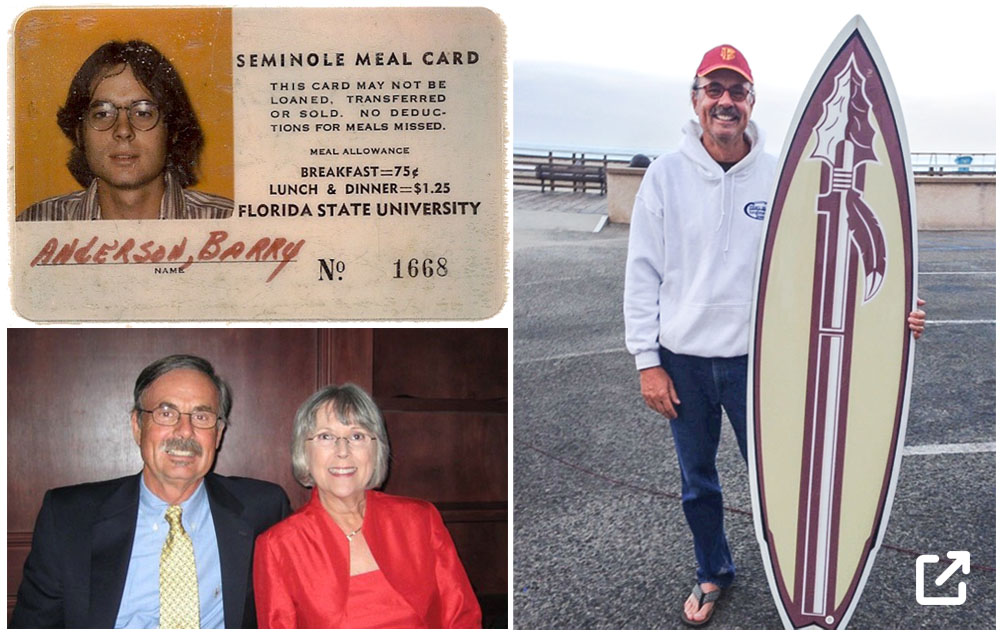 Long before he became an author and a major supporter of the Florida State University College of Business, alumnus Barry Anderson bore witness to one of the most harrowing ordeals in U.S. history.
Anderson (BS Management '73) worked as a U.S. expatriate in Tehran during the Iranian Revolution, the late 1970s revolt in which Islamic fundamentalists overthrew the country's pro-Western shah and changed the country's relationship with much of the world, especially the U.S. The uprising included the 1979 takeover by Iranian students of the U.S. Embassy and the seizure of 52 diplomats.
After the Shah was expelled, but months before the beginning of a 444-day hostage crisis, Anderson left the country amid increased turmoil on a Boeing 747. As director of Lockheed Martin's industrial relations in Iran, he also led the company's evacuation efforts.
The jetliner carried, in addition to him, more than 400 women and children – all dependents of Lockheed Martin employees – and 35 crated dogs, he said.
"In early summer 1979, the company told me it needed me to go back to Iran to help negotiate the end of our contract with the U.S. Air Force," Anderson recalled last month. "It turned out that they didn't need to send me nor anyone else. Then in November, the embassy was taken over. I would have made a lousy hostage."
He remains a terrific Seminole.
Anderson, a retired international human resources executive, and his wife, Janice, recently made two major gift commitments to support students and faculty members of the college. One created the Barry and Janice Anderson Endowed Scholarship Fund, for management students and experiential learning experiences for management students, and the other established the Barry and Janice Anderson Directorship for the college's Center for Human Resource Management, which aims to enhance understanding of important HR issues and advance best practices.
The gifts follow Barry Anderson's participation in the founding of the center's advisory board during the mid-1980s. During that time, Anderson said, the center "did a lot of cool things despite a shoestring budget."
The Andersons provided much-needed funding in the late 1990s when they made an endowment contribution to FSU in the name of the center. He remained a board member – more active than others at times, depending on career responsibilities, he recalls – until he retired in 2005.
Today, he said, "Janice and I hope this gift will create even greater opportunities for the College of Business in the advancement of human resources as a business discipline."
Anderson also emphasized the importance of gifts to help attract top students and faculty members as the college and university continue their rankings climb among the best academic institutions in the country.
"Hopefully, with the help from alumni and friends like us, FSU and the College of Business can obtain the necessary funds to continue to move up in national rankings," he said.
Michael Hartline, dean of the college, expressed "genuine thanks to Barry and Janice Anderson for their generosity, their support of our students and faculty members and their investment in the college's path to preeminence."
Barry Anderson turned his FSU experience and, later, a law degree, into a career that lasted three decades and took him to about 45 countries. His fascination with travel and adventure – and his devotion to his alma mater – never stopped: A 2018 edition of Vires, the FSU Alumni Association's premier publication, features a photo of him on page 58 holding an FSU flag during a Himalayas hiking trip in Nepal. 
His career roles included human resources supervisor for a Dutch affiliate of the Arabian-American Oil Company, now Saudi Aramco, during which time he and Janice lived and worked for two years in The Hague, the Netherlands; vice president and human resources of Lanier Worldwide; chief administrative officer of BankSouth; and senior vice president for global human resources, facilities, real estate and security for Verisign, among other executive positions.
Anderson also served on the board of Gifts in Kind International – now Good360 – where he twice served as acting President/CEO. While living in California, he volunteered for more than 10 years as a Teen Court Judge.
As an executive, he often served as legal counsel and negotiated sales, mergers and acquisitions and settled contract and employment disputes all over the world. He recalled a visit to El Salvador during that country's civil war, which lasted 12 years, including throughout the 1980s.
"We had two guys standing there with bullets across their vests," Anderson said. "From El Salvador to Australia to Singapore, every country is different. If you said, 'We're going to make our business operate here like it does in Texas, you'd fail.'"
That especially became the case in Iran.
When he arrived there in February 1977, Anderson said, the country bustled with bars, ski clubs, movie theaters and other signs of development. That changed in early 1978 when a growing number of supporters of Ayatollah Ruhollah Khomeini took to the streets in protest of the regime of Mohammad Reza Shah Pahlavi. 
Anderson said the revolt aimed for the expulsion of all foreigners but that his American citizenship never made him feel like a target. The revolutionaries feared the possibility of U.S. military reprisals, he said.
For example: "We'd take employees to the Air Force base for work every day, and (the revolutionaries) would attack the buses with pipe bombs – but they would wait until the last employee was dropped off because they didn't want to kill Americans. They just wanted us out."
He also recalled, on the door of his home, a note that threatened his life. The note expressed that in four languages.
"They didn't know what language I spoke" he said.
Anderson detailed his experiences in a 2006 book, "Persian Perils: An American's Revolutionary Experience."
"To my daughter, Kelsey," he declared on the dedication page.
"I wanted my daughter to have documentation of my time there," Anderson explained last month.
Kelsey Anderson, who was about 12 years old at the time, created the book's cover from a collage of newspaper clippings and headlines about the crisis, including "Shah Family Flees, May Be in U.S." An expert in industrial and organizational psychology, which she calls "the Anthropology of Business," Kelsey now works as a talent development partner for LexisNexis Risk Solutions in Atlanta. 
She even boasts a tie to the college's Center for Human Resource Management: She once presented to the advisory board a summary of her employment outreach program for veterans.
Her father's book includes photos that illustrate the Iranian culture and document his time in the country, including Anderson's Iranian driver's license and his heavily stamped U.S. passport.
About the culture, he wrote: "Even tea drinking in Iran became an art. A cube of pure sugar was placed between the upper lip then a couple of teeth and the strong, hot and freshly brewed tea was sipped through the sugar to achieve the perfect taste. The dental trade in Iran must have been thriving!"
About the revolution, he wrote: "It seemed that at every corner, signs of progress and modernization were being destroyed. BMWs were dragged through the windows of the dealerships and set ablaze in the streets. Nightclubs were torched and stores looted. Debris of a culture about to be thrown back a century or so was scattered on the streets."
It marked a dramatic departure from Tallahassee, where Anderson recalled joining classmates in sports coats and ties for football games at Doak Campbell Stadium.
"It would be pouring rain," he said. "Then we'd go to concerts – Chicago, Doobie Brothers, Grand Funk Railroad. FSU was a great place."
He recalled a diverse college that included a son of a nominee to Florida's Supreme Court and a son of an ambassador attaché from Venezuela. 
"I met so many different people," Anderson said. "I found that really helped when I went into the workplace, because the workplace is such a diverse environment."
That was especially the case for Anderson given that he spent so much of his time overseas and in human resources.
"Once I had that experience in Iran under my belt, I could get any job I wanted in HR," he said. "People know that if you go through that, you mature quickly."
-- Pete Reinwald
Janice and Barry Anderson now split their time between Cape Canaveral, on Florida's east coast, and Stone Mountain, outside of Atlanta. They continue their zest for international travel and, other than the time interrupted by COVID-19, manage two to three trips a year.