Alumnus Sets 'Inspiring' Example of Generosity
---
Alumnus Sets 'Inspiring' Example of Generosity
Ed Burr believes there are two ways to give back to Florida State University – by offering his time and sharing his treasure. Since graduating in 1979 with a bachelor's degree in accounting, he has continued to do both generously.
Burr has contributed untold hours as chair of the Florida State University Board of Trustees and has served on the FSU Foundation Board of Trustees, the Seminole Boosters Board and the FSU Real Estate Center Executive Board in the College of Business. He also was a Charles A. Bruning Distinguished Speaker at the college in fall 2016.
This fall, he made a $1 million gift to FSU, allocating $200,000 of it to the College of Business to help with the construction of Legacy Hall, the college's new home.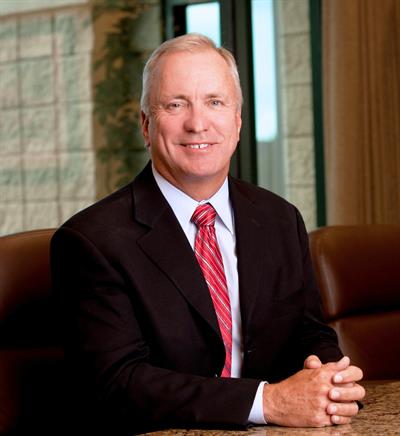 "It's important to me to make a positive difference in everything I do and to give back to the college, which laid the groundwork for much of my professional success," Burr said. "The College of Business is on the rise, its faculty and programs are outstanding, and I believe its greatest days are ahead. It's now time for the facility to match the greatness of its faculty and programs."
Widely considered a visionary industry leader for his ability to analyze real estate potential and create successful multi-use communities, Burr is president and chief executive officer of GreenPointe Holdings, LLC, a diversified holding company he founded in 2008 in Jacksonville, Fla. After graduating from Florida State, he began his career with Coopers & Lybrand LLP. In 1987, he founded the LandMar Group LLC and led the company's creation of master-planned, award-winning communities in Florida and coastal Georgia. He also co-founded Hampton Golf & Lifestyles Management, a golf course management and development firm.
Throughout his career, Burr has been actively involved in business, civic and community organizations. He has served as chairman of the Jacksonville Regional Chamber of Commerce and is currently on the chamber's board of directors overseeing the Downtown Development Council.
Burr was named Developer of the Year by his peers and accepted a gubernatorial appointment to the Jacksonville Transportation Authority. He is actively involved in the Urban Land Institute, the National Association of Home Builders and the Northeast Florida Builders Association. A longtime advocate for bettering the lives of children, Burr founded the Monique Burr Foundation for Children in 1997, the year after his wife was killed in a car accident. The foundation is committed to the prevention of child abuse.
"All of us at the college are incredibly proud to count Ed as one of our distinguished alumni," said Michael Hartline, the college's dean. "His remarkable success reflects well on us, and he sets an inspiring example of generosity and leadership for our students. We are extremely grateful for everything he does for the college and the university."
-by Barbara Ash