Alumnus shares insights gleaned from a successful career in the investment world
---
Alumnus shares insights gleaned from a successful career in the investment world
More than 100 College of Business alumni networked with new and old friends at last month Regional Opportunities to Interact (ROI) event at the Dr. Phillips Center for the Performing Arts in Orlando. A big event draw was alumnus Jim Seneff, founder and executive chairman of CNL Financial Group, who talked about his remarkably successful 45-year career in the real estate and alternative investment business.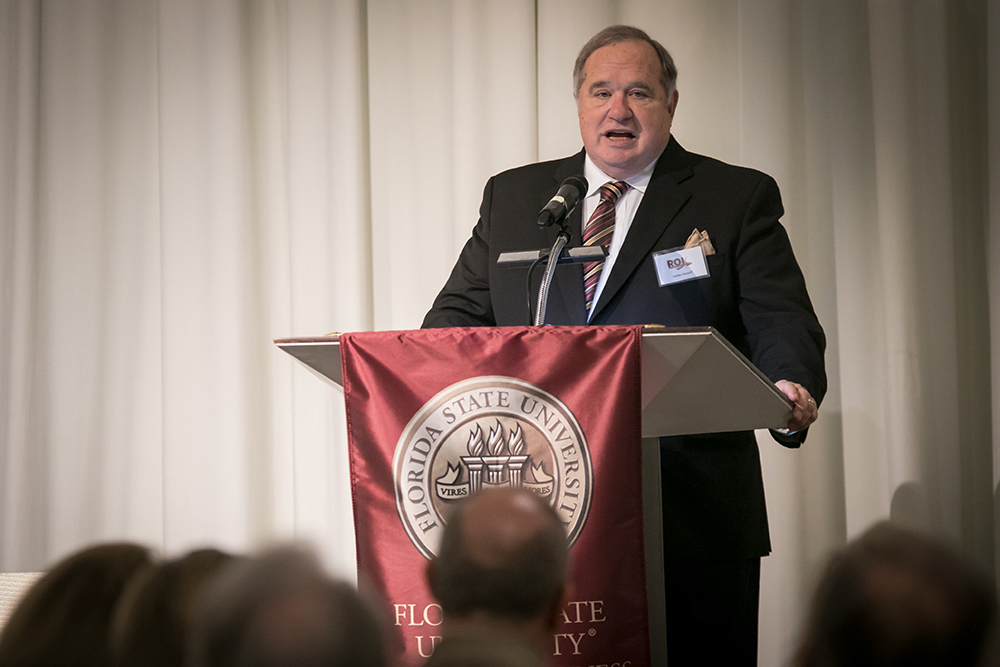 Co-hosted by the college and University Relations, the gathering was one in a series of such alumni and community events held over the past couple of years in key markets around the country. The college created the ROI series to provide networking opportunities for its graduates.
"We created ROI as a way to give our graduates a return on their investment in Florida State," said Michael Hartline, the college's dean. "We also want to give them insight on what's happening in their various industries and provide a forum for them to share ideas with like-minded colleagues and make career connections.
"Jim Seneff is an excellent example of our high-caliber alumni whose insights, gleaned from a successful and distinguished career, encourage and inspire fellow Seminoles, particularly those who are starting their careers." Several students made the trip to Orlando to meet Seneff and network with alumni and friends. 
Seneff, a 1968 graduate of the College of Business, founded CNL in 1973. The company and its affiliates have formed or acquired companies, securing more than $34 billion in assets and raising more than $18 billion in private and public offerings through the broker-dealer and institutional-investment communities.
Passionate about philanthropic causes, particularly those that enable people and cities to flourish, Seneff was named 2008 Outstanding Philanthropist of the Year by the Association of Fundraising Professionals. In 2010, he was inducted into the Horatio Alger Association of Distinguished Americans. The Horatio Alger Award honors individuals who distinguish themselves and make significant contributions to business, medicine, entertainment or government.
Among other honors, he also was named one of Real Estate Forum's 65 Real Estate Legends and Icons and recently received recognition in Florida Trend magazine's Top 500. Other honors include induction into the Junior Achievement Business Hall of Fame and the College of Business 2006 Hall of Fame.
The Orlando ROI event followed successful events in Tampa, Tallahassee and Atlanta. The next one will be in Miami in fall 2019, with others planned in 2020. Alumni will receive email invitations for events near them.
For more information about ROI and other College of Business events, please contact Marissa Langston, assistant dean for Alumni and Community Engagement.
 
See the photos from the event.
Watch the video of the event.
---
- Barbara Ash