Besnards step forward with generous gift for college's new building
---
Besnards step forward with generous gift for college's new building
It was at a recent College of Business alumni event in Tampa that Adam and Mindee Besnard first realized they could help move the college closer toward the fall 2019 groundbreaking of its new building – and at the same time build a legacy into the future.
Over the past year, the college has co-hosted with alumni several similar events across the country to unveil the final design of its new state-of-the-art home, garnering excitement and persuading alumni, like Adam (MIS '96) and Mindee (ACG/MIS '96), to make a gift to their college. Their gift funds the 30-seat Besnard Family Undergraduate Classroom.
"We thought tuition and taxes paid for everything the college needed and hadn't realized that individuals were contributing generously to the effort until Dean (Michael) Hartlinetalked about the importance of private giving at the alumni event," Adam said. "That opened our eyes to the need, and we decided then that we wanted to do whatever we can to help."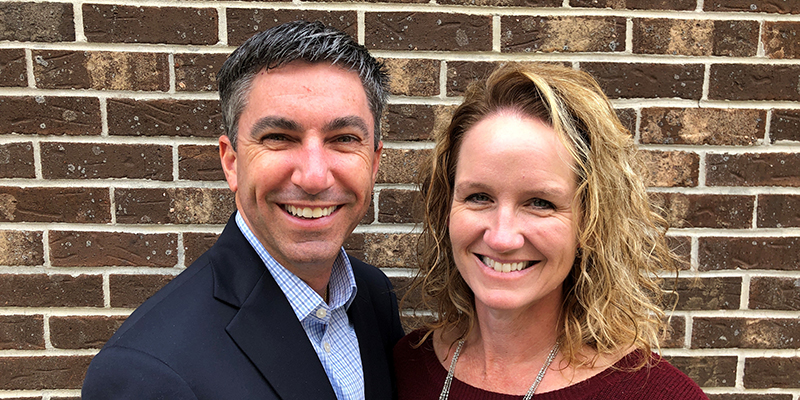 Such gifts are extremely important as the college proceeds on its path to preeminence, Hartline said.
"Without a doubt, alumni like Adam and Mindee are the driving force behind our efforts to make our new building a reality," Hartline said. "We are grateful they have chosen to support us so generously."  
For the most part, Adam and Mindee, who met in their senior year at FSU and married two years later, have taken their professional journey together. Adam is president of Tampa-based Besnard Insurance, which he co-founded in 2008 with his father, Joe Besnard (Hospitality '73), and for which Mindee serves as chief financial officer. The firm insures more than 4,000 of the country's largest restaurant franchisees and brands and represents large worldwide insurers. Adam also travels to London yearly to partner with Lloyds of London for various clients.
Immediately after graduating, the two had brief stints working for other companies, Adam for Andersen Consulting and Mindee for Andersen Consulting and Deloitte & Touche – before striking out on their own entrepreneurial ventures. In 1998, just two years after graduating, Adam started the global consulting company Galleon Technologies, whose clients included Johnson & Johnson, Medline, State of Florida, Convergys, DuPont, Ritz Carlton, AT&T and many others. Mindee, who in parallel, led the raising of their three children, joined him the following year as a consultant at Galleon, and the two worked together there until they joined forces with Adam's father at Besnard Insurance in 2008.
"Mindee and I benefited greatly from our education at the College of Business," said Adam, whose sister, Shelley Besnard Barnes (MIS '02), and sister-in-law, Lindsey Butler (REE '01), also graduated from Florida State. They also have a daughter who is an aspiring FSU nursing student. "By giving back to the college, we hope the next generation of students can enjoy the same personal and professional successes we have achieved."
- Barbara Ash
January 1, 2019