Bruning Speaker Series: Alumna thrives in role 'rooted in judgment and discretion'
---
Bruning Speaker Series: Alumna thrives in role 'rooted in judgment and discretion'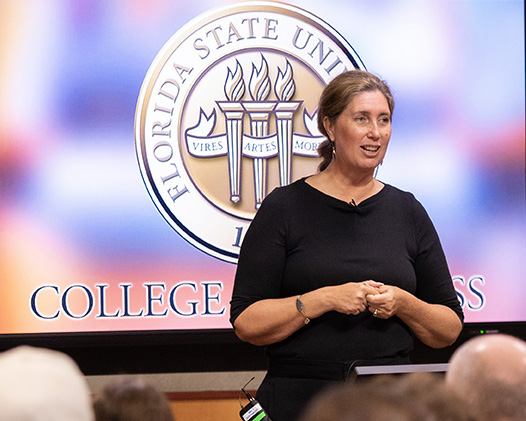 Nada Usina judges people for a living. Ask her.
"Actually, that's exactly what I do," she said.
Usina spoke last week as the featured guest in the Charles A. Bruning Distinguished Speaker Series, a recurring event in which top executives share career experiences and industry insights with students in the Florida State University College of Business.
Usina, a College of Business alumna who leads the global technology sector for Russell Reynolds Associates, told students about her behind-the-scenes work as managing director for a global advisory firm that helps public and private organizations search, assess and recruit senior-level executives and board members who can drive growth and success.
"It is really rooted in judgment and discretion," Usina, also a member of the executive committee of the College of Business Board of Governors, told students about her job. "We do spend a lot of time judging people and connecting dots behind the scenes on probably some of the biggest or most impactful organizations in the world."
Usina emphasized a theme of "ambition, networking and being hyper competitive" in a career that has included executive roles at Nokia, Yahoo! and Neulion, now Endeavor Streaming. Through those and other positions, she gained expertise in startups, mergers, marketing, revenue, investment and leadership, among other areas, with an emphasis in the tech/mobile, sports, media and entertainment industries.
Another expertise: innovation. In the 1990s, for example, she worked on the management team at AudioNet, led by Dallas Mavericks owner and "Shark Tank" star Mark Cuban. The company, which became Broadcast.com, boasted the world's first internet audio network and technology that produced the first streamed sporting event – a 1995 college football game between the University of Arkansas and Southern Methodist University in Dallas.
"Those were the 'dial-up' days. Nobody was streaming anything," Usina said. "We wanted to build something and grow something."
And they did. Internet streaming has exploded in the three decades since then, with the global video streaming market alone valued at $60 billion in 2022, according to Contrive Datum Insights.
Michael Hartline, dean of the College of Business, introduced Usina as a business executive who "continues to thrive as an expert in technology, digital platforms, board effectiveness, company leadership, media and entertainment, private and venture capital and so many other areas."
She has spent the last 13 years at Russell Reynolds Associates, which has marked a bold shift in her career.
Here's how she got there: In 2009, she worked as an independent consultant, plus as an interim CEO and board member for various internet and mobile startup companies. Then she reached "one those inflection points in life," she said.
"I'm still really ambitious. I'm really competitive," she said, reflecting on that time in her career. "But now I've done a few things, and I've been a little lucky as well, and I kept saying, 'I want to do something different. I want to do something really uncomfortable.'"
Russell Reynolds Associates gave her an opportunity to use her experience as a leader and builder of companies. She is a member of the company's Board & CEO Advisory Partners practice, and she leads its practices in digital, media and entertainment, and sports.
She thereby helps Fortune 500 companies and top sports teams and leagues, among other organizations, find and build strong leaders and boards.
And that's where the judging comes in.
"We take it really seriously when we hear things about people and think about their reputation," Usina said. "We actually go all the way back to where they were when they grew up. How did they behave? How did they show up or not show up for to their classmates, teammates, family, etc. There's a body of work that you're all building here, and it all does impact you in the end."
She covered other topics in her presentation and a Q&A with students, including:
Choosing a major
From Toronto, Usina entered FSU in 1990 on a swimming scholarship and planned to study electrical engineering. But she switched to business because the former Stults Aquatic Center, located at the time right outside the Rovetta Business Building, allowed her to practice, then walk right to classes.
"That was the logic of a 19-year-old or a 20-year-old," she told students. "I grew up around sports, and my father said, 'Why don't you do something you love?' And I thought, 'I can do sports as my business.'"
She earned bachelor's degrees in marketing and multinational business in 1993 and a master's degree in sport management in 1994.
Taking that phone call
Usina emphasized the power of building and maintaining connections including from internships, as she has done, and of taking opportunities when they present themselves.
"If you set the tone early for taking chances, it will often set the tone later," she said.
She also discussed the importance of a diverse pool of candidates in her searches. She pointed out that her firm placed Val Ackerman as commissioner of the Big East Conference, for example.
"Many women don't take the call because they're thinking, 'What does it mean for my family?' and 'What am I going to tell my boss?' and 'How's this going to work with my team?' … and "I don't know if I'm qualified," Usina said. "Then you've got the guys who immediately answer the phone and tell you how they are overqualified and underpaid. So sometimes it's having to look at it from this lens, and I have to call people five or six times."
Watching the data
Usina said the process that puts people at the top of companies features "very interesting and intriguing dynamics."
"And it's not usually for the faint of heart," she said. "If you look at the Fortune 500 over the past year, 19% of the CEOs were changed out. The average tenure of the CEO of Fortune 500 is 4.6 years. Only 9% of those CEOs are women. This goes for women in private equity and venture capital as well."
She added with a smile: "I placed a few."
-- Pete Reinwald