Bruning Speaker Series: Alumnus shares his NASCAR ride
---
Bruning Speaker Series: Alumnus shares his NASCAR ride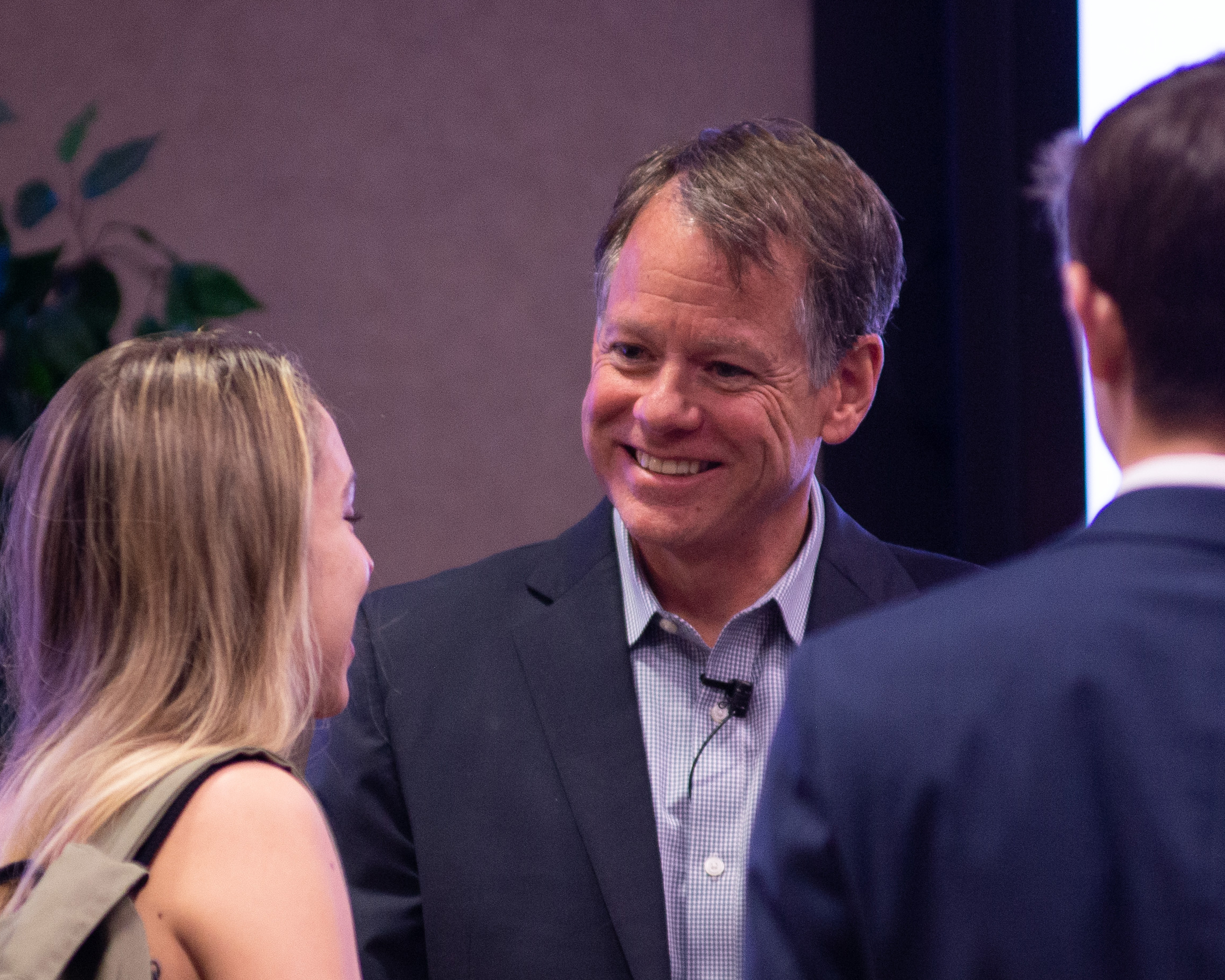 Before he shifted into gear, Daryl Wolfe braced students for what he suggested would be a detailed presentation that typically took about 6 ½ hours.
He was kidding, of course, so he quickly fessed up. And buckled up.
"I'm in the racing business," Wolfe said with a smile about the true pace of his presentations. "We like to move fast."
Wolfe, executive vice president and chief revenue officer for NASCAR, recently engaged a roomful of College of Business students in a lively and indeed fast-paced talk as featured guest of the Charles A. Bruning Distinguished Speaker Series. He explored the booming business of NASCAR and discussed expansion, promotion, competition, innovation, partnerships, sponsorships, generational shifts, social media, social change and more.
He also reflected on his time at FSU: "This College of Business, this university, prepares you for your career and where you're going professionally," said Wolfe, a 1992 finance graduate and member of the college's Board of Governors. "I didn't know this at the time, but I was also making lifelong connections and friendships that only expanded over the years."
Michael Hartline, dean of the college and the Charles A. Bruning Professor of Business Administration, introduced Wolfe as "a strategic digital-age thinker who uses technology to further expand his company's brand and appeal."
Wolfe boasts more than 30 years in the sports industry, many of them in association with NASCAR. He previously worked as an executive for the International Speedway Corporation, which owns and manages motorsports tracks throughout the U.S.
During his March lecture, he used slides, video and data to promote a sport that, in terms of power and appeal, now butts helmets with the National Football League.
Wolfe's videos included one that NASCAR submitted to the Sports Business Journal in consideration for the publication's coveted 2021 Sports League of the Year award. The video touts NASCAR's work to become the first major sport to welcome back fans and return to competition after the March 2020 onset of the coronavirus pandemic.
The video also illustrates ways in which the sport confronted racism -- banning display of the Confederate flag and rallying around Bubba Wallace, a Black driver who had spoken out against racism.
"We walked behind Bubba Wallace down pit road at Talladega and put a stake in the ground about social injustices and social change," Wolfe told students, referring to support of Wallace before a June 2020 race at Talladega Superspeedway. "It was a day I'll never forget in my professional career, how emotional and powerful that day was."
Citing NASCAR's support of Wallace, plus its return to live sports during the pandemic and introduction of new races to its schedule, the Sports Business Journal declared NASCAR its 2021 Sports League of the Year.
NASCAR stands as the nation's top regular-season sport from February to August – the NFL offseason – and its content reaches six continents, 190 countries and 600 million homes in 25 languages, Wolfe said.
"So, if you think NASCAR's just a southern, Southeastern sport, I beg to differ," he said. "It's a major international property."
Wolfe touted NASCAR as a builder, organizer, facility owner, operator, researcher, distributor and governing body. He said it's also a media and production company that owns major sports radio and digital networks; a global business that claims more corporate partners than all the other major sports combined; and a development company that owns One Daytona, a retail, dining and entertainment center near Daytona International Speedway.
"We're marrying the sports business into what's happening in society," Wolfe said. "What are those trends? What are those things migrating in the sports world and in society, and how do we converge those two things?"
They do it through an emphasis on data, he said.
Data tells NASCAR that its fans stay loyal to its sponsors; that it boasts more female viewers than any sport besides the NFL; and that its fan base is becoming younger, more diverse and interested in increased venue experiences and food options, Wolfe said. Also, he said, consumption of its official websites and social media platforms tops that of any sport.
"We think every single day, 'Where are people? Where are they consuming what they're consuming? What platform are they on?'" Wolfe said. "And I challenge our group every single day: We'd better be there. And here's the most important part: Don't be afraid to fail.
"I want to challenge the norm on every single thing we're doing, because based on data, things are changing, and things are changing rapidly."
Changes include a recent emergence of Black team owners, including famed retired athletes Michael Jordan, Emmitt Smith and Floyd Mayweather, plus Latino rapper Pitbull.
"We push ourselves to change, and we push ourselves to evolve," Wolfe said. "That is our core foundation."
-- Pete Reinwald