Christina Lynch wins Recent Alumni Achievement Award
---
Christina Lynch wins Recent Alumni Achievement Award
Christina Lynch, a Tallahassee-based business leader and award-winning consultant who promotes a holistic approach to helping clients build their companies, has been named the 2022 recipient of the Florida State University College of Business Recent Alumni Achievement Award.
Lynch received the award Thursday evening during the college's 2022 Alumni Hall of Fame Dinner & Ceremony, which also celebrated the induction of four fellow successful business leaders: Jim Henderson, Brett Lindquist, Brian Murphy and Scott Price.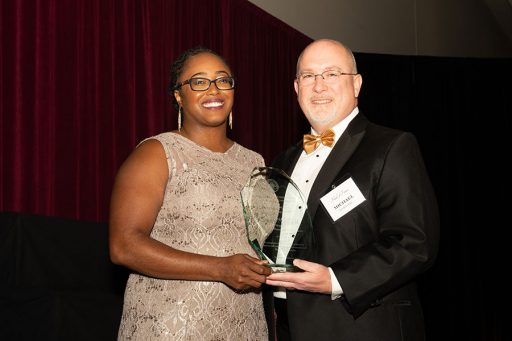 The college's Recent Alumni Achievement Award honors extraordinary alumni who graduated in recent years. The college's Recent Alumni Board chose to honor Lynch, who in 2011 graduated with a bachelor's degree in accounting and finance and a bachelor's degree in human resource management.
"I was quite surprised, honestly," Lynch said about receiving the award. "I was pleasantly surprised and honored."
Lynch serves as founder and CEO of Trydent Consulting, a nine-person company that helps small businesses with financial planning, financial stewardship, business management, marketing, human resources and exit planning, among other specializations.
For her success, she credits her experiences at FSU and the College of Business. She landed jobs as an accounting intern and as a human resources manager well before she graduated.
"When I went to class, I knew how relevant the information was," Lynch said. "I made sure that I was a sponge − especially in the accounting classes because those courses are a little more intense."
She served as president of the FSU chapter of the Society for Human Resource Management and stayed active in the National Association of Black Accountants and Phi Beta Lambda, the college arm of the Future Business Leaders of America. A first-generation American, she said those activities helped her feel "supported in my endeavors and created a warm set of memories that I was able to take along with me."
She always aimed to become a resource for small businesses. After graduating, she worked as an accounting consultant for Big Energy International and as business manager for iHeartMedia, among other positions.
Lynch fulfilled her dream of helping small businesses in 2014 when she launched CD Brown & Associates. The same year, she completed a master's degree in human resources and employment relations from Penn State University.
Two years later, she took on an additional role, as director of accounting and human resources at The Gabor Agency, a Tallahassee-based insurance and retirement-investment company.
Meanwhile, she continued to build her consultancy company, CD Brown & Associates, and in 2019 renamed it Trydent Consulting, part of a rebranding to better reflect "who I was as a person," she said.
The trident, an ancient symbol of a three-pronged spear, dominates the flag of Barbados, the homeland of her family. Lynch said it also represents her commitment to personal and professional greatness and her specialties of accounting, human resources and strategic planning.
Last year, she left Gabor as vice president of accounting and finance to focus on Trydent, where she works to "listen to my clients' needs, understand their journey and provide support to create a plan to meet their goals and overcome their challenges," she said.
In addition to her CEO responsibilities, Lynch is an herbalist and the founder of The Ginger Tea Company, which touts itself as a small company that focuses on "creating products based on herbal explorations."
She serves as a consultant to the Small Business Development Center at Florida A&M University and won its Regional Consultant of the Year award in 2021. She's also treasurer of the Red Hills Small Farm Alliance, founding co-coordinator of Herbalists Without Borders of the Big Bend and a committee member of the Florida Institute of CPAs.
Over her short career thus far, she already has served more than 200 organizations in the profit and nonprofit sectors.
"My journey as an herbalist has transformed my view of life and business," Lynch said. "I've been able to integrate my belief of holistic care into my role as a former executive, and now, CEO of Trydent Consulting."