The college breaks ground on future home
---
The college breaks ground on future home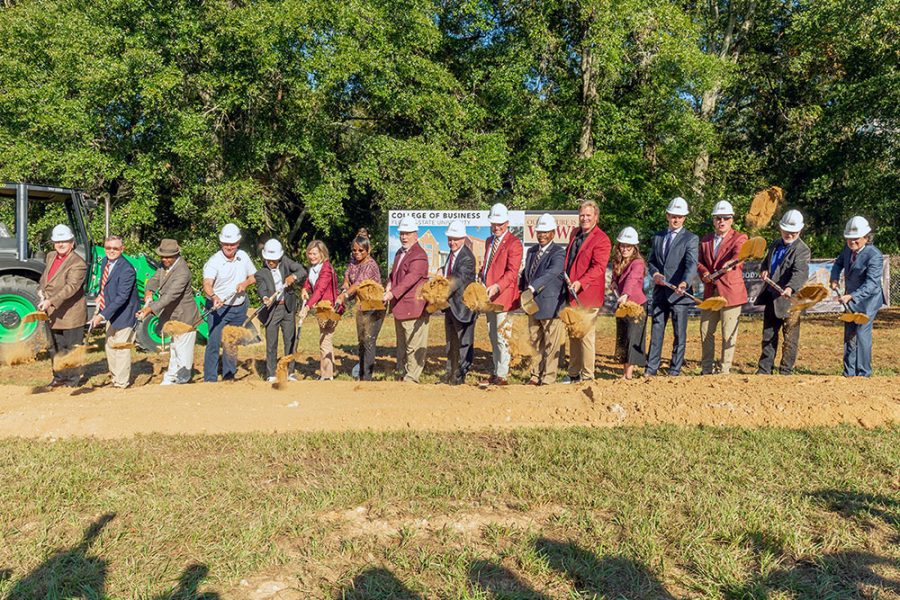 The Florida State University College of Business celebrated the groundbreaking of Legacy Hall on Friday, Oct. 14, its cutting-edge future home – a world-class facility designed to inspire learning for the next generation of business leaders.
Legacy Hall is expected to become a hub of business education, collaboration and development for FSU, Tallahassee and the state, as well as elevate the college's reach nationally and globally.
FSU President Richard McCullough, Board of Trustees Chairman Peter Collins and College of Business Dean Michael Hartline spoke before more than 400 guests at the Legacy Hall construction site just south of the Donald L. Tucker Civic Center.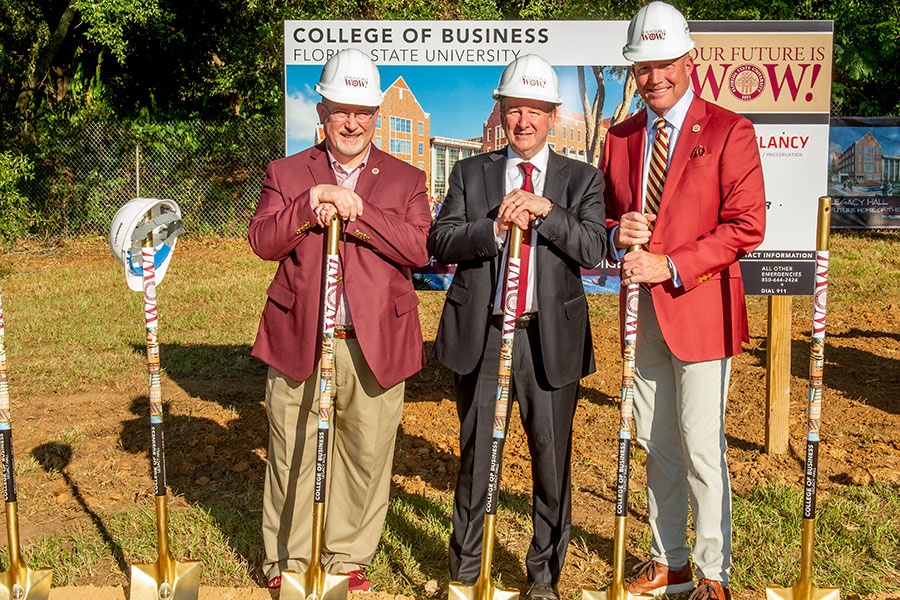 "We're honored that you're here with us to celebrate this historic day — this truly transformative day — not only for the College of Business but for Florida State University," Hartline said after toasting donors, state and local officials, College of Business faculty and staff members, and friends of the university.
At five stories and 218,000 square feet, Legacy Hall will become the largest academic space on campus, and officials say they expect it to bolster the growing national and global prestige of the college and university. FSU has maintained a Top 20 ranking by U.S. News & World Report for four consecutive years, and the College of Business boasts eight programs in the Top 25.
"This is truly an amazing day of celebration," McCullough said. "I could not be more excited to stand before you and talk about what a great project the new College of Business will be. It is going to be absolutely transforming for our university, for the region, for faculty, staff, students, alumni and the corporations we work with. This could not have been possible without support from Gov. DeSantis and significant appropriations by the Florida Legislature, which consistently demonstrates its support for higher education and Florida State University through investments such as this."
The new building will feature a financial trading room, a 300-seat auditorium, a central atrium to promote connection and collaboration and space to accommodate future growth.
"Legacy Hall promises to accelerate our transformation into one of the nation's – indeed the world's – elite business schools," Hartline said. "We've most assuredly been on that path: Our faculty members are globally respected for their scholarship and research, and eight of our programs and specialties continue to rank in the nation's Top 25 – with two undergraduate programs in the Top 5."
McCullough recognized several individuals for their significant contributions to fund the building that he said, "will truly be a jewel on our beautiful campus."
"This will be a space where students can realize their passions and develop the skills they need to succeed," McCullough said. "We are teaching, training and inspiring the next generation of business leaders, job creators and entrepreneurs. This building is a necessary investment in their future, the future of the university and the future of our state and nation."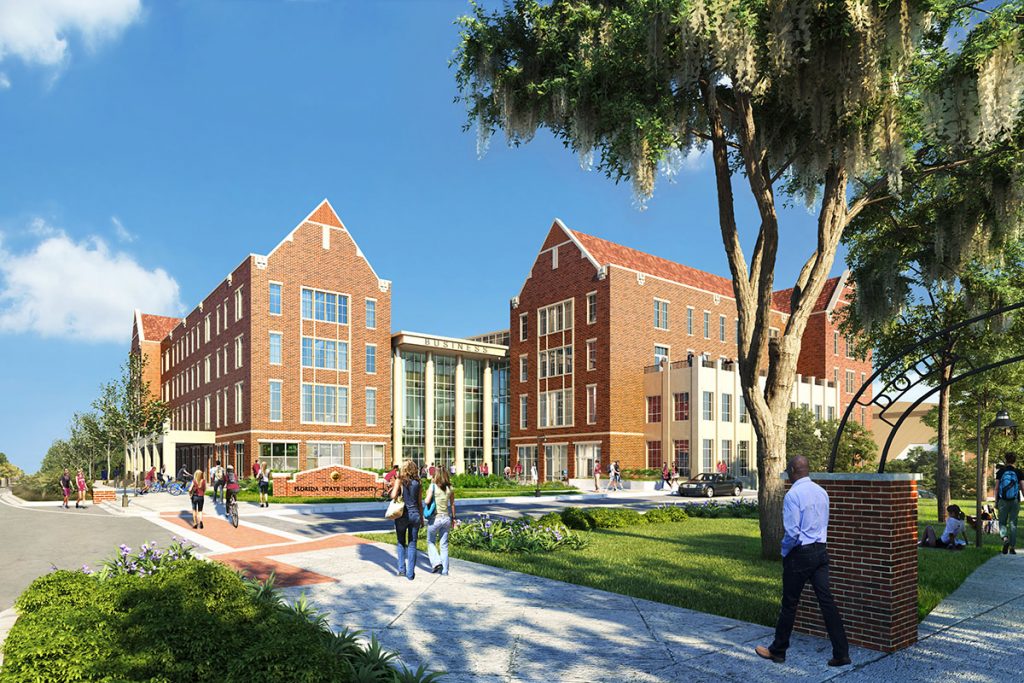 For the college, which has been housed in the Rovetta Business Building since 1958, Legacy Hall has been a dream years in the making.
The project received a significant boost when DeSantis and the Florida Legislature approved a $30.5 million allocation as part of the 2021-2022 state budget.
When McCullough arrived on campus in August 2021, he prioritized a new fundraising push from private donors. The projected cost is estimated to exceed $130 million.
Legacy Hall will be built at the corner of Gaines Street and Martin Luther King Jr. Boulevard and across the street from the Donald L. Tucker Civic Center.
Officials anticipate moving into the new facility during the summer of 2025, the year that marks the 75th anniversary of the College of Business.
For more information on Legacy Hall, visit https://legacyhall.business.fsu.edu.