College honors 'drive, spirit, service' of faculty, staff
---
College honors 'drive, spirit, service' of faculty, staff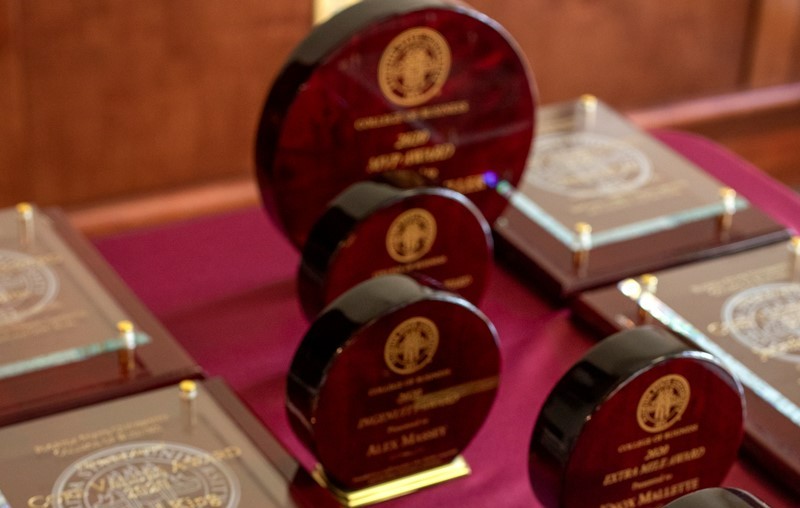 The Florida State University College of Business last month honored 17 faculty and staff members who have championed the college's standards of excellence in service to students and colleagues.
The recognitions took place at the college's annual Faculty and Staff Awards Dinner and Ceremony, which culminated with the induction of new members into the Charles A. Rovetta Faculty Hall of Fame.
Michael Hartline, dean of the college, told a crowd of about 200 at the FSU Alumni Center ballroom that the event celebrates current faculty and staff members through peer-nominated awards that honor "the drive, spirit, service and commitment to excellence that defines our college and fuels our preeminence."
The college presents Core Value Awards each year to three staff and three faculty members who demonstrate its core values of excellence; integrity; community; engagement and impact; and diversity, equity and inclusion.
This year's staff Core Values Awards went to Lee Browning, an IT support specialist; Sarah Cass, assistant director for finance and administration; and Kayla West, an administrative specialist in payroll and human resources.  
Faculty Core Values Awards were given to Luke Hopkins, senior lecturer, director of the Center for Professional Success and director of the James M. Seneff Honors Program; Holly Sudano, senior lecturer, Master of Accounting program director and assistant department chair in the accounting department; and Daniel Broxterman, associate professor, Francis Nardozza Fellow in Real Estate and academic director of the FSU Real Estate Center.
Staff awards also went to Jason Harle (Espirit De Corps Award), a course facilitator and career coach in the Center for Professional Success; Jolene Hazelwood (Extra Mile Award), an administrative specialist in finance and human resources; Hannah Vollenweider (Ingenuity Award), internship program specialist in the Center for Professional Success; Ashley Stanton (Emerging Leader Award), course manager in the Department of Business Analytics, Information Systems and Supply Chain; and Aiden Sizemore (Most Valuable Player Award), the director of academic technology.
Faculty research awards went to Sergey Mityakov (Outstanding Junior Faculty Research Award), an assistant professor and Dean's Emerging Scholar in the Department of Finance; Guangzhi Shang (Outstanding Senior Faculty Research Award), the Jim Moran Associate Professor of Business Administration in the Department of Business Analytics, Information Systems and Supply Chain; and G. Stacy Sirmans (Distinguished Research Award), the J. Harold & Barbara M. Chastain Eminent Scholar in Real Estate.
The ceremony also featured presentation of the Charles Hardwick Teaching Awards. A family commitment prevented Hardwick, a college Alumni Hall of Fame member and the benefactor of those awards, from attending.
In a statement that Hartline read to attendees, Hardwick told faculty members: "As you look back at your own time as a student, you think about many teachers that influenced you throughout your life. So please remember that every day you go to work is an important day, not only in your life but also in the lives of the students that you teach."
Teaching awards went to Chuck Viosca (Charles Hardwick Outstanding Undergraduate Teaching Award for Specialized Faculty), an associate lecturer and the director of the FSU Sales Institute in the Dr. Persis E. Rockwood School of Marketing; Chuck Nyce (Charles Hardwick Outstanding Undergraduate Teaching Award for Tenure-Track Faculty), the department chair and Robert L. Atkins Associate Professor of Risk Management and Insurance in the Department of Risk Management/Insurance, Real Estate and Legal Studies; and Patricia Born (Charles Hardwick Outstanding Graduate Teaching Award), the Payne H. & Charlotte Hodges Midyette Eminent Scholar in Risk Management & Insurance.
"Congratulations to every one of you," Hartline told award winners. "All of you come to work every day in a spirit of excellence and action, with students in your head, purpose in your heart and a bounce in your step for what you're doing for each other and our next generation of business leaders."