College to induct four new members into Alumni Hall of Fame
---
College to induct four new members into Alumni Hall of Fame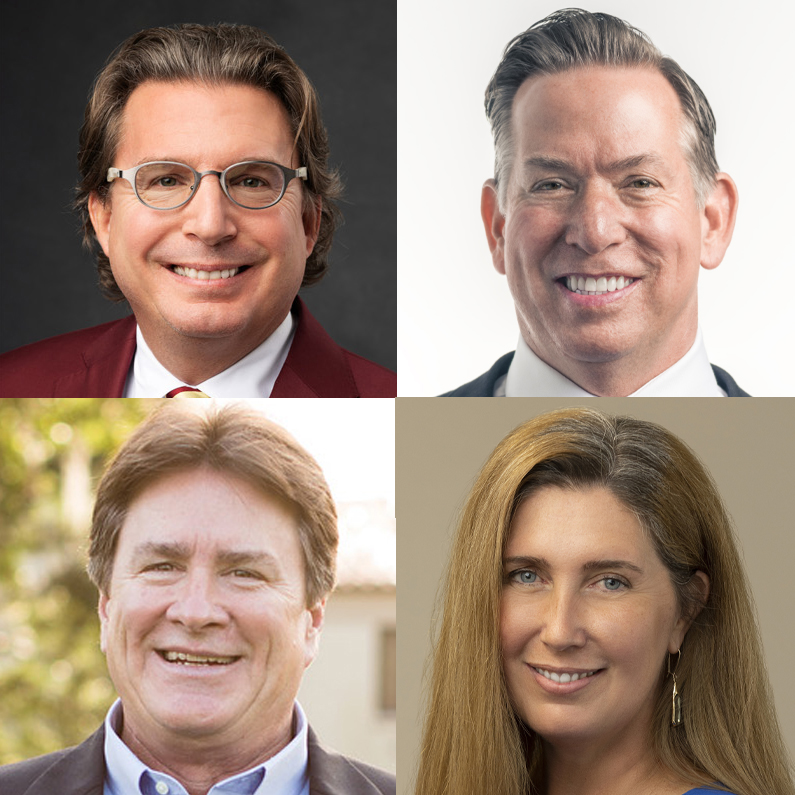 The Florida State University College of Business this fall will induct four distinguished graduates into its Alumni Hall of Fame.
The induction of Christopher Iansiti (BS Finance '92; MS Instructional Systems '94), Russell Kohl (BS Marketing '88), Kyle Riva (BS Management '77) and Nada Usina (BS Marketing & Multinational Business '93; MS Sport Management '94) will increase membership in the College of Business Alumni Hall of Fame to 66 members. 
The induction criteria include graduation from the college; exceptional career background; significant professional recognition; community involvement; and service to the college and university.
The four latest inductees boast among them more than a century of experience in leadership, entrepreneurship, real estate, development, technology, organizational excellence and more. 
"What an impressive class of Alumni Hall of Fame inductees," said Michael Hartline, dean of the college. "Like the inductees before them, these alumni have excelled in their careers and, through their actions, leadership and example, continue to help the College of Business remain solidly on its path to preeminence." 
The 2023 Alumni Hall of Fame Dinner and Ceremony will take place Nov. 9 at the Turnbull Conference Center on the Florida State University campus.
FSU's new College of Business Alumni Hall of Fame inductees are:
Christopher Iansiti 
Iansiti is founder of Iansiti Performance Group, Inc., an organizational performance consulting firm that he sold in 2021. He previously worked as an officer with Delphi Performance Consulting Inc. and as a consultant with Andersen Consulting/Accenture.
He remains an expert in corporate learning, human performance and talent management. He frequently speaks, including as a guest on CNN, on leadership, entrepreneurship, client relationships, business development, corporate culture and more.
The FSU College of Education honored him with a Distinguished Alumni Award in 2011, and the Instructional Systems and Learning Technologies department named him the Gagne/Briggs Outstanding Alumnus in 2013. He also was honored in the inaugural Seminole 100 class of 2018 and inducted into the Alumni Association's Circle of Gold in 2020.
Iansiti is current chair of the FSU Foundation Board of Trustees and past chair of the College of Business Board of Governors.
Russell Kohl 
Kohl is president and CEO of Diablo/Freud Tools, an industry-leading manufacturer and marketer of superior cutting tools and portable power tools. 
Under Kohl's leadership, Diablo/Freud Tools launched a premium line of construction cutting tools including its most successful brand, Diablo Tools – winner of multiple awards, including a two-time recipient of Home Depot's Merchandising Innovation Award.
He previously served as vice president of new product development, marketing and sales at Peachtree Doors and Windows. He also worked in sales, marketing and product development at the DeWalt division of Black & Decker.
Kohl is a member of the executive committee of the College of Business Board of Governors and a member of the FSU Foundation Board of Trustees.
Kyle Riva 
Riva is CEO and president of Alexander Investments International. He has built a career that includes more than 40 years of expertise in financing, construction and development of high-profile commercial real estate, including luxury apartments, hotels, office buildings, retail centers and industrial properties.
His projects have been recognized in national publications such as Housing, Professional Builder and Florida Trend.
He previously served as president of Epoch Properties; manager of the Central Florida office of Carey, Kramer, Silvester & Associates; vice president/branch manager of Alliance Mortgage Company; and territory manager for the Burroughs Corporation.
Riva is a member of the FSU Foundation Board of Trustees, the FSU Real Estate Foundation board, the College of Business Student Investment Fund board and the FSU Real Estate Investment Fund board. He's also chair of the FSU Real Estate Center executive board.
Nada Usina 
Usina is co-founder of executive search firm NU Advisory Partners, which she recently launched with three fellow former colleagues. 
She spent 13 years at Russell Reynolds Associates where she was a member of the executive committee, led the firm's global Technology, Digital, Media, Entertainment and Sports practices and oversaw the firm's Miami office, which she helped launch. 
She advises the world's leading private equity, venture capital, growth equity, Fortune 500 companies and top sports teams and leagues on leadership matters. 
She previously served as a technology executive and public-company president, with stints at Broadcast.com, Yahoo! and Nokia.
Usina is a member of the executive committee of the College of Business Board of Governors and a member of the Seminole Boosters board.