College offers another 'inspiring' TRENDS Conference
---
College offers another 'inspiring' TRENDS Conference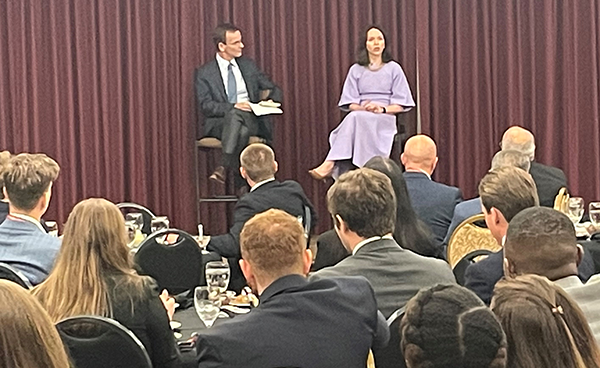 Blackstone Real Estate executive Kathleen McCarthy offered a "fun fact": More data has been created in the last two years than in previous human history, she said.
"So the proliferation of data … you need to process it somewhere," she said – and that makes it a relevant real estate topic.
"There are themes that are emerging and things that if we meet in a year or two will probably be bigger portions of our portfolio than maybe they are today," McCarthy said. "Examples of that would be data centers."
McCarthy, senior managing director and global co-head of Real Estate at Blackstone, made her comments this afternoon as featured speaker of the 27th annual Real Estate TRENDS Conference at the Augustus B. Turnbull III Florida State Conference Center. Stephen Spook, senior investment officer of Real Estate at the State Board of Administration, served as moderator.
Hosted by the FSU Real Estate Center, within in the College of Business, the two-day conference highlights emerging trends and conditions that the real estate industry faces, and it brings together industry officials to discuss conditions that affect local, regional and national markets. It also gives students an opportunity to make connections with top business officials, as they did yesterday during sessions at the FSU Champions Club.
Michael Hartline, dean of the College of Business, hailed the event as "one of the premier conferences of its kind in the country."
"This is an exciting and inspiring event for our real estate students, especially," Hartline told attendees during today's closing session.
To more than 30 speakers and panelists, he said: "We're grateful to you for allowing us to offer our students this incredible opportunity to interact with the very top tier of professionals in the industry."
FSU President Richard McCullough also spoke, trumpeting FSU's Real Estate program as No. 5 among public universities and No. 8 among all universities. He also cited other highly ranked programs, including the No. 1-ranked Dr. William T. Hold/The National Alliance Program in Risk Management and Insurance.
"This success is raising the profile of the College of Business and contributing to FSU's national prominence," McCullough said.
The speakers addressed hundreds of students and business professionals who had jammed the Turnbull center for a day of sessions on relevant industry topics in the era of COVID-19. Topics included how innovators have persevered and positioned themselves to thrive in a post-pandemic world and how interstate migration and work-from-home trends have accelerated or disrupted the office.
"COVID has certainly turned the real estate world around," Yvonne Baker, executive director of the FSU Real Estate Center, told participants during the closing session.
Ryan Warner, senior real estate manager at Recreational Equipment Inc. of Sumner, Wash., said during "The Who's Who of Retail" session that his company had been developing a 400,000-square-foot corporate campus prior to COVID.
"We were able to essentially sell the entire property before we even got a chance to occupy it," he told participants via video call – the format of all four sessions.
Employees at his company continue to work from home, he said.
"It seems to be working," Warner said. "I personally enjoy it, and there's a good work-life balance, so this is definitely the trend, the future of REI."
In "The Future of Office" session, Larry Feldman, CEO of Tampa-based Feldman Equities, said initial reports upon the arrival of COVID-19 featured predictions that "suburban assets would be the place to be."
Yet he said his company continues to see "a skyrocketing in valuation for downtown high-rise assets. We've literally seen anywhere from 10 to 30 percent over pre-pandemic levels for our CBD (Central Business District) downtown assets."
In the "To Plan, You Must Understand" session, FedEx Express executive David Fiore emphasized the significance to real estate of his company's sustainability initiatives, including plans for an electric fleet for its delivery team.
"In order to do that, the infrastructure has to be there," he said. That includes "at the point of recharging our vehicles."
McCarthy, the featured speaker, also mentioned her company's recent investments in studios and "office space around studios where content is being created."
People everywhere are consuming increased media across multiple platforms, she said, and "real estate is really benefitting from that."
The conference also saw Hartline, the dean of the College of Business, announce a new professorship to honor Professor Dean Gatzlaff, who is retiring next spring.
The FSU Real Estate Center executive board established the professorship in Gatzlaff's name, Hartline said. Through donations of board members, former board members, alumni and friends of the Real Estate Center and program, the professorship has received more than $327,000 in gifts and commitments out of a $500,000 goal, he said.
Hartline called Gatzlaff's contributions to FSU, the College of Business and the real estate industry "substantial and significant." He's the Mark C. Bane Professor of Real Estate and interim chair of the Department of Risk Management/Insurance, Real Estate and Legal Studies.
"Dean has remained a crucial driver and organizer of this conference, and before Yvonne Baker joined us earlier this year, he directed the FSU Real Estate Center and its remarkable growth since 1995," Hartline said.