'Confidence' from accounting degree inspires major gift for Legacy Hall
---
'Confidence' from accounting degree inspires major gift for Legacy Hall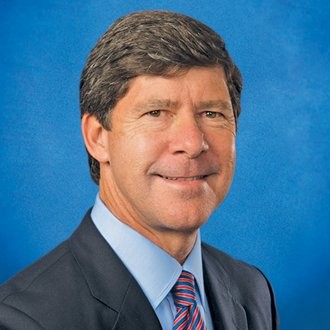 His work as an investment-industry executive and later as an adjunct professor took him to places all over the globe. And whether in San Francisco, London or Mumbai, Peter Jones would put on his Florida State University garb and feel the world get smaller.
"Invariably, someone would walk past me and say, 'Go Noles!'" Jones said.
No other two syllables make him feel closer to home, and Jones (BS Accounting '77) – a Clearwater resident, retired Franklin Templeton executive and College of Business Alumni Hall of Fame member – rarely ventures far from FSU's campus, in spirit or in person.
He's a member of numerous boards and committees of the college or university, including the finance department's Student Investment Fund Board and Finance Professional Advocacy Board, the latter of which he chairs. He serves on the audit committee of the FSU Athletic Association, the investment committee of the FSU Foundation and the committee searching for the university's next vice president of advancement. He also serves on the FSU International Programs Association board.
"I'm very active on campus in a variety of ways, because I want to be," Jones said. "I love FSU."
That explains a recent gift from Jones and his wife, Mary Lee, to fund the financial laboratory/trading room in Legacy Hall, the college's future home. College officials say the financial laboratory will offer financial modeling, portfolio management and other Wall Street-focused technology to prepare upper-level finance students for a highly competitive job market.
Zsuzsanna Gaspar, a principal and one of the leading architectural designers at Legacy Hall designer Goody Clancy, called the trading room "the signature element anchoring the building" during a presentation last month to the college's Board of Governors.
The major gift continues generous financial support from the Joneses to the college and specifically to Legacy Hall, which university officials tout as a flexible, collaborative and multi-functional building for teaching, research and learning. They express confidence that the facility will draw exceptional students and attract and retain more world-renowned faculty.
Jones agrees and says Legacy Hall, scheduled for a fall groundbreaking and a 2024 opening, could expedite the college's rise to preeminence.
"I truly believe the new building will enhance the learning environment for students," he said. "It will allow the professors and students to have a better experience and therefore to provide and receive a better education. And I think that will help further increase our rankings, which gives current students and graduates additional pride in their university."
Michael Hartline, dean of the college, hailed the Joneses' gift as "yet another example of Peter Jones' significant and valued presence in the College of Business and in all things FSU."
"We thank Peter and Mary Lee for their thoughtfulness, vision and gift, which will do so much for our students, faculty members and college," Hartline said.
For Jones, it comes down to giving back. He credits FSU and the college for the education, contacts and confidence they gave him to ultimately launch a distinguished career in the investment industry.
He used his degree in accounting to land a job at the firm that would become PricewaterhouseCoopers, now PwC, which stands among the Big Four accounting firms. After several years, a client gave him an opportunity to start and run a mutual fund business, which then led to a decades-long career at Franklin Templeton Investments, a global investment firm and one of the world's largest asset managers.
Respected for his integrity and collaborative approach, Jones became president of Franklin Templeton Distributors Inc. and chairman of Franklin Templeton Institutional Inc.
Upon his 2015 retirement, Franklin Templeton boasted nearly $900 billion of assets under management, up more than 13-fold from when Franklin and Templeton merged in 1992.
"I liked accounting, but I had the confidence to take a chance in another industry." Jones said. "I figured if it didn't turn out to be a good move, I could go back to public accounting. Again, it goes back to the self-confidence my education gave me to take a risk. Nevertheless, the accounting background served me extremely well in the investment industry."
After retirement, Jones followed through on a desire to teach and stay more connected to FSU. He became an adjunct professor teaching finance classes in the study abroad program in London and Valencia, Spain, over four summers.
"It was a fabulous experience – the enjoyment of being with all these bright, young students and of living in foreign countries for up to six weeks at a time," Jones said. "As an adjunct professor, I made so many good friends among various colleges and realized how committed the professors are at FSU about giving the students the best education possible."
His appreciation for FSU started in athletics. In 1966, while in sixth grade, his father took him to the FSU-Florida football game in Tallahassee, where he witnessed one of the most memorable and controversial moments in FSU history – Lane Fenner's catch in the endzone that would have given FSU a touchdown and a probable upset victory had an official not ruled him out of bounds. A photo of the catch showed Fenner in bounds.
"From then on, I was a huge FSU fan, Jones said.
His support remains unwavering.
"The College of Business was responsible for my start, and I reflect on it all the time," Jones said. "So that's really the motivation, what FSU has given to me and my desire to give back to FSU."
-- Pete Reinwald