FSU SouthState Bank Case Competition: The Birth of an 'Exciting' Event
---
FSU SouthState Bank Case Competition: The Birth of an 'Exciting' Event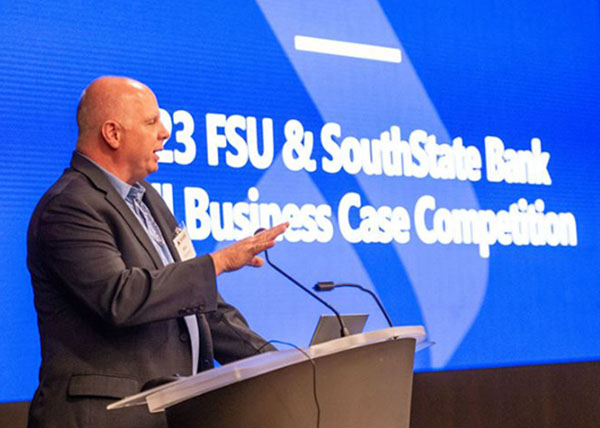 On the night before a 16-team event that offered a big prize and a bold experience, SouthState Bank executive Mark Thompson gave participants a pep talk – not about the competition but about their ambition.
"You hear a lot of nomenclature around, 'Follow your dreams,' 'Do what you love' and 'The money will follow,'" Thompson told students. "I'm here to tell you that's not 100% true. What I would encourage you to do is find a passion that aligns with your values."
Thompson, president of SouthState Bank's Southern Banking Group, spoke Friday on the eve of the inaugural FSU SouthState Bank Small Business Case Competition. The dinner audience included faculty members and officials from the Florida State University College of Business, plus alumni members and business executives who would serve as judges.
But Thompson focused on the students in the room.
Judges
— SouthState Bank employees Macy Gullifer, commercial banking associate; Michele Hughes, director of talent acquisition; Tanya Isaman, SVP/director of credit services; and Andre Maretti, hedging and derivatives analyst
— Pinnacle Technologies founder and owner Pablo Del Valle
— FSU alumni Mark Hillis and Nan Hillis, both Alumni Hall of Fame members; Chuck Adcock, a member of the college's Department of Finance Professional Advisory Board; Ava Ancelin, a member of the college's Recent Alumni board; Christopher Iansiti, chair of the FSU Foundation Board; Todd Lazenby, a member of the Finance Professional Advisory Board; and Tyler Smillie, chair of the Recent Alumni Board
— Faculty members Delisha Herring and Jingfang Wang from the Department of Finance; Leff Bonney from the Rockwood School of Marketing; Chris McCoy from the Department of Accounting; and William Woodyard from the Department of Risk Management/Insurance, Real Estate and Legal Studies
"If you can find a job in a company and a career that lines up with your values, you will be more invested," Thompson said. "You will be deeper into the pool in terms of your commitment to what you're doing for a living. That is what sets you apart."
The competition included 16 teams representing 12 academic institutions from throughout the Southeast, including six from Florida – the University of Florida, Florida A&M University, the Florida Institute of Technology, Florida International University, Florida Southern College and Florida State University.  Teams also represented the University of Alabama, the University of Alabama at Birmingham, Alabama State University, North Carolina State University, the University of North Georgia and the University of West Georgia.
The competition objective: Provide evidence-based recommendations to increase the revenue and performance of Pinnacle Technologies, a Lakeland-based tech company that offers analytics and digital solutions for businesses in various industries, including agriculture.
The top prize went to a team from the University of Alabama, which won $1,500. A team from FIU won $1,000 for second place, and a team from West Georgia won $500 for third place. FSU and SouthState Bank touted the competition for the experience it would give students to work as a team and to establish and communicate real-world business solutions under the pressure of an auditorium setting.
The three final teams gave their presentations Saturday from a Turnbull Conference Center stage in front of the judges, friends, family members and other teams.
"It's the first of what I trust will be years of exciting, educational and – quite frankly, as a competitor myself – competitive case competitions," Darren Brooks, the college's assistant dean for executive and professional programs and MBA director, said during the Friday dinner. "An event like this doesn't occur without a lot of dedicated people behind the scenes who make it happen."
Brooks emphasized the participation of SouthState Bank, plus alumni members, faculty members and business officials who served as judges and supporters. He singled out, among others, the inspiration for the event: LJ Mahon, a senior lecturer in the Department of Finance.
"He really means it when he says this means the world to him," Brooks told the audience.
The idea of an FSU-SouthState Bank partnership emerged from an FSU College of Business hallmark – networking. Lisa Blatter, director of campus recruiting and career development at SouthState Bank, said discussions about the competition started after she got introduced to Mahon. The introduction came from SouthState Bank employee Andre Maretti (BS Finance '20), a former student of Mahon.
"LJ, thank you for your … 'gentle persistence' in getting us to partner with FSU," Blatter said Friday night.
Blatter's presentation featured a fun, interactive digital exercise with everyone in the dining room. Using their phones, attendees replied to questions including "What's your favorite snack?" Their responses – rice cakes, Snickers, popcorn, grapes, Cheez-Its, pretzels with hummus, banana nut muffins – filled Blatter's presentation screen for all to indulge.
"So why did I have you all do this?" Blatter asked. "We're all different. We're all unique. We're all coming together today and tomorrow to showcase your uniqueness, your ability, your ideas and innovations."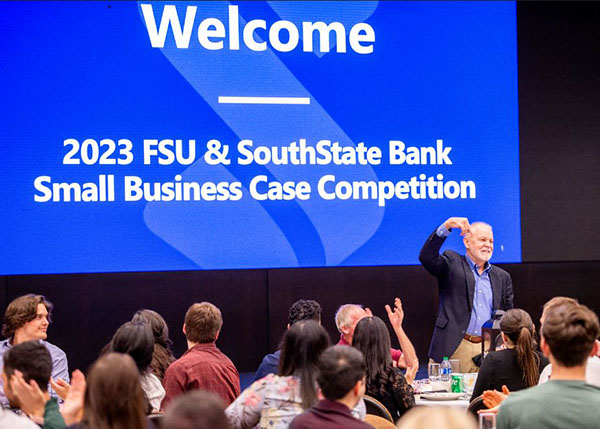 "This is what energizes us," Thompson, Blatter's fellow executive, told attendees. "It gives me a great deal of comfort and great deal of anticipatory expectation of what the future can hold because of the brain power, the energy and the commitment of each of you in this room."
Citing inspiration from a book, "8 Essential Exchanges: What You Have to Give Up to Go Up," Thompson encouraged students to "exchange shifting sand for solid rock." He identified shifting sand as, for example, power, pleasure and prestige.
"Our foundations will remain hidden during good times, but heartaches reveal them," Thompson told students. "Storms can come from all directions at the same time. Trying to do good things to impress people and/or a higher power is shifting sand and will not provide security during a storm. The only sure foundation is found in something and someone bigger than yourself."
Thompson noted that Winter Haven-based SouthState Bank boasts more than 5,000 employees throughout the United States. He said he asks members of his leadership team to spend time with their staff members and to get to know them and what matters to them.
"It's very easy, as leaders in our company, to get lost in the fact of the latest quarterly report … and lose sight of the fact that we have 5,000-plus human beings who come to work every day with dreams, hopes and desires and goals," Thompson said. "I love what I do. … But I will tell you that nothing about what I do for a living compares to the joy and the priority I place on my life and my son and our family, our friends, our communities, our causes. Those things matter."
He added: "What we do for a living serves as a means to an end to take care of the things that matter. And if your thing that matters is what you do for a living, you will not be as good at it as you could be if you were doing it for the right reasons."
-- Pete Reinwald