Gift for Legacy Hall honors Vaughn family past and future
---
Gift for Legacy Hall honors Vaughn family past and future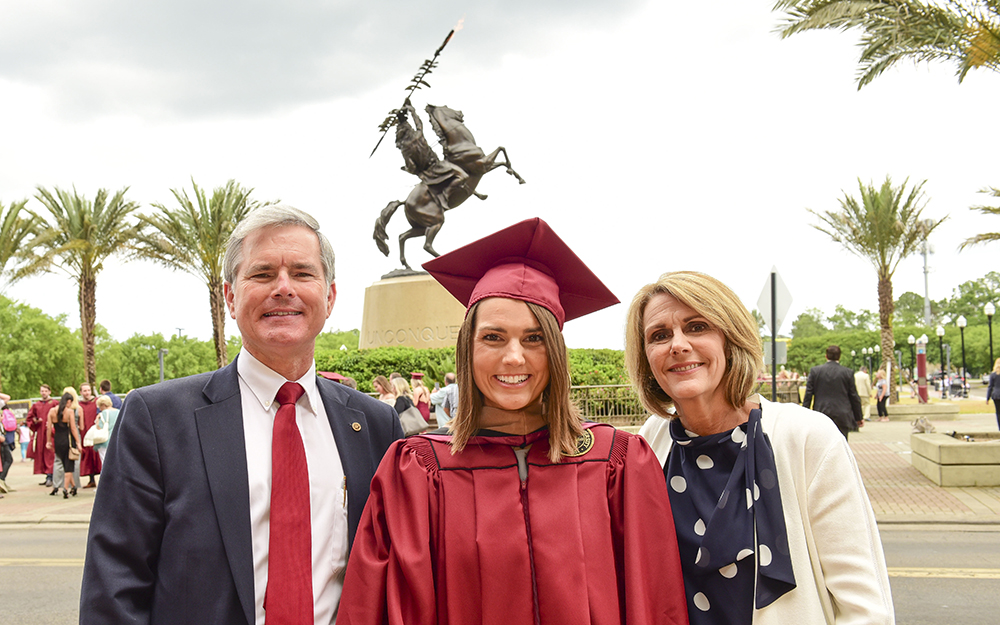 Alumni Kevin and Brenda Vaughn wanted to do something special to honor their family's history at Florida State University with an eye toward the future. The couple came up with a unique and meaningful gift that names the Vaughn Alumni Engagement Coordinator Office in Legacy Hall. It seemed only appropriate considering their daughter, Chelsea, who graduated this past spring with her master's in risk management and insurance (MS-RMI), currently holds that position in the College of Business. 
"Because Chelsea and others in our family graduated from the college, naming an office in Legacy Hall seemed like a natural step for us, and it achieved another of our goals, to honor the Vaughn family legacy at Florida State," said Kevin Vaughn, president and CEO of North Florida Agents Network, risk reduction advisor with Rogers, Gunter, Vaughn Insurance – HUB International Florida and a 1983 RMI graduate.
Indeed, the family's roots run deep with Florida State. Kevin's parents, Rod and Virginia Vaughn, have been supporters and actively involved with the university since Rod graduated in 1959 with a degree in broadcast journalism. Kevin and Brenda met at FSU when Brenda was studying for her degree in nursing, which she received in 1986. Daughter Jordan graduated in 2008 with a degree in interior design and son Adam earned his bachelor's degree in RMI in 2011.  Kevin says he and Brenda "are already working" on their young grandchildren to carry on the Vaughn legacy.  
"The idea of legacy is important to my family as we are fully embracing the next generation whom we hope one day might become Seminoles as well," said Chelsea, who along with her siblings recently purchased a Westcott Fountain brick to commemorate the 60 years and several Vaughn degrees between Rod and Chelsea's graduations.
Before embarking on her master's degree while working full time, Chelsea earned her undergraduate degree in editing, writing and media in 2015 and began working at the College of Business in 2016. She was promoted in 2018 to her current position with the Alumni and Community Engagement team. She is responsible for helping develop and deepen relationships between the college and its alumni to ensure its graduates are aware of the benefits of being involved with their alma mater, as well as the opportunities to leave a legacy for the next generation. 
"The College of Business has embraced me, providing me with many opportunities to learn and grow professionally and personally," Chelsea said. "I feel fortunate that I have been able to broaden my perspective and gain a wide range of experiences through the risk management and insurance program. Working with our faculty, staff and alumni has been one of my favorite experiences to date. I am hugely passionate about the college, and I am grateful that my family has helped to create a lifelong connection through their gift to Legacy Hall."   
 
---
By Barbara Ash