Graduating Seneff Scholar hails 'the people side' of college, FSU
---
Graduating Seneff Scholar hails 'the people side' of college, FSU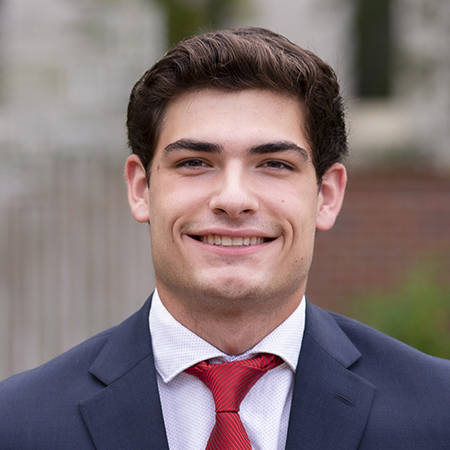 It's not entirely the how or the why.
"It's the who," Jack Stephans says.
Stephans is referring to his experience as a top student in the Florida State University College of Business, where he says he has excelled through the help of administrators, faculty members, fellow students and alumni, among others.
"Florida State has done an amazing job on the 'people' side of it," Stephans said. "Everybody's welcoming. If you have any questions or if you need somebody's help – 'Can you set up a phone call with this person?' – everybody's willing and accessible."
Stephans offers much to reflect on as he prepares to walk in Friday's 2 p.m. fall commencement ceremony for the College of Business and 10 other colleges. Dr. William T. Hold, the namesake of the College of Business' Risk Management and Insurance program, will be the featured speaker.
A 7 p.m. commencement ceremony will include seven colleges, plus featured speaker Dr. Maxine Montgomery, professor of English and this year's Robert O. Lawton Distinguished Professor. See the schedule here.
President Richard McCullough will preside over both ceremonies, at the Donald L. Tucker Civic Center.
"It's a good moment for everybody," Stephans said. "It's a moment where you look back and say, 'This is what I accomplished – I did that,' and give yourself a pat on the back."
Stephans, a finance major, flourished as a student in the FSU Honors Program. That includes participation during his sophomore year in the James M. Seneff Honors Program, which gives elite business students experience and knowledge though educational, volunteer and networking activities.
Dr. Luke Hopkins, the Seneff Scholars director, called Stephans "an exemplary student, Seneff Scholar and representative of the College of Business."
Hopkins hailed Stephans for his involvement campuswide, including with alumni and faculty members and in volunteer activities such as tours for high school students.
Stephans noted the help of mentors – more of that "who" component – including Hopkins; James Seneff, the namesake and benefactor of the Seneff Honors Program; Peter Jones (BS Accounting '77), chair of the Department of Finance Professional Advocacy Board; Brett Lindquist (BS Finance and Real Estate '83), chair of the college's Board of Governors; and Michael Hartline, dean of the college. Seneff, Jones and Lindquist are members of the college's Alumni Hall of Fame.
"Without Florida State and what Florida State offered me, I wouldn't be able to take advantage of this network and grow," Stephans said. "Now I can go into go into the real world with 10, upward of 20, really strong mentors who are successful and in places that I want to be in."
He also emphasized his participation in Noles on Wall Street, a highly selective yearlong program that helps students secure summer analyst positions at top investment-banking firms.
He landed two such internships, including during his junior year with Atlanta-based Citizens M&A Advisors, which offered him a job.
He'll start work there in June, but his heart will stay in Tallahassee.
"I definitely will be a Nole for life," Stephans said. "And after these 3 1/2 years, there's no understating how much this university means to me."
-- Pete Reinwald