New director named for James M. Seneff Honors Program
---
New director named for James M. Seneff Honors Program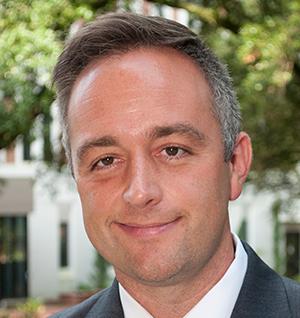 Luke Hopkins, the assistant chair of the Department of Marketing and an associate lecturer, has been named the new director of the Florida State University College of Business' highly competitive and prestigious James M. Seneff Honors Program.
The program dovetails with the university's Honors Program and garnet and Gold Scholar Society, allowing students to gain educational benefits in other disciplines beyond the business school.
The program was established in fall 2019 through a $2 million gift to the college by the CNL Charitable Foundation to honor Seneff, its founder, who also is founder and executive chairman of Orlando-based CNL Financial Group, a private investment management firm. The $2 million is part of a total $5 million gift, $3 million of which created the James M. Seneff Fund for Preeminence at the college.
"Luke Hopkins has a reputation at FSU as an outstanding educator who cares deeply about his students and invests personally in their success," Seneff said. "FSU and I designed the honors program to give students access to mentoring opportunities and unique learning experiences, so his passion makes Luke the ideal choice to serve as the program's new director."
Michael Hartline, dean of the college agreed, and singled out Hopkins' commitment to the professional development of students.
"Luke is an award-winning scholar and educator with tremendous experience in working with students, alumni and executives at the highest levels," Hartline said. "He brings a tireless dedication to student success to the role and I know he will do an amazing job. We look forward to having him mentor the Seneff Scholars and lead our program."
Hopkins, whose areas of expertise include service marketing, social media marketing and marketing research, was the recipient of both the University Teaching Award and the College of Business Teaching Award in 2017. He is the faculty advisor for the business professional fraternity Alpha Kappa Psi and the student chapter of the American Marketing Association at FSU. He also serves as the faculty sponsor for student groups and annually leads an innovative program culminating with students traveling to New York for industry research and networking.
"I am honored and excited for the opportunity to be part of such a great program," Hopkins said. "Mr. Seneff's generosity, knowledge and clarity of vision blend perfectly with the university and college's goals of preeminence. I look forward to helping our students grow intellectually and professionally so they can pursue rewarding careers and take their places as leaders in business."
Hopkins assumes the role from Glenn Boggs, a former business faculty member who came out of retirement to help launch the program and direct it for one year.
"I have been so impressed with the high caliber of the Seneff Scholars, as well as with their commitment to education and community service," Boggs said. "It has been a pleasure getting to know and work with this group of honors students. Dr. Hopkins is a tremendous role model for them and I believe they will accomplish wonderful things under his lead."
The inaugural cohort of 16 James M. Seneff Scholars is a community of top undergraduate business students who benefit from an especially rigorous curriculum. The program stresses innovation, leadership, networking, collaboration and forging lifelong professional connections.
Seneff Scholars gain experience and knowledge through educational activities, volunteer experiences and networking. They have priority access to honors courses in the College of Business, special meetings with elite business leaders, a mentorship program and unique experiential learning opportunities.
The program looks forward to welcoming the next cohort of Seneff Scholars in the fall. The selection process will begin over the summer.
---
About CNL Financial Group
CNL Financial Group (CNL) is a private investment management firm providing real estate and alternative investments. Since inception in 1973, CNL and/or its affiliates have formed or acquired companies with more than $34 billion in assets. CNL is headquartered in Orlando, Florida.
---
About the Florida State University College of Business
Founded in 1950, the College of Business is one of the nation's youngest business schools, yet its reputation for excellence has helped it become one of the largest in the nation with more than 6,240 students. With 125 full-time faculty members, the college is consistently ranked as a top business school by U.S. News & World Report. Virtually every program in the college is ranked in the Top 30 of public business schools, most are in the Top 25, and many are in the Top 10. Accredited by AACSB International, the college offers eight undergraduate degrees (BS) with 10 majors, and its graduate program offerings include six master's degree programs (MAcc, MBA, MS-BA, MSF, MS-MIS and MS-RMI) and seven majors at the doctoral level (Ph.D.). The college also is home to 10 research institutes and centers.