Naming of classroom in Legacy Hall latest example of alumnus' generosity
---
Naming of classroom in Legacy Hall latest example of alumnus' generosity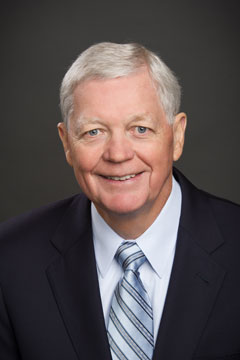 Early on, Florida State University alumnus Jim Henderson decided that adding value to any endeavor and treating people as you would like to be treated allows you to create a better organization and benefit both professionally and personally. 
That idea has served him well since graduating in 1969 with his bachelor's degree in accounting and economics. Now, decades later, his impressive career as an executive in the insurance industry has allowed him to thrive and, as a result, contribute in numerous ways to the university and the College of Business. His $500,000 gift naming a 100-seat classroom in Legacy Hall – the Jim Henderson/AsssuredPartners Classroom – is the most recent example. 
"There comes a time in your life when you give back if you can, and I'm fortunate and happy to be able to do so," said Henderson, who in November 2018 was appointed to a five-year term on FSU's Board of Trustees. "FSU prepared me for leadership in a profession that has served me well and helped me develop the financial acumen that has enabled me to make a difference in the companies and organizations I've worked with."
Highly regarded in his field, Henderson is founder, CEO and chairman of the AssuredPartners, based in Lake Mary, Florida. Since its creation in 2011, the brokerage firm has become one of the fastest growing in the United States, with more than $1.3 billion in annual revenue and 6,000 employees in 235 offices nationwide. 
Before launching his own firm, Henderson held a number of roles during his 25 years at Brown & Brown Insurance, including president, chief operating officer and vice chairman. During his tenure, he helped to secure more than 300 acquisitions and grow revenue to $1 billion from $7 million. He also has served as Ormond Reinsurance Group's CFO and treasurer, and he began his career as a CPA in the audit and healthcare practice at Ernst & Whinney (now EY). 
Avid Seminoles fans, Henderson and his wife, Carole, made a $1 million donation, which includes $500,000 to the Football Operations Building Fund and the balance to support the Jim and Carole Henderson Athletic Scholarships. 
Henderson has served on various public, private and nonprofit boards, including Ironshore Insurance Company, Citizens Property Corporation, Hallmark Insurance Co., Florida Hurricane Catastrophe Fund, the Council of Insurance Agents & Brokers (CIAB), Ronald McDonald House and Stetson University's business school. He has served on the Board of Trustees of Embry-Riddle Aeronautical University since 2003 and, in 2012, the university named the Jim W. Henderson Administration and Welcome Center in his honor.
"Jim is widely esteemed throughout the country, and we could not be prouder of his remarkable success," said Dean Michael Hartline. "Beyond his very generous financial support, the university has benefited immensely from his professional expertise, world perspective and thoughtful insights, and we are grateful to him for that."