Online graduate degrees rank among top programs nationwide
---
Online graduate degrees rank among top programs nationwide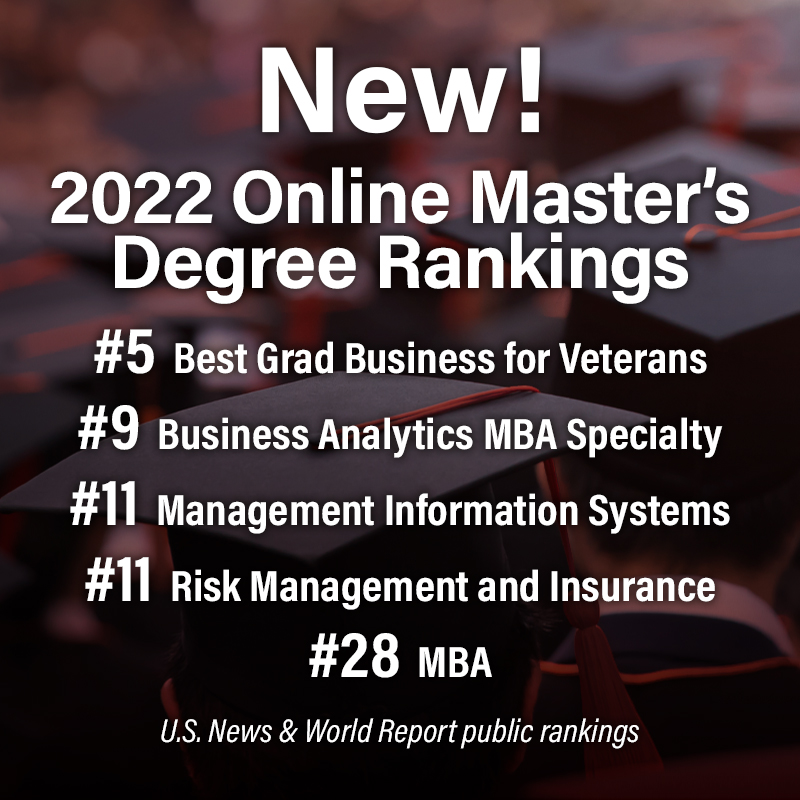 The Florida State University College of Business secured two new Top 10 rankings among public schools nationwide and stood strong among the nation's best on U.S. News & World Report's 2022 rankings of online master's degrees and MBA specialties.
The college earned a No. 11 ranking among public schools and a No. 16 overall ranking for its online graduate business degrees – specifically its online master's degree in Management Information Systems (MS-MIS) and its online master's degree in the Dr. William T. Hold/The National Alliance Program in Risk Management and Insurance (MS-RMI).
The college also earned a new No. 5 public ranking for online graduate business programs for military veterans.
On a separate U.S. News list that rates best online Master of Business Administration (MBA) programs, the college's MBA specialty in business analytics rose to No. 9 among public schools and No. 15 overall. It joins another MBA specialty – real estate – also ranked in the Top 10 on a separate U.S. News list of best on-campus graduate programs.
The college's online MBA program maintained its No. 28 public school rank, which makes it No. 21 among public programs for military veterans, and it rose three spots in a competitive field to No. 37 among all private and public schools.
"This recognition showcases the dedication of our faculty and staff, who are committed to providing students the latest knowledge and tools needed to advance in their careers," said Michael D. Hartline, dean of the College of Business. "Our high rankings are a great indicator of our success, yet we also pay close attention to our alumni's achievements. Their accomplishments continue to make us proud and help guide us."
Alumni of the college's online programs say their graduate education led to better opportunities.
"Completion of the MS-RMI program has enhanced my analytical skill set and provided me with the necessary tools to take my career to the next level," said Stephanie Mitchell, a 2016 graduate who now serves as senior vice president at Socius Insurance Services' Property and Casualty Practice in Tampa. She said she found FSU's online program "well-suited" for a full-time working professional like herself and expanded her industry connections.
Students working full time often say they can immediately apply their studies.
"I was better able to understand the challenges my IT clients may be facing and possible solutions," said Mariana McCranie, MS-MIS 2018, an account director and team lead at Gartner based in Ponte Vedra Beach, Florida. "The courses helped sharpen my business acumen overall."
Alumni say FSU made it possible to balance full-time work and part-time studies.
"As a professional and as a parent, I enjoyed the flexibility that FSU afforded me to complete my coursework at my own pace and on my own schedule," said Edward Musarskiy, MBA 2021. He completed his studies virtually from New York while working for Tishman Construction, an AECOM company. "The program and course content were structured to be both challenging and engaging, with real-world application that I was able to incorporate into my role as a project manager."
Musarskiy customized his degree with additional real estate studies. Each of the college's No. 9-ranked specialties in business analytics and real estate can be earned by MBA students on campus or online.
"Industry needs determine which MBA specialties we offer, and both these ranked specialties continue to be in high demand," Hartline said.
The college plans to develop a new MBA specialization in health-care administration as early as this fall. College officials expect it will appeal to business students who seek a high-demand career choice and to health-care professionals who need to retool skills as they become administrators. They also know it will appeal to students pursuing degrees in related disciplines, such as medicine and nursing, who aim to work in administrative, instead of clinical, settings.
"An MBA specialization is just the beginning," Hartline said. "We intend to eventually bolster curriculum throughout our graduate programs, including business analytics, finance, risk management and insurance, and management information systems with online and on-campus coursework tailored to health care."
Apply by March 1 for an online program that begins in May. Learn more and request information about all the college's master's degree programs, online or on campus, at graduatebusiness.fsu.edu.
-- By Melanie Yeager