Online MBA, master's degrees secure rankings among best nationwide
---
Online MBA, master's degrees secure rankings among best nationwide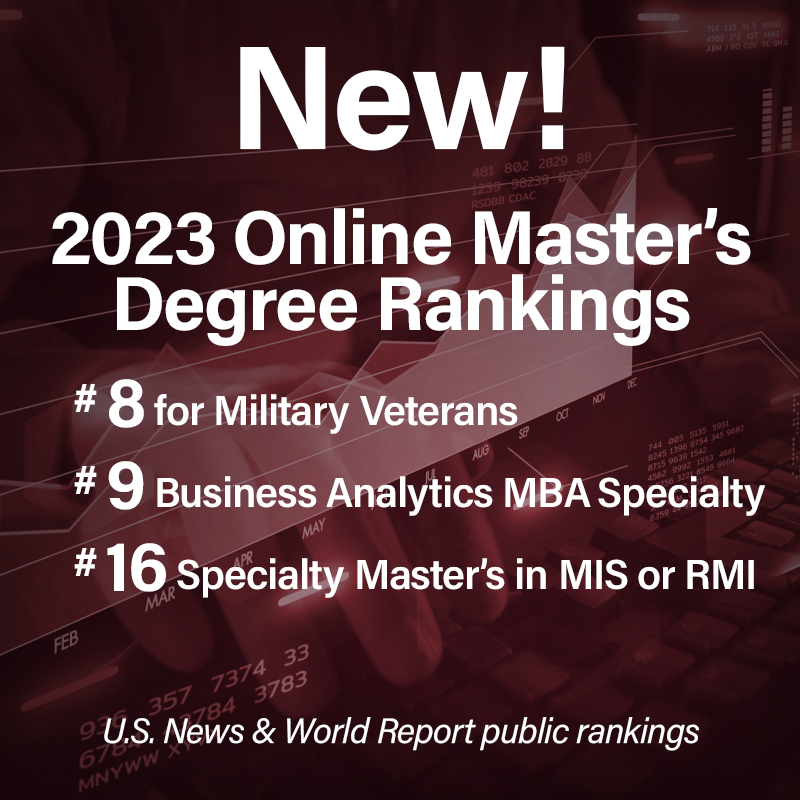 The Florida State University College of Business once again received Top 10 accolades among public schools nationwide for its MBA specialty in business analytics and for its online offerings for military veterans, according to U.S. News & World Report's 2023 rankings of online master's degrees and MBA specialties.
Among public online Master of Business Administration programs offering business analytics, the college maintained its No. 9 standing, and it moved up two spots to No. 13 among all programs.
"We are preparing MBA graduates who can make data-driven decisions that will benefit a company's bottom line," said Ashley Bush, who chairs the college's Department of Business Analytics, Information Systems and Supply Chain. "We find this analytical skill set is in demand by employers, regardless of business industry or discipline."
Other notable online graduate rankings released by U.S. News & World Report include:
•    No. 8 public ranking, No. 10 overall among best online graduate offerings for military veterans. 
•    No. 16 public ranking, No. 21 overall among best online graduate business degrees, specifically the online Management Information Systems (MS-MIS) and the online master's degree in the Dr. William T. Hold/The National Alliance Program in Risk Management and Insurance (MS-RMI).
•    No. 32 public ranking, No. 44 overall among best online MBA programs.
"We use these rankings as a beneficial barometer of our daily efforts to provide students a valuable graduate education," said Michael Hartline, dean of the College of Business. "It is affirming to see that our team's hard work continues to be highly regarded nationwide. We continue to aim even higher."
FSU's MBA program provides the same core curriculum online and on campus. Students can customize their studies with a specialization that equips them with new expertise. Another FSU MBA specialty – real estate – also ranks in the Top 10 on a separate U.S. News list of best on-campus graduate programs.
"Considering that many of our online students are currently working professionals, the specialization allows students to focus their elective coursework in areas that align with their current or future career goals," said Darren Brooks, MBA program director and assistant dean for Strategic Engagement.
In response to market demands and student interest, FSU is now offering a new online specialization in healthcare management that can be earned by students pursuing their FSU MBA online or on campus, Brooks said. Along with business analytics, healthcare management and real estate, online MBA students have three more specialization options: management information systems, marketing or risk management and insurance.
Visit mba.fsu.edu  for more information on each FSU MBA delivery format and specialization option. March 1 is the next application deadline for the college's online master's degree programs in business administration, management information systems or risk management and insurance. Those admitted will start their studies in May. Learn more and request information at graduatebusiness.fsu.edu.
-- By Melanie Yeager